This is what awaited Rachael Blackmore after she became the first woman jockey to win the Grand National in the 182-year history of the world's most famous steeplechase.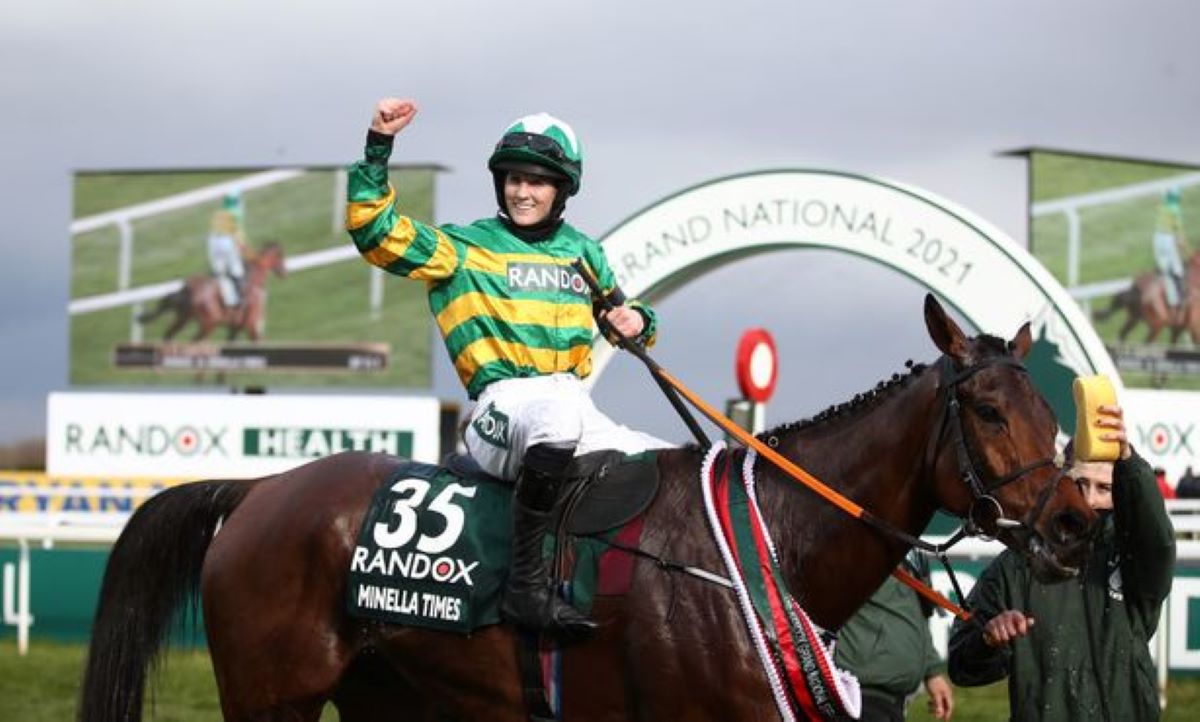 A congratulatory tweet from Ringo Starr. Calls for her to receive a damehood – the female equivalent of a knighthood. Odds on who will play the 31-year-old County Tipperary native in the inevitable movie. Michael Higgins, the President of Ireland, chimed in with congratulations. And plaudits from all corners of the racing globe for blasting through one of the biggest glass ceilings in racing.
Well done Rachel well done Liverpool 2. 1. Peace and love 😎✌️🌟❤️🌈🌈☮️ pic.twitter.com/ss3lPmVGaT

— #RingoStarr (@ringostarrmusic) April 10, 2021
Less than a month after Blackmore grabbed leading rider honors at the Cheltenham Festival, she outdid even that not-insignificant feat. She piloted 11/1 Minella Times to the Grand National title, navigating Aintree's 30 fences and numerous obstacles to a six-length victory — the biggest win in her sport.
Make that one of the biggest wins in any sport.
Racing's hero – Rachael Blackmore pic.twitter.com/Kv385VRLib

— Great British Racing (@GBRacing) April 11, 2021
The world jumped aboard Blackmore's feat
News outlets from around the world found space and airtime for a sport that rarely draws any significant interest outside of the UK and Ireland. NBC News in the US, The Age in Melbourne, Australia, the South China Morning Post in Hong Kong, and Al Jazeera all devoted significant space to Blackmore's historic feat.
"My congratulations to Rachael Blackmore on an historic achievement at Aintree. Today's win is both a personal and sporting success, and comes only a month after her groundbreaking wins at Cheltenham."

— President of Ireland (@PresidentIRL) April 10, 2021
When you get one of the Beatles – yes, a Liverpool native – dropping props, you know you've soared past the big time. Starr was one of the estimated 600 million people around the world watching Saturday's Grand National. They watched Blackmore and Minella Times bide their time as horse after horse, including favorite Cloth Cap, stumbled, tired … or worse.
Illustrating the perils of steeplechase riding for a worldwide audience, Bryony Frost was dumped from 40/1 Yala Enki on the race's 20th fence and taken to the hospital. Frost and her mount were collateral damage in the wake of The Long Mile breaking down with a fatal injury. He was euthanized on the Aintree course.
One horse down, one rider hospitalized
Paramedics took an unconscious Frost to a nearby hospital. Her father and trainer, Jimmy, posted on Facebook an update that read, "Hi, just to let everyone know, B (Bryony), is OK, in hospital under obs tonight. She has been fully checked out, a few days off. Thank you for all the messages."
Frost was one of three female riders in the Grand National, joining Blackmore and Tabitha Worsley aboard Sub Lieutenant. They are three of only 20 women to pilot Grand National mounts since Charlotte Brew broke the gender barrier in 1977. That was huge in and of itself, considering women weren't allowed to compete in Ireland until 1972.
Not that they were suddenly a danger to win. There's getting a mount. Then, there's getting a good mount. Eleven of the first 15 women riding Grand National horses went off at 100/1 or higher.
Will Blackmore accept a British honor?
That puts Blackmore's feat into perspective. One of England's largest papers, The Telegraph, openly called for her to receive a damehood. This could be a bit tricky, given Blackmore's Irish nationality. Any non-UK citizen up for a UK honor needs Foreign Office approval.
"She's got to be honored," trainer and former jockey Gay Kelleway told The Telegraph. "If you saw how much I was disrespected in my day, you would see how big a moment this is."
Kelleway speaks from pioneering experience. She was the first woman to ride a winner at Royal Ascot, guiding Sprowston Boy to the 1987 Queen Alexandra Stakes winner's circle. Her experiences dealing with the sport's rampant sexism made Kelleway – now a successful trainer — the go-to authority on the subject.
"Rachael is what we needed for racing. It's not only just good for women in racing, it's good for the sports to show it's not just male-dominated with 'Hooray Henrys,'" she told The Telegraph.
Ronan, Williams, Portman, Watson — as Blackmore
Enter Hollywood. Ladbrokes issued odds on who would play Blackmore when someone gets around to casting her story in film. Irish-American actress Saoirse Ronan is the 4/1 favorite. You can get Emma Corrin, last seen playing Princess Diana in the popular Netflix drama The Crown, at 5/1. Those are the same odds Maisie Williams from Game of Thrones carries.
If you want to take fliers on actresses with bigger Q-factors, Emma Watson and Natalie Portman are both 10/1.
This is @rachaelblackmor's world & we're all living in it

🏆 Grand National – Minella Times
🏆 Champion Hurdle – Honeysuckle
🏆 Ryanair Chase – Allaho
🏆 Triumph Hurdle – Quilixios
🏆 Ballymore Novices' Hurdle – Bob Olinger
🏆 Irish Champion Hurdle – Honeysuckle
⭐️ Superstar pic.twitter.com/6rJbJWi06r

— Racing TV (@RacingTV) April 10, 2021
Standout British flat rider Hollie Doyle, herself a pioneer, sent congratulatory texts. The Telegraph reported that in one of those, Doyle called Blackmore "my hero."
Through all of the Blackmore-mania, the object of all this continued following the even keel that led her to her sport's pinnacle as she stayed focused on the process.
"I've re-watched it a few times, and I didn't sleep at all on Saturday night – that's the kind of high you are on," Blackmore told BBC Radio 4. "For me, in racing, the gender thing was never an issue – and I've just carried that forward."