All 14 of the Big Ten teams kick off their seasons this weekend. The key game has to be Northwestern at Stanford (#25) in Palo Alto, California. In fact, Northwestern is the only Big Ten team not a betting favorite in Week 1 of the season.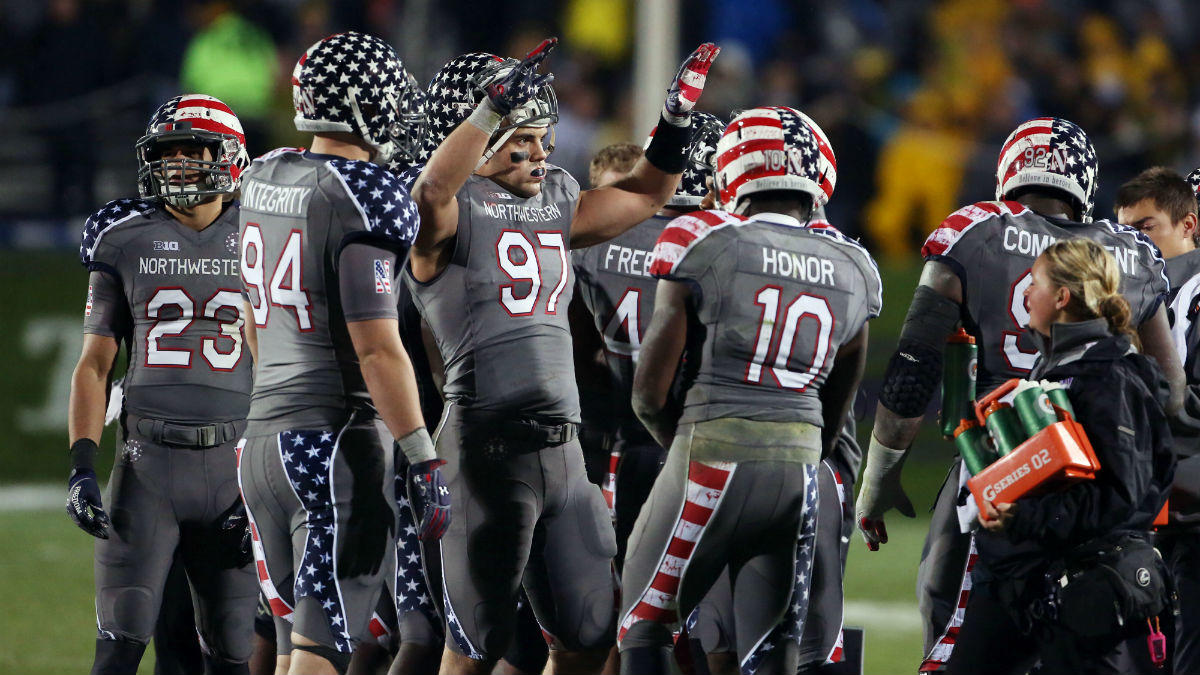 Most Division 1 football squads schedule a soft game for their season opener. Not only do coaches get to experiment against a weaker team, but also the smaller underdog school gets a huge revenue boost when playing in a big stadium and taking home a big visiting team payday.  Middle Tennessee State, for example, will take home $1.6 million dollars for the visit to Michigan this Saturday.
Stanford, of course, is not one of those teams. They're a big program with a big stadium and are well funded. So their game against Northwestern could prove to be a test of who's smarter.
Here is the Week 1 schedule and opening odds for the Big Ten conference games.
Big Ten: Week 1
---
Thursday, Aug. 29
South Dakota State @ Minnesota -12.5

Friday, Aug. 30
Wisconsin (#19) -11 @ South Florida
Tulsa @ Michigan State (#18) -21.5
UMass @ Rutgers -11

Saturday, Aug. 31
Akron @ Illinois -15
Indiana -17 vs. Ball State
Howard @ Maryland -30
South Alabama @ Nebraska (#24) -32
Florida Atlantic @ Ohio State (#5) -26.5
Idaho @ Penn State (#15) -36.5
Northwestern @ Stanford (#25) -6.5
Miami (OH) @ Iowa (#20) -21.5
Middle Tennessee @ Michigan (#7) -29.5

---
Just a reminder that Michigan fans will find historically painful. These opening games with small school pushovers can become the stuff of never-to-be-forgotten sports nightmares. On Sept. 1, 2007, Appalachian State came to Ann Arbor to play the #5-ranked University of Michigan, the result is still remembered as perhaps the biggest upset in modern college football. Appalachian State 34 – Michigan 32.
Still, the opening day games for 13 of the 14 Big Ten Teams will be mostly lightweight tune-ups for the regular season. Except for the Northwestern/Stanford match-up.
Game of the Week: Northwestern Wildcats vs. Stanford Cardinal
Northwestern comes off a hot and cold 2018 season. The Wildcats lost only one conference game, to Michigan, and represented the Big Ten West in the league championship with an 8-1 conference record. However, Northwestern lost all three non-conference games — to Akron, Duke, and Notre Dame. The Cats also lost the Big Ten Championship Game to Ohio State, 45-24, but finished the season with a 31-20 victory over Pac-12 runner-up Utah in the Holiday Bowl. The Wildcats finished last season ranked #21. Coach Pat Fitzgerald was named coach of the year.
Stanford likewise had an up and down 2018 campaign. The Cardinal began the year ranked as high as #13 and rose to #7 with wins over ranked teams USC and Oregon. After losing 4 of 5 games mid-season, Stanford finished the regular season 3-0 and beat Pittsburg in the Sun Bowl.
Despite last year's accomplishments, Northwestern is picked to finish mid-pack in the Big Ten West this year — a real case of getting no respect.
"We're not great clickbait," Fitzgerald said. "But we'll just earn it. We'll just continue to do that and control what we can control. But, yeah, it's always fun to read this time of year how we stink."
The oddsmakers have Stanford as a -6.5 favorite in this marquee first-week matchup. But this would appear to be a show-me game for both squads. One season will get off on the right foot, while the other will be scrambling to get their feet under them.
Odds to Win the Big Ten Championship
Before the first kickoff, who do the oddsmakers have taking home the Big Ten Championship Dec. 7 in Indianapolis?
---
Ohio State +100
Michigan +200
Penn State +900
Nebraska +1400
Wisconsin +1400
---
Those odds suggest the Michigan/Ohio State game on Nov. 30 will determine who the Eastern Division will send to the championship game. In the West, Nebraska plays Wisconsin on Nov. 16, which could decide who gets the Western Division title bid.
In the meantime, there's a lot of football to be played and a lot of upsets to be had.