No. 1 Ohio State (12-0) is looking to repeat its regular season success against No. 8 Wisconsin (10-2) when the two teams meet Saturday night in the Big Ten Championship Game at Lucas Oil Stadium in Indianapolis.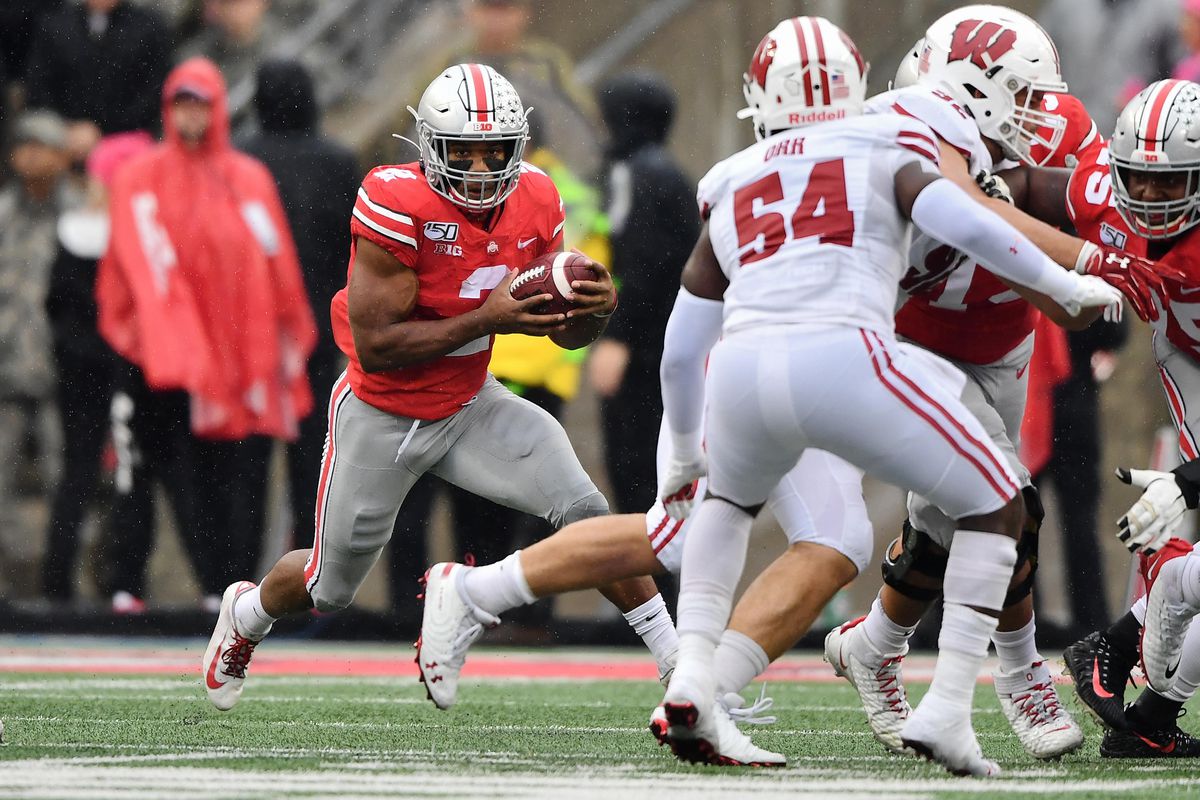 The Buckeyes easily dismissed the Badgers at home in their first encounter back in October, cruising to a 38-7 win.
Ohio State Guaranteed Playoff Berth With Win
Bookmakers aren't expecting that kind of blowout this time around, but Ohio State is still favored by 15.5 points, according to Big Ten Championship odds posted at FanDuel Sportsbook. A win on Saturday would assure the Buckeyes of a spot in the College Football Playoff, while a loss would leave their fate in the hands of the committee.
Ohio State hasn't faced a serious challenge yet this year, with every win coming by at least two scores. But, head coach Ryan Day says he's wary about playing a team as talented as Wisconsin a second time in the same season.
"It will be really tough," Day told reporters. "They've gotten better as the season has gone on. It's going to be a big challenge, it's going to be hard, go all the way to the fourth quarter."
Wisconsin head coach Paul Chryst took a similar tact with reporters, saying his team isn't the same one that lost to the Buckeyes earlier in the year.
"There's no question we are a better team [than we were then]," Chryst said. "I think you can make an argument they're a better team as well. One thing I do feel good about is that we've had guys continuing to step up. New names are contributing and helping…it's going to come down to playing good football Saturday night."
One major difference in the Big Ten Championship is that the contest will take place indoors rather than in the stormy weather of the first encounter. Day doesn't believe that the change shouldn't have a big impact on the result.
"The situation is the same for both sides," Day said. "I will say that it's nice to be playing indoors, though, after the last four weeks of kind of tough weather. But, yeah, it will be the same for both sides. I don't think there's an advantage on either end."
Chryst: Wisconsin Must Step Up on Offense
The task for Wisconsin is daunting. Ohio State leads the nation in scoring offense at 49.9 points per game, but is also fourth in defense, holding opponents to just 11.8 points on average.
Wisconsin is also among the top defensive teams in the country, which kept them in the first game for a while: the score was just 10-7 in the third quarter before Ohio State reeled off 28 straight points. The Badgers will have to step it up on the offensive side of the ball to contend on Saturday.
"There's no doubt, we didn't do a great job in the passing game consistently," Chryst told reporters. "If we're going to have success, we're going to have to do a better job of protection and getting open. All in all we gotta be better."