In college football, big points spreads are always problematic for bettors, and Week 2 was no different. Alabama and Georgia both had lines of 50 or more points, and both failed to cover.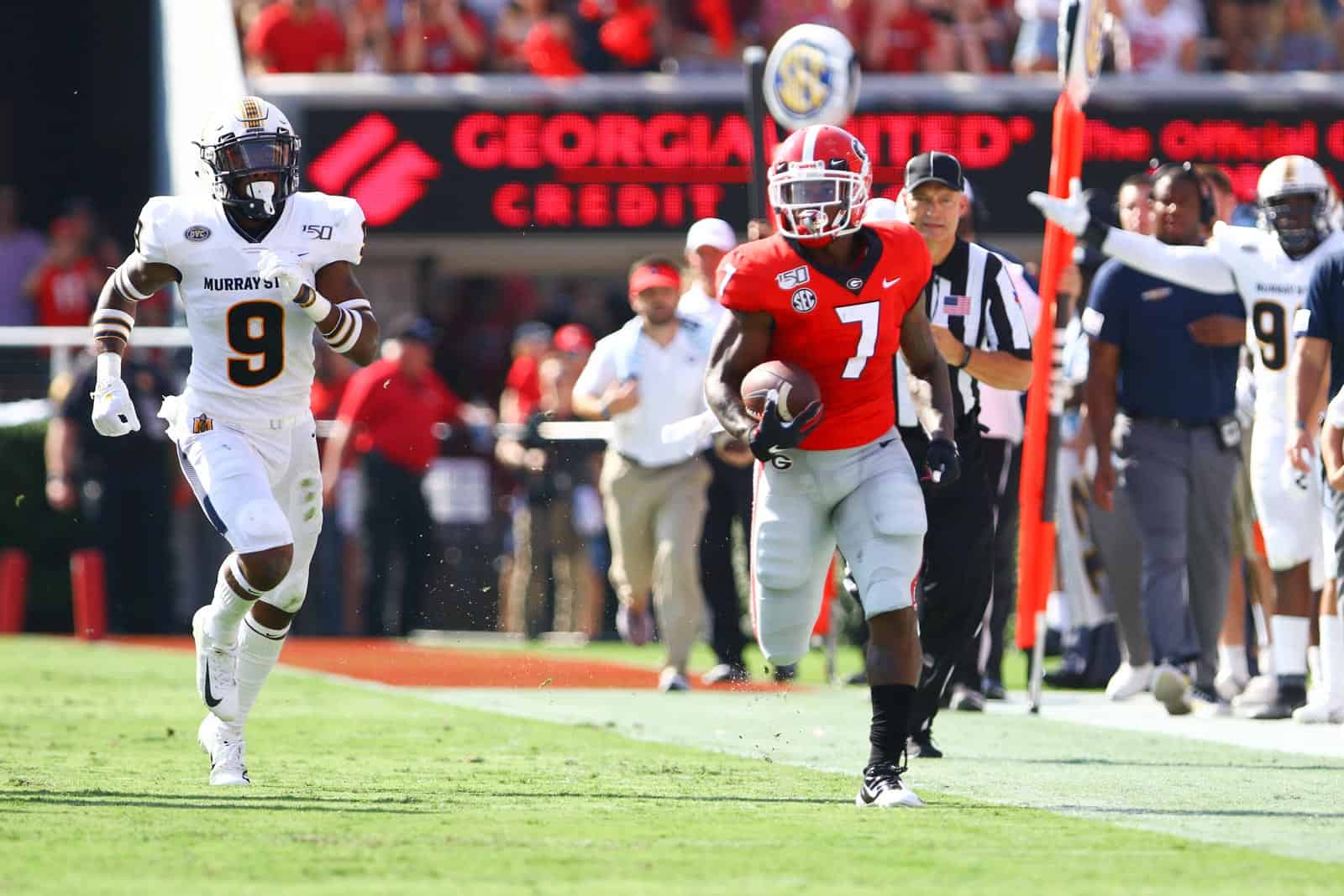 Alabama, who is ranked second in the country according to the AP Top 25 poll, was a 55-point pick over New Mexico State. The Crimson Tide had a push until 10 minutes remaining the fourth quarter, when New Mexico State's Dylan Brown kicked a 43-yard field goal to make the final score, 62-10.
The Crimson Tide has been criticized for scheduling weak, non-conference opponents, but coach Nick Saban bristled at that suggestion.
"We're playing the best teams that we can get to play us," Saban said. "Why don't you start calling around and see if you can get somebody else to play us, and we'll play them. We'll play anybody you can get to play us."
Georgia Pummels Murray State
The Bulldogs, who are ranked No. 3, haven't been tested much in their first two games. They opened with Vanderbilt and won 30-6. Last Saturday, they hosted Murray State in a game where several sportsbooks wouldn't even post a line. Fan Duel opened the contest at 50 and, by game time, it had dropped just a point.
Georgia never covered, winning the game, but not getting close to a 50-point spread. A late fourth quarter touchdown by the Bulldog's Stetson Bennett on a one-yard run got the margin to four points.
Bulldogs coach, Kirby Smart, said he unloaded the bench against Murray State.
"I think we played every guy we had," Smart said. "I don't think we had a freshman who didn't play."
Ohio State, Wisconsin Win Big
There were some teams that did cover big point spreads, though they weren't as big as Alabama and Georgia. No. 4 Oklahoma was a 44.5-point pick over South Dakota, and won 70-14. That performance helped shape the line against next week's opponent, UCLA. The Sooners opened at 17.5, but quickly jumped to 21.
Another team that did well against the spread was Wisconsin. The No. 17 Badgers trounced Central Michigan, 61-0. They were laying 34.5 points in that game. It was the second consecutive drubbing of a non-conference opponent. They were favored by 10 points against South Florida, and won 49-0.
Close Call for Michigan
The Wolverines were a 22.5-point favorite over Army at home, and then watched in horror as they almost got upset. The ball control offense employed by the Black Knights drove Michigan crazy.
It took two overtimes, but the Wolverines squeaked out a 24-21 victory. They will need to have a much better effort if they are going to win in two weeks at Wisconsin where they will most likely be an underdog against the Badgers.
Betting Stat of the Week
Hawaii is 0-16-1 in games they are favored in, including Saturday's contest against Oregon State. The Rainbow Warriors were 5.5-point picks, and failed to cover, winning, 31-28. They are also 6-22-1 ATS in their last 29 home games.
Bad Beat of the Week
Clemson was favored by 16.5 points against Texas A&M. The Tigers had the number covered, leading 24-3 with less than six minutes remaining. The Aggies then put together a 16-play, 91-yard drive that culminated with a two-yard touchdown pass with six seconds left that crushed Clemson backers.