Health experts gave the NCAA about a zero-percent chance of running through a full college football season unscathed by the COVID-19 pandemic, and they were right.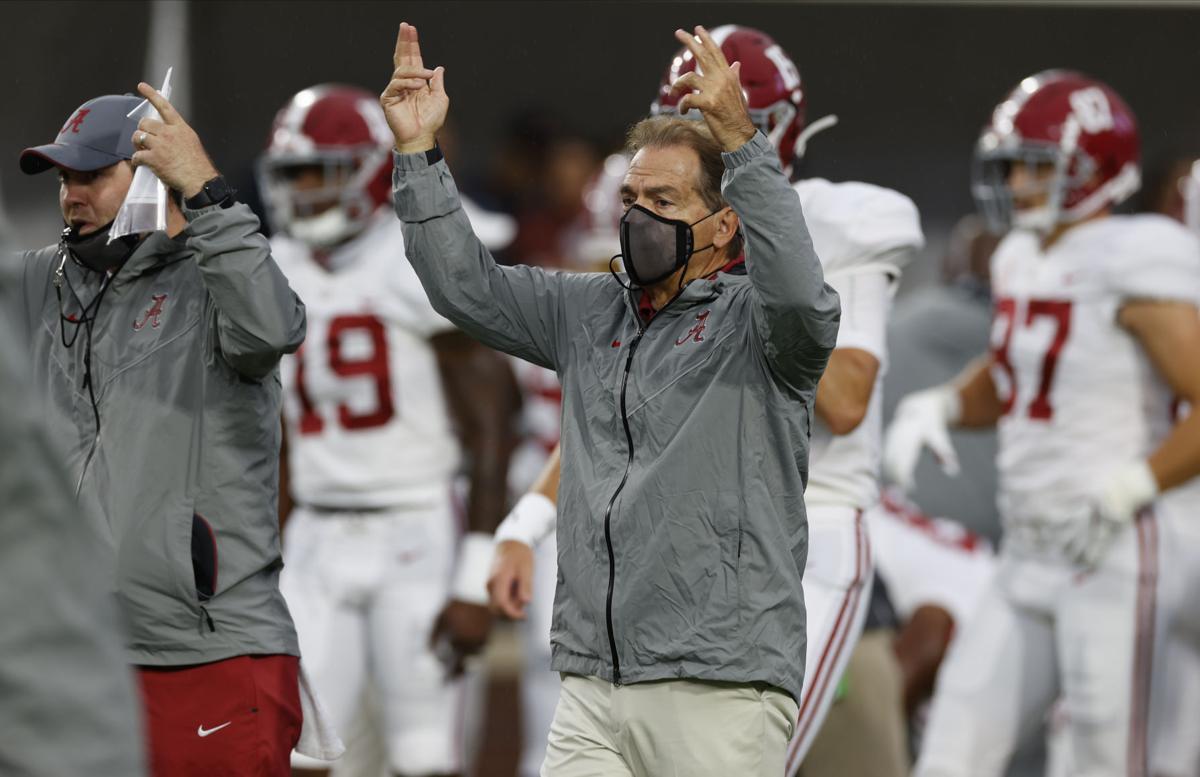 Even conservative predictions couldn't have accounted for the coronavirus's massive spread over the past couple of weeks, especially in the SEC, where the nation's most prominent programs have been ravaged, and a spotlight has shone on the dangers of traveling to play.
Healthy Underdogs Took Week 7
Week seven's inverted storylines started early as Coastal Carolina cracked the top 25 with a 30-27 victory over no. 21 Louisiana-Lafayette at Cajun Field last Wednesday.
Auburn, eight players down with COVID, was taken out with seemingly little effort by South Carolina on Saturday morning, followed by Tennessee — fined $100k this week for not adhering to the SEC's COVID protocols — being beaten at home by Kentucky.
No. 4 Notre Dame, which suffered a recent outbreak traced back to a pre-team meal, edged out Louisville 12-7 kept its No. 3 ranking, but still looks shaky going into week 8 vs. a back-to-full-health Pitt, which suffered an early September outbreak. And No. 20 UCF, with 10 players opting out before the season, lost to underdog Memphis.
LSU vs. Florida was postponed because of COVID-19 outbreaks on both squads. Florida State upset No. 5 North Carolina, still smarting from its early-season outbreak woes, 31-28 Saturday in Tallahassee.
Alabama Exception(alism)
Of Saturday's marquee games, only three favorites covered the spread. No. 1 Clemson (-27) handily walloped a COVID-depleted Georgia Tech, 73-7. No. 2 Alabama (-6) beat No. 3 Georgia, 41-24, and No. 11 Texas A&M (-5) had little trouble against Mississippi State, winning 28-14.
Alabama won with head coach Nick Saban back on the sidelines after sitting out a week with coronavirus. The tide rolled past Georgia by 17 points, but lingering issues remain.
"As soon as you travel, you get exposed to a lot more things and a lot more people," Saban said after his positive test.
It took seven weeks for lines to start shifting from the effects of a pandemic, and with a new major conference entering the fray, it may be even more difficult in Week 8 to track how positive COVID results are going to shake out for bettors.
Going into this weekend, Alabama is a 21-point favorite in their annual "Third Saturday in October" matchup against Tennessee, who lost their past two games by more than 20 points each after a promising 2-0 start to the season.
Coronavirus-Influenced Top 25 Matchups for Week 8
Based on recent COVID results, and play or practice being paused due to virus concerns, here are three marquee lines to watch this weekend:
No. 14 North Carolina (-16.5) vs. No. 23 NC State
After an early COVID outbreak and a cancellation of an in-state matchup with UNC Charlotte, the Tar Heels enjoyed a brief stint in the top 5, and an almost-100% healthy squad going into their matchup with Florida State. Only a couple of missed calls during UNC's final drive had them falling short against the unranked underdog.
NC State quarterback Bailey Hockman has some nice outings vs. Wake Forest, and a late-game injury substitution vs. Duke. UNC's run defense was exposed during the second half vs. the Seminoles. It's still questionable whether they are 100%. NC State may be a strong candidate to cover or, even win, at a +525 moneyline.
No. 17 Iowa State (+3.5) at No. 6 Oklahoma State
The Cowboys are coming off a COVID bye week as the scheduled tilt between Oklahoma State and Baylor on Saturday, Oct. 17 was postponed to Saturday, Dec. 12. Baylor announced the decision due to the team's inability to meet Big 12 roster requirements because of positive tests.
While Oklahoma State had a slew of positive tests in September, Iowa State has remained healthy all season — as a program and as a school. Among 516 Cyclones athletes tested between Sept. 28 and Oct. 4, there were no positive COVID results due to better in-house protocols and more stringent Iowa state regulations. The Cyclones have yet to face any disruption this season. They seem to score at will, and with up to four points you're getting, the Cyclones look like an intriguing Week 8 potential upset.
No. 9 Cincinnati (-1) at No. 16 SMU
Earlier this month vs. Memphis, SMU campus police cleared out the Mustangs' (5-0, 2-0 AAC) entire student section because they weren't following coronavirus protocols (masks and six feet of distancing.) SMU managed a win and now face a Cincinnati (3-0, 1-0 AAC) team that fell one spot after postponing last Saturday's game at Tulsa because of COVID-19.
Cincinnati says they'll have a full roster after their coronavirus outbreak. This includes the services of star running back Gerrid Doaks, who has six touchdowns thus far this season, as well as potential first-rounder cornerback Coby Bryant, who nabbed two of the Bearcats' five picks in a 28-7 win over South Florida on Oct. 3.
On paper, Cincinnati is a slightly better squad. Still, as we've seen in recent weeks, scheduling hiccups can make a difference on Saturdays, leaving SMU and the point(s) an intriguing option.