Rick Byrd is retiring after 33 seasons with Belmont Bruins where he won 713 games since 1986. Overall, Byrd won 805 games in his storied career as a basketball coach.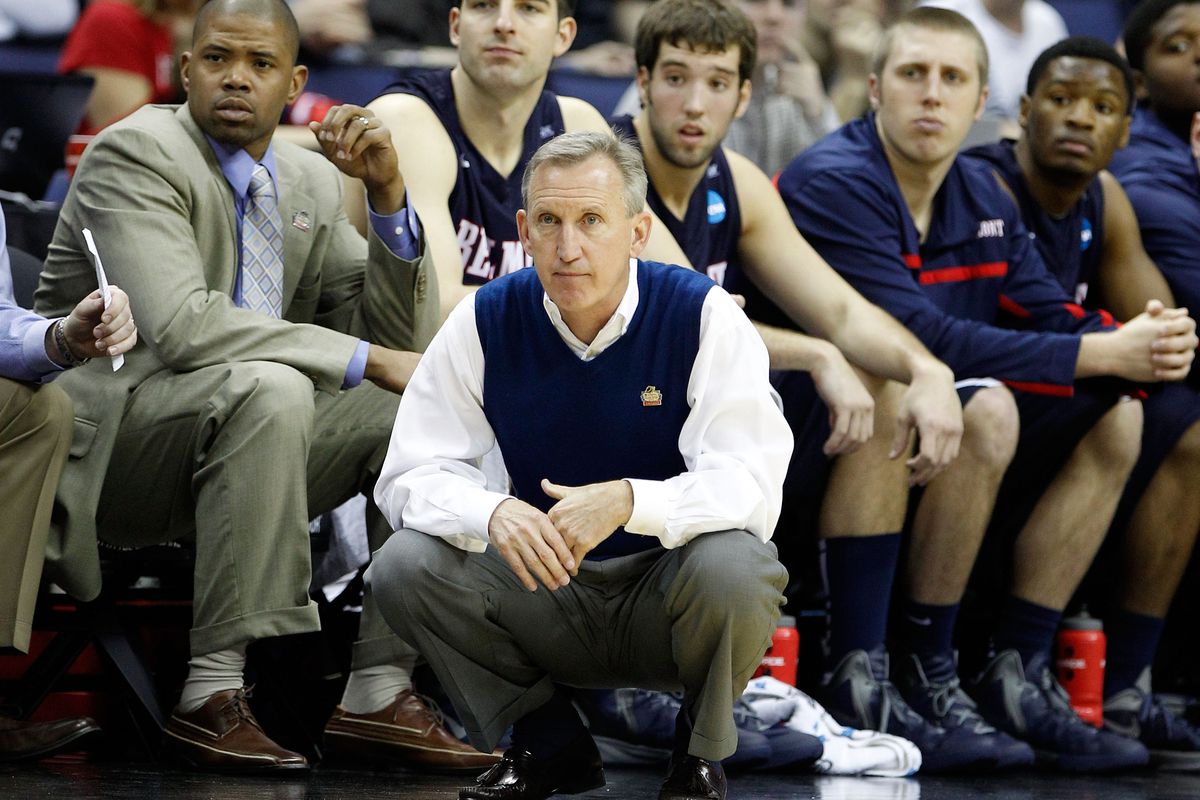 Byrd, 65, guided Belmont to an at-large bid in the 2019 March Madness tournament. They lost to Ja Morant and Murray State in the Ohio Valley Conference Championship, but still made their way into the tournament. Belmont finished with a 27-6 record this year. The Bruins, with an #11 seed, were knocked out of the tournament by #6 Maryland.
"I've thought about this for a few years; it's a grind and it's just time," Byrd said. "I am ready to not try and win the next game is sort of the best way to put it. And Belmont deserves somebody who is ready to do that all the time."
Byrd won his 700th career game with Belmont in the middle of his final season. He retires ranked #12 all-time for NCAA college basketball victories. His winning percentage, at .673 percent, is second best in the country behind Mark Few at Gonzaga.
So much has changed since Byrd accepted the Belmont job in 1986. Larry Bird was the most famous bird in basketball at the time during the halcyon days of the Boston Celtics. In 1986, "Platoon" was the top film at the box office. Peter Gabriel hit a home run with his hit song "Sledgehammer" and Huey Lewis and the News ruled the airwaves.
33 Years and a Legend in the Making
In 1978, Byrd cut his teeth coaching the Maryville Scots in Division III. He spent two seasons there before he moved on to the Lincoln Memorial Railsplitters, which was in the NAIA. He coached three seasons there and won 20-plus games every season. After an impressive 69-28 record, Belmont took notice and offered him a job. That was in 1986. Byrd didn't leave for 33 years.
At the time, Belmont had the nickname the "Rebels" and they played in the NAIA. They held onto the name until 1995, when they switched up their nickname to the Bruins.
For the 1996, Belmont decided to make a huge jump to Division I. They were an independent for five seasons. Byrd struggled to make the adjustment against better programs. In those transition years, he had only two winning seasons.
In 2001, the Bruins finally found a home conference. They joined the Atlantic Sun, where they would play for the next 11 seasons. During this era, Byrd guided Belmont to their first-ever March Madness berth. He took them to the Big Dance five times, but never won a game. He also won 30 games for the first time in 2011.
In 2012, Belmont migrated to the Ohio Valley Conference. Belmont never won fewer than 20 games. They also advanced to March Madness three times coming out of the OVC.
"I feel that was my job; I feel like that is what I was supposed to do," said Byrd. "It's kind of a perfect storm for me personally that we made the tournament as an at-large and two days later we get the first NCAA Tournament win. And then it was a loss, but we played a good Big Ten team dead even for 40 minutes."
Overall, Byrd took Belmont to March Madness eight times since 2006. They won the play-in game against Temple, but lost to Maryland by two points in the Round of 64.
Replacing an Unreplaceable Coach
When someone of Byrd's caliber steps away from the game, how do you replace a legend?
"I was hoping last night he was going to send me a text saying 'April Fools' and play the biggest April Fools joke on us today," said Belmont Athletics Director Scott Corley. "But unfortunately that's not true. Coach will leave a legacy at this university that will be hard to duplicate."
Lipscomb head coach Casey Alexander is the obvious choice. Alexander is a former assistant coach at Belmont and spent 16 seasons alongside Byrd. This season, Alexander led Lipscomb to 28 wins. They are still alive in the NIT with a berth in the semifinals.
Corley might tap one of the current Belmont assistants to succeed Byrd. Brian Ayers and James Strong are also potential candidates. Ayers has been on the staff for 21 years and an associate head coach since 2010. Strong is a former Vanderbilt player and assistant coach. He is also on the short list of potential candidates for Vanderbilt after they fired Bryce Drew.