After Kansas State upset No. 5 Oklahoma, the undefeated Baylor Bears jumped into first place in the Big 12 with a 4-0 conference record, and a 7-0 overall record.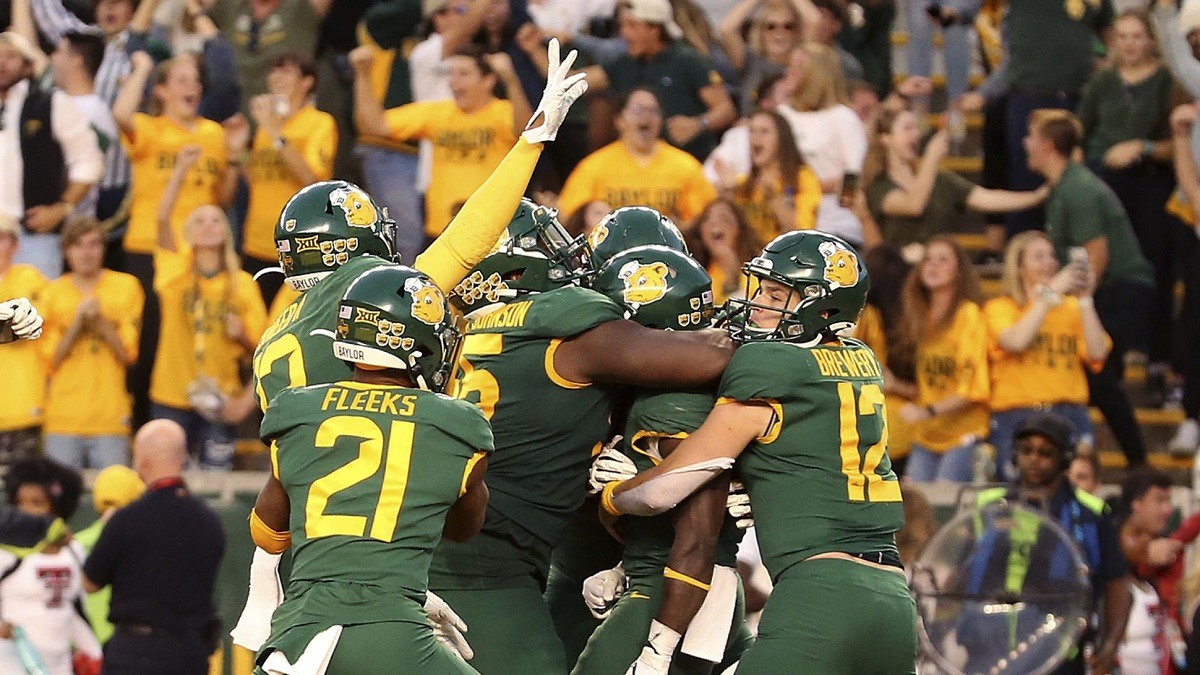 Voters in the latest college football Top-25 AP Poll bumped Baylor to No. 12 overall during their bye week. In the previous week, Baylor crushed Oklahoma State, 45-27, in Stillwater.
Baylor is one of nine unbeaten teams in the nation. The Bears accomplished an amazing turn around in a brief time. Only two seasons ago, the Bears were 1-11 with embarrassing losses against UTSA and Liberty. Baylor went 7-6 last season, and now they're 7-0 with an inside track to a Big 12 conference title.
Oklahoma, which fell to No. 10 in the rankings after last week's upset, is the biggest obstacle in Baylor's path toward an undefeated season and a Big 12 title. If the Bears can pull off both goals, then they'll have a spot in the college football playoff awaiting them, and a chance to play for a national championship.
After Oklahoma's loss, the Big 12 saw their College Football Playoff hopes go up in smoke. Baylor is a long shot, but are now the Big 12's only hope for one of their teams to represent the conference in the final four playoff.
Of course, all of this hinges upon Baylor beating West Virginia on Halloween, and then successfully navigating a treacherous November that includes conference games against TCU, Oklahoma, Texas, and Kansas.
BAYLOR 2019 REMAINING SCHEDULE
10/31 vs West Virginia
11/9 at TCU
11/16 vs No. 10 Oklahoma
11/23 vs Texas
11/30 at Kansas
With a huge game on the horizon against Oklahoma, the Bears can't let their guard down and overlook their next two opponents, beginning with West Virginia (3-4) on a rare Thursday night game.
Baylor, 4-3 against the spread this season, is an 18.5-point favorite over West Virginia.
On the Road to 8-0
The big knock against undefeated Baylor is the strength of their schedule, or the lack thereof. Then again, if they pull off a 13-0 season, they'll have to beat Oklahoma and Texas in back-to-back weeks. That's no easy feat, especially the Oklahoma game.
Baylor crushed their non-conference games to start the season. They've yet to lose in the Big 12, which included a bit of controversy after an overtime win against Texas Tech. Baylor should have lost to Texas Tech, but the zebras gifted them a false start flag on a play when they botched a snap with a butt-fumble initially recovered by Texas Tech.
Baylor's offense averages 7.3 yards per play, which is ranked fifth in the FBS. However, they beat up on several inferior defenses, including Stephen F. Austin, UTSA, and Rice.
Junior QB, Charlie Brewer, leads the No. 12 ranked offense in the nation that averages nearly 39 points per game. So far this season, Brewer has posted four games in which he's passed for 300-plus yards. He's thrown 12 touchdowns and only three interceptions this season.
The Bears defense is better than average, yielding only 4.9 yards per play, which is ranked No. 25 overall. Even though they started 4-0 in conference action, Baylor's defense allowed 30 points per game to Big 12 opponents.
West Virginia is only 1-3 in the Big 12 this season, but the Bears want payback after a 58-14 throttling last season.
"West Virginia beat us so badly last year, and it's such a vivid memory," said head coach Matt Rhule. "They do a great job of keeping you off balance, and they are getting more and more confident as they get deeper into their new system."
West Virginia hobbles into Waco with three straight conference losses, including a 52-14 loss to Oklahoma.