Apparently someone has to win Thursday night's game between the 0-3 Denver Broncos and 0-3 New York Jets, but considering the futility of both teams, a scoreless tie isn't out of the realm of possibilities. The game is in East Rutherford, New Jersey where the Jets are favored by 1.5 points, and the over/under is 41 points.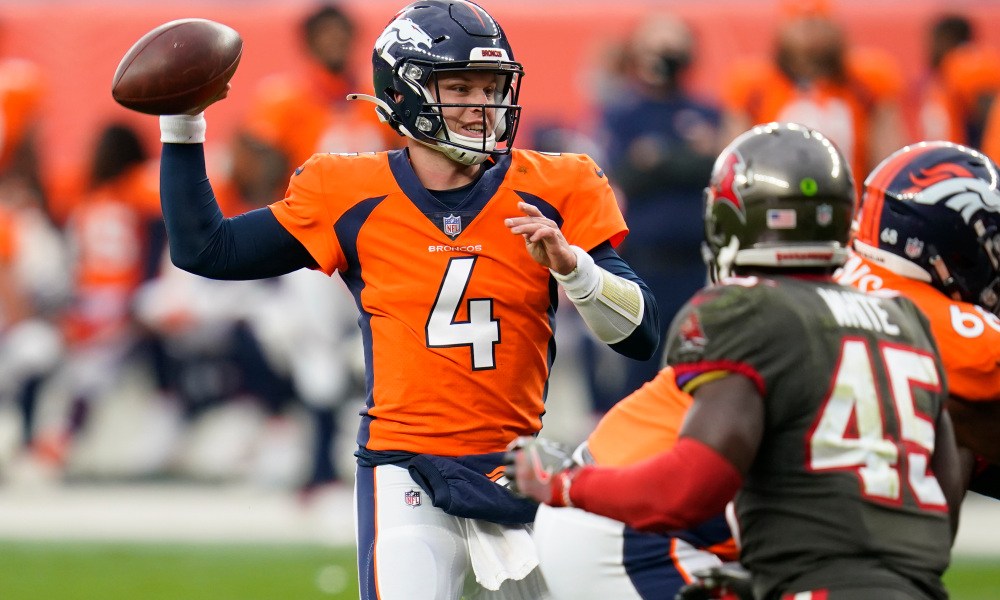 Denver has a new starting quarterback, but he may not be enough against the New York Jets
Jets QB Sam Darnold has struggled in three games this season, but it's not entirely the third-year player's fault
Adam Gase could be coaching for his job, as the rumors of him being fired are growing louder by the day
While the New York Jets deny they're considering making a change at quarterback, Denver head coach Vic Fangio actually pulled the trigger. He announced Monday that Brett Rypien will be taking over for Jeff Driskel. Driskel replaced opening day starter Drew Lock, who's been out with an injury.
Fangio told reporters on Tuesday that he wants to give Rypien a shot at starting, but didn't rule putting Driskel back in if Rypien falters.
"We've had a year, and a second training camp and a couple weeks with Brett here, and we think he deserves a chance to see how he can do as the starter, albeit on a short week of preparation," Fangio said. "We'll see how the game unfolds. Jeff is a different player than Brett in the movement area, so we may just change it up there a little bit at times."
Can Darnold Rebound Against Denver?
While Denver made a decision to put in a new starting quarterback, the New York Jets are sticking with Sam Darnold. The third-year starter is having his worst season thus far, but the team isn't making a change.
Against Indianapolis last Sunday, Darnold threw two pick-sixes, and the Jets were thumped by the Colts, 36-7. Darnold finished the game 17 of 29 passing for a touchdown and three interceptions.
The calls to replace him are growing louder. BetOnline has him as the +325 favorite to be the next quarterback benched. To be fair, however, it's not entirely Darnold's fault.
XAVIER RHODES PICK SIX!!

📺 @CBS | #NYJvsIND pic.twitter.com/luHlRQHT6f

— Indianapolis Colts (@Colts) September 27, 2020
The team is without three starting wide receivers and starting running back Le'Veon Bell, all of whom are out with injuries. Darnold, though, is concentrating on Denver, not the problems of the New York Jets.
"For me, every situation is different," Darnold said. "I'm really just focused on living in the moment right now. We've had a rough stretch here with these three games not going the way we wanted them to. I'm just focused on what Denver's defense is doing, coverage wise, pressure wise, all that stuff. I'm just making sure I'm good there and focused on our game plan."
Gase's Troubles May Boil Over
While Darnold has some relative job security, the same can not be said for his head coach. Adam Gase has been the favorite by a couple of sportsbooks to be the first NFL head coach fired. Thursday night's game might be his swan song if the team goes to 0-4.
Gase, however, doesn't seem overly concerned. He told reporters he's not worrying about decisions that are out of his control.
"This is the NFL," Gase said Monday. "We're 0-3 right now. We haven't played well. We have to improve quickly. My job is to do everything I can to get our guys in the right headspace heading to [the game]."