The Naismith Memorial Basketball Hall of Fame in Springfield, Massachusetts, will postpone the class of 2020's induction until the first quarter of 2021 due to the coronavirus pandemic. The 2020 class features nine inductees, including Kobe Bryant, Kevin Garnett, Tim Duncan, Eddie Sutton, Rudy Tomjanovich, Kim Mulkey, Tamika Catchings, Barbara Stevens, and Patrick Baumann.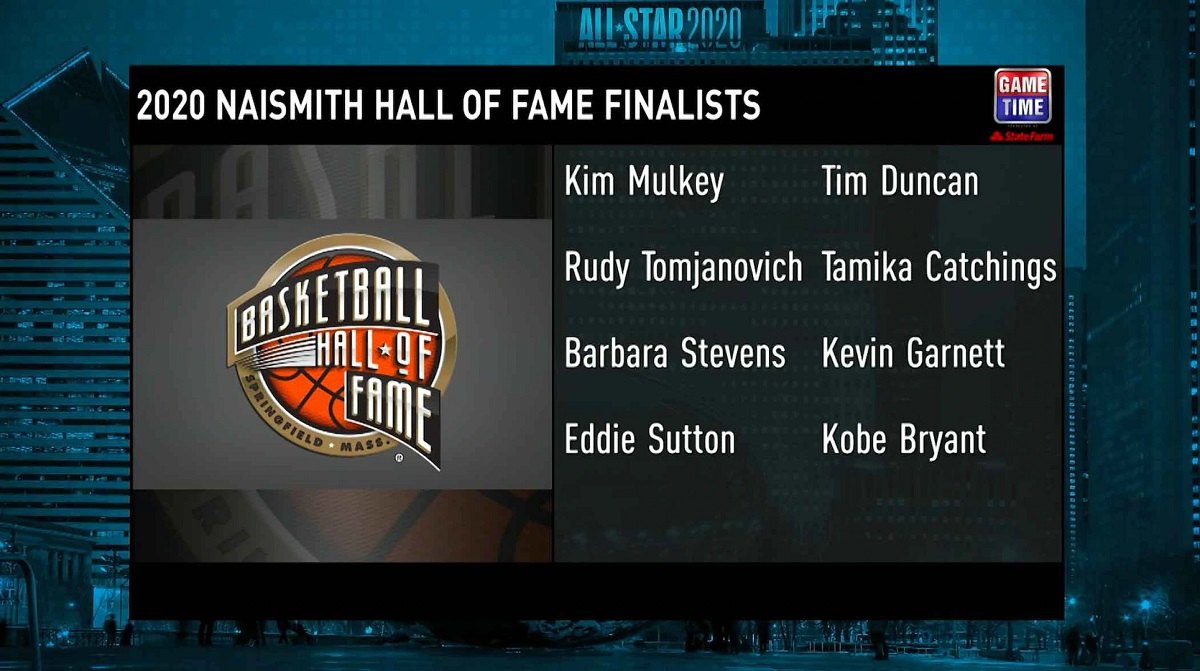 The 2020 Hall of Fame ceremony had been initially scheduled for the last Saturday in August.
"We're definitely canceling," said Jerry Colangelo, chairman for the Basketball Hall of Fame. "It's going to have to be the first quarter of next year. We'll meet in a couple of weeks and look at the options of how and when and where."
The class of 2021, which has yet to be decided, will have a separate ceremony than the class of 2020.
"We won't be combining them," said Colangelo. "The class of 2020 is a very special class and deserves its own celebration."
Basketball Hall of Fame – Class of 2020
Kobe Bryant
Tim Duncan
Kevin Garnett
Eddie Sutton
Rudy Tomjanovich
Tamika Catchings
Kim Mulkey
Barbara Stevens
Patrick Baumann
Eddie Sutton, the legendary coach at Oklahoma State, recently passed away. Sutton, along with Kobe Bryant, will be inducted posthumously.
The inductees were nominated from the North American committee, Women's Committee, and International Committee. Future members must receive at least 18 of the 24 potential votes from the Honors Committee.
Players: Kobe, KG, Duncan, Tamika
Tamika Catchings won a national championship with the Tennessee Lady Vols under Pat Summit in 1998. Catchings won four gold medals at the Olympics playing for Team USA in 2004, 2008, 2012, and 2016. She earned 10 All-Star selections between 2002 and 2015. She won the WNBA MVP and led the Indian Fever to a WNBA championship in 2013.
Kevin Garnett went right from high school to the NBA. The 15-time All-Star finally won a championship with the Boston Celtics in 2008. KG is known as one of the craziest and loudest trash talkers in hoops history.
Tim Duncan won five NBA championships with the San Antonio Spurs. In 19 seasons with the Spurs, he's the only player in NBA history to win 1,000 games with the same team. Duncan is currently in the Top 10 NBA all-time for rebounds and blocks.
Kobe Bryant also went directly from high school to the NBA. He won five titles with the Los Angeles Lakers and earned 18 All-Star nods. Kobe secured a three-peat with Shaquille O'Neal and Phil Jackson between 2000 and 2002. He added two more titles with a repeat in 2009-10. In January, Kobe and his daughter passed away in a helicopter crash.
Coaches: Sutton, Mulkey, Stevens and Rudy T
Eddie Sutton is one of nine Division I men's basketball coaches to win 800 games. He guided four different teams to March Madness berths. Sutton played ball for Oklahoma State in the 1950s before he returned to coach at his alma mater in 1990.
Rudy Tomjanovich, a former NBA All-Star, is best known for his role in the ugly brawl with Kermit Washington. He pivoted to coaching and guided the Houston Rockets to back-to-back championships in 1994 and 1995.
Kim Mulkey is probably the best female women's college basketball coach not named Pat Summit. Mulkey guided the Baylor Lady Bears to three March Madness titles (2005, 2012, 2019). She also earned a national championship as a player with Louisiana Tech and a title as an assistant coach. Mulkey became the first person in the history of college basketball to win a national championship as a player, assistant coach, and head coach.
Barbara Stevens won more than 1,000 games as a Division II coach. She's one of five coaches to reach the 1K win mark.
"The class of 2020 is undoubtedly one of the most historic of all time and the talent and social influence of these nine honorees is beyond measure," said John Doleva, President of the Basketball Hall of Fame.
This year's class also includes FIBA executive Patrick Baumann, who helped spread the game of basketball around the globe.