Sports geeks consider "Long Gone," a 1987 made-for-TV film at HBO, the best baseball movie you never saw about a minor league ball club set in the Florida panhandle in 1957.  William Petersen ("To Live and Die in LA") stars as player/manager Stud Cantrell of the Tampico Stogies in Class D ball.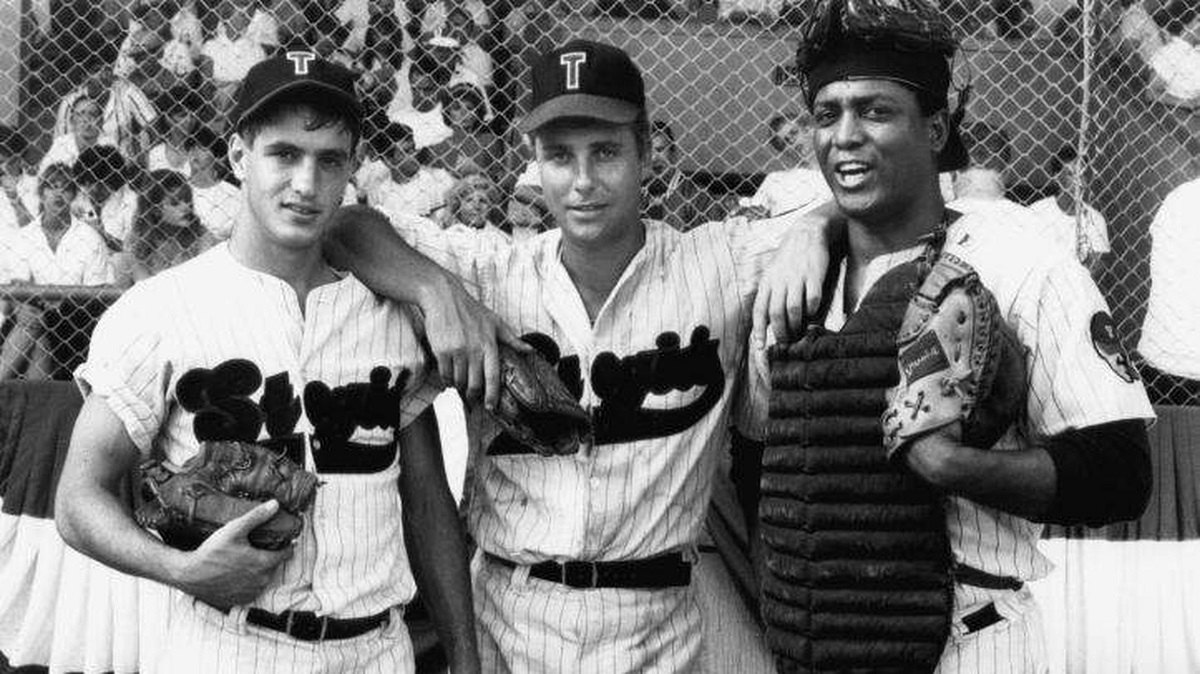 The HBO film also stars Virginia Madsen as Cantrell's love interest and Dermot Mulroney as the rookie second baseman.
Atlanta sportswriter Paul Hemphill penned "Long Gone" as a novel in 1979. The novel version is loosely based on Hemphill's experiences playing minor league baseball in the Alabama-Florida League before entering college to earn a degree in journalism.
Michael Norell ("Love Boat," "Nash Bridges") adapted "Long Gone" as a screenplay. HBO tapped Martin Davidson ("Lords of Flatbush," "Eddie and the Cruisers") to direct a film version with a $5 million budget.
Long Gone
Release Date: May 1987
Directed by: Martin Davidson
Screenplay by: Michael Norell
Produced by: Joan Barnett
Distributor: HBO
"Long Gone" debuted on HBO in May 1987, or 13 months before "Bull Durham," another movie about minor league baseball, hit theaters in June 1988.
Good luck finding a DVD copy of "Long Gone." Although it is an HBO production, they no longer own the rights and the film doesn't appear on any of HBO's streaming services. You'll also find the title absent from Netflix or your favorite streaming service. A few used VHS copies appear on Amazon, but once in a while you can get lucky, and find some scenes scattered on the internet.
Plot: From Worst to First
The Florida Gulf Coast, 1957. Cecil "Stud" Cantrell (William Petersen), a hard-drinking womanizer, bides his time with the Tampico Stogies before he retires from baseball to become a full-time coach. Stud hopes the St. Louis Cardinals will give him a shot at managing one of their other minor league affiliates.
Cantrell, a former top pitching and switch-hitting prospect from Missouri, began his career with the Cardinals but was stuck in the minors playing behind the legendary Stan Musial. The start of WWII cut short his baseball career. Stud joined the Marines and injured his knee in an explosion during the Battle of Guadalcanal. Navy doctors almost amputated his leg, but he begged them to save it. He returned stateside, but 12 years later, ended up stuck in Class D ball and riding a broken-down bus as the player/manager on the last-place Tampico Stogies.
Dixie Lee Boxx (Virginia Madsen), 1957 Miss Strawberry Blossom from Crestview, Alabama, draws the attention of the Stogies during a game against the Crestview Cats for her botched rendition of the national anthem. Stud invites Boxx to join him for a drink and quick tryst on the team bus. She passes out and wakes up while the bus pulls up to the Flamingo Hotel in downtown Tampico, Florida, where most of the Stogies live.
Jamie Don Weeks (Dermot Mulroney), a recent high school graduate from Goodwater, Alabama, shows up at Stud's room at the Flamingo Hotel. Cantrell takes him to the ballpark for a quick tryout. Weeks proves his worth as an infielder, but doesn't expect any home runs at the plate.
"I already know you can't hit more than .200, kid," says Stud.
Joe… Jose Brown
The Tampico Stogies are in desperate need of a power hitter. The team's miserly owners, Hale Buchman (Henry Gibson) and Hale Buchman, Jr (Teller), also own the main department store in downtown Tampico. The Buchmans are too cheap to acquire any talent, which is why the Stogies toil in last place.
Stud chats with a scout who finds him a home run hitter. Joe Louis Brown (Larry Riley), an African American trying to play ball in the Jim Crow South in the late 1950s, arrives to play for the Stogies.
A reluctant Cantrell doesn't want to give Brown a shot until he sees a batting practice session. Cantrell pitches to Brown, who jacks multiple home runs, including a couple of moonshots.
The Buchmans are sheepish to give Brown a contract because the Stogies play games against teams in Alabama who will lynch him. Cantrell convinces the Buchmans to pass Brown off as a South American. The Buchmans agree to a contract, and Cantrell tells Joe Louis Brown he must change his name to Jose Luis Brown from Caracas, Venezuela to avoid problems with the Ku Klux Klan.
Shortstop Paco, from Mexico, teaches Brown a little Spanish in one of the funniest scenes in the film. Paco also reveals to Brown that he speaks perfect English, but pretends not to speak it around the gringos.
Stud waits for the opportunity to ease Brown into the lineup. Brown finally gets his shot as a pinch hitter in an away game. "Jose Brown," the new Venezuelan catcher, crushes a game-winning home run. Hooded members of Klan stop the bus on its way out of town. Stud and the rest of the Stogies grab bats to chase off the Klan, while Brown knocks down a burning cross with his bat.
Let's Go, Tampico Stogies!
With Brown in the lineup as the starting catcher and Weeks playing great defense, the Stogies embark on a winning streak. The Stogies would have to play .750 ball in order to win the pennant, but Stud Cantrell thinks they can pull it off.
The Tampico diner owner offers to bet Stud $1 per game. The waitress hangs taped dollar bills in the diner window and Stud grabs one whenever the Stogies win.
Dixie Boxx returns to Tampico to shack up with Cantrell. She gives him a 30-day free trial before she demands that he marry her. Cantrell resists, but she won't give up.
Weeks, a religious virgin, falls in love with a local girl named Esther. They try hard to resist lustful urges, but they end up dating behind her parents' back. Esther becomes pregnant. Weeks, who has quickly adopted Stud's breezy and demeaning attitude toward women, decides to ditch her. Dixie Boxx tells Weeks he's been foolish to follow in Stud's footsteps.
The Dothan/Tampico Fix
The Tampico Stogies are neck-and-neck with Dothan and meet in the final game of the season to determine the pennant. Dothan, the snootiest team in the Alabama-Florida League, is owned by the wealthiest man in Alabama, J. Harrell Smythe (Hazen Gifford). Smythe invites Stud Cantrell to his mansion. Smythe bribes Stud and will name him the new manager of Dothan and help fast track him to St. Louis, so long as the Stogies lose the pennant to Dothan. Cantrell shakes hands on the shady deal.
Dixie Boxx breaks up with Cantrell because he refuses to walk away from the deal with Smythe to land his dream job.
Smythe also bribed Joe Brown. They offered him a car if he quit the team and skipped town. The Stogies owners inform Stud that if he goes against Smythe, then Smythe will rat out Cantrell and get him banned from baseball forever.
The game begins with Weeks taking over as manager of the Stogies. He gives the distraught team a pep talk on how Stud taught them how to win, and how they've won games several times when Stud pitched badly or Brown went 0-for-4. They take the field and give it their best shot against Dothan.
Brown finds Stud drinking by himself in the Flamingo Hotel bar with the game on the radio in the background. The two try to talk each other into breaking their deals and playing for the Stogies.
"It shouldn't matter what color a fellas skin is," laments Cantrell. "You just go out there with a bat in your hands, you hit the ball, and you run like hell. That's all. It's just a shame."
Brown knows the Klan could kill him if he plays, but he decides to anyway.
Bottom of the Ninth
Stud and Brown show up to Tampico Stadium, with the Stogies trailing late in the game. Brown tells the announcer to use his real name instead of Jose Brown. When Brown takes his first at bat, Dothan plans to intentionally walk him. Brown steps over the plate and lunges at one of the balls. He hits a home run to tie the game.
The Stogies continue the rally and load the bases for Stud. Dothan counters by bringing in Dusty Hoolihan, a pitcher who dominated Cantrell over the years. Stud, a lifetime 2-for-68 against Hoolihan, has no choice but to talk smack. Hoolihan thinks Cantrell had sexual relations with his sister. When Stud brings up the incident, he loses control. Hoolihan beans Stud in the head. A groggy Stud opens his eyes and wobbles to first base. The run scores and the Stogies win the pennant.
The final scene is a double wedding at Tampico Stadium with a preacher standing at home plate. Stud Cantrell and Dixie Lee Boxx finally settle down, while Jamie Don Weeks and Esther have a shotgun wedding.
Did You Know?
Class D ball back in the late 1950s was the lowest class in minor league baseball, or Class A. Today's equivalent for the Alabama-Florida League would be rookie ball in the Gulf Coast League.
Teller from Penn and Teller fame appears in the film as the team owner's son. Part of the Penn and Tell shtick involves a silent Teller. If you ever wondered what his voice sounded like, then you'll have to find a copy.
The Stogies' winning streak appears as a montage intercut with the spiritual "I Don't Believe He Brought Me This Far (To Leave Me)" performed by Brown's church choir.
Cast
Cecil 'Stud' Cantrell (William Petersen)
Dixie Lee Boxx (Virginia Madsen)
2B Jamie Don Weeks (Dermot Mulroney)
Catcher Joe Brown (Larry Riley)
Stogies Owner Hale Buchman (Henry Gibson)
Hale Jr (Teller)
SS Paco Izquierdo (Panchito Gomez)
Esther (Katy Boyer)
HBO shot "Long Gone" on location in Bradenton, Florida in 1986.
Since "Long Gone" is considered a TV movie, it's difficult to find a copy. In reality, it's an HBO movie, which was geared for a cable audience and not mainstream TV.
A handful of fans saw it when it originally ran in 1987. The ones who didn't catch "Long Gone" missed out on what has fallen into the "best baseball movie you never saw" category of obscure sports films.
"It kind of disappeared when we first did it," William Petersen told the Tampa Tribune. "A lot of people haven't seen it. But a lot who have, including baseball players, love it."
More Baseball Movies
"Long Gone," although classified as a made-for-TV movie, ushered in the boom era of baseball movies in the late 1980s.
For other sports movies, OG recapped Slap Shot (1979), Caddyshack (1980), Blue Chips (1994), and Steven Soderbergh's NBA drama, High Flying Bird (2019).