The Philadelphia Phillies are expected to be an above-average team competing in a division with as many as four possible playoff contenders. Their win total for the upcoming season is projected at 86.5, ranking third-highest in the National League East, and the same as their rival New York Mets.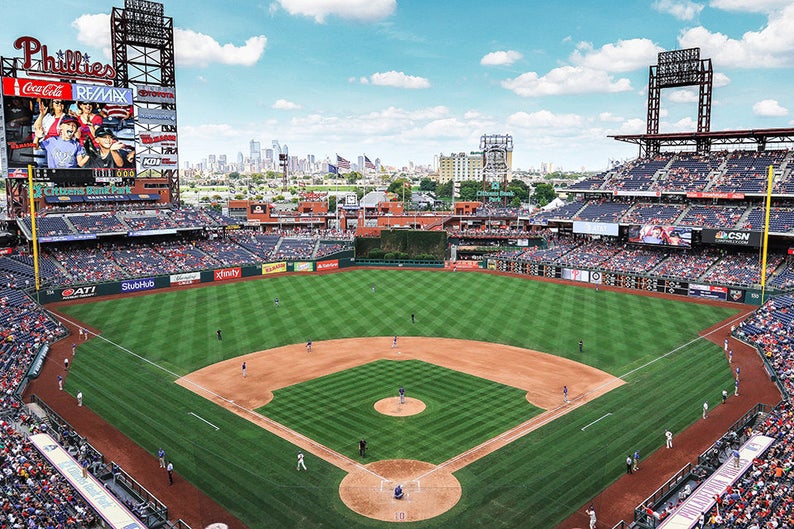 ---
The 2020 Major League Baseball season begins March 26. OG News is sizing up all 30 teams and their prospects for the year, with a breakdown of rosters and projections about how they'll fare — important information for the betting public. 
---
The Phillies have the sixth-highest projected win total of any team on the National League, and 11th-highest in the majors. Here's OG's bold forecast for the Phils, along with our prediction as to how they'll fare in 2020.
Philadelphia Phillies Betting at a Glance
Regular Season Projected Win Total: O/U 86.5
Odds to Win the National League East: +330 (3.3 to 1)
Odds to Win the National League Pennant: +900 (9 to 1)
Odds to Win the 2020 World Series: +2200 (22 to 1)
2019 Regular Season Projected Win Total: 83
2019 Final Record/Standings/Results: 81-81 (4th place), finished 16 games out of first place
Key Additions
+ Didi Gregorius (SS) — career .267 hitter with some power and speed, will certainly contribute
+ Josh Harrison (2B) — released last season by Tigers due to injury, shows promise when healthy
+ Zack Wheeler (P) — 11-8 record and under 4.00 ERA with Mets last season, fierce fastball thrower
Key Subtractions
– Corey Dickerson (OF)
– Maikel Franco (3B)
– Caesar Hernandez (2B)
– Logan Morrison (1B)
– Pat Neshek (P)
Reasons for Optimism
After a dismal stretch of bad teams, disappointing seasons, and questionable front-office moves, last year's revamped Phillies reached the .500 mark for the first time since 2012. But they missed the playoffs for the eighth consecutive season, despite committing nearly $400 million in future payroll. This year's team won't have any excuses. Philadelphia has the parts in place to be a contender, especially given their formidable batting lineup.
Pitching
The top two starters in the rotation will be just fine. Aaron Nola (53-35 career W-L record with 3.48 ERA) should return to good form in '20. Free-agent acquisition Zack Wheeler, with his blazing fastball and a fresh start on a contending team, should also post better numbers this time around. The Phillies can be quite confident in these starters.
The remaining lineup of hurlers has either underperformed or remains untested. That's typically a huge negative. No doubt, this looks to be the Phillies' soft spot. But let's also acknowledge the bullpen was hammered with injuries last season and never was able to stay rested and productive.
Even a healthy and somewhat stable roster for the Phils that posts just average pitching numbers might be good enough to satisfy the overall needs of the team, especially given their strengths in batting. In other words, Philadelphia might have an average pitching rotation but could be a winner by outscoring most of its opponents with a dangerous hitting lineup.
It's also noteworthy that GM Matt Klentak has been aggressive in going after free agents and making trades during the last two offseasons. If they're contending on the East, look for more moves and a pitching acquisition that might be the difference between another .500 season and making the postseason.
Hitting
The Phillies will field one of baseball's most potent offenses. As many as six starters are expected to crush 20-plus homers, with two stars being genuine threats to win the homer title.
Philadelphia's most dangerous bat belongs to superstar Bryce Harper, fresh off a superb .372 OBP, 35-homer, 114-RBI debut season with Phillies in '19. Harper has been a consistent performer and is now in the prime of his career, entering his ninth season in the majors. He should achieve his usual numbers, and now will be assisted by an outstanding supporting cast of hitters.
Rhys Hoskins needs to improve his on-base average, but his power is undisputed. Last year's 29 HRs and 85 RBIs will compliment Harper's contribution to a batting order with few easy outs.
Didi Gregorius, Andrew McCutchen, and Jean Segura are all above-average hitters. But J.T. Realmuto (.282 batting average with 22 HRs and 85 RBIs) will be key to the Phillies prospects. He's also among the best defensive catchers in the league.
It's hard to find flaws in the hitting lineup, which looks formidable. The lineup has largely been injury-free and has produced solid numbers.
Intangibles
The big question mark is pitching — and whether or not the Phillies front office will dig deeper into their pockets and exceed the luxury tax for the first time to address this weakness. That might be what determines this team's ultimate fate.
New manager Joe Girardi is a proven tactician in the dugout, accustomed to the pressures of running big-payroll teams with his tenure as skipper of the Yankees. That experience will suit Philadelphia well in 2020 and be a long-term positive for this up-and-coming franchise.
Reasons for Pessimism
The Phillies' weakness is clearly their pitching. There are some serious holes in this rotation.
The middle of the rotation looks weak. Zach Eflin and Jake Arrieta have not shown any sense of consistency. At least one of these #3 of #4 starters will have to step up in a big way to take this team to the playoffs. The fifth spot appears to be wide open, another area of concern.
Philadelphia's bullpen also appears vulnerable, arguably the fourth-best in the division. Hector Neris listed as the team's closer, with his unimpressive numbers, is all you need to know. Statistically, this bullpen issued way too walks and blew many close games. It's hard to find the middle reliever or fireman on this unit who will become a reliable go-to arm in the clutch.
Management supposedly addressed th glaring bullpen void by inviting a crop of average-to-below-average temps to spring training and then crossing their fingers that a couple of these low-paid, low-risk prospects produce decent numbers.
A combination of uncertainty with the 3-4-5 starters in the rotation along with a vulnerable bullpen is a recipe for another mediocre season. The Phillies better score lots of runs, or they won't win.
Philadelphia Phillies Betting Advice
As we've discussed with other teams in this division, the problem is competing amidst a logjam of above-average teams. The NL East boasts four clubs projected to win at least 86 games, which isn't feasible. Two clubs will surpass expectations, and two others will likely fade and disappoint their fans and backers.
Philadelphia appears to be one of those teams that will need a few breaks to surpass its more talented rivals. It's worth noting that the Braves, Mets, and Nationals all lost some personnel, and could fade as the Phillies develop a grove heading into the summer. But way too many things must go right for the Phils and wrong for their rivals to have any confidence in betting this team over the total and/or to make the postseason.
A more ideal wager on the Phillies, in general, might be to consider betting many of their games to exceed the total. This is especially true for early season contests before the O/U totals adjust. This lineup will score plenty of runs and the pitching, aside from the first two spots in the rotation, could be in for a long season. Over betters should keep a close eye on the Philadelphia game totals and seek out the good value spots.
Previous Reports/Coming Soon: