Ansu Fati has only played three matches in La Liga. But, his historic performances were electrifying enough to convince FC Barcelona to shower the 16-year-old football phenom with a new contract, and a six-figure signing bonus.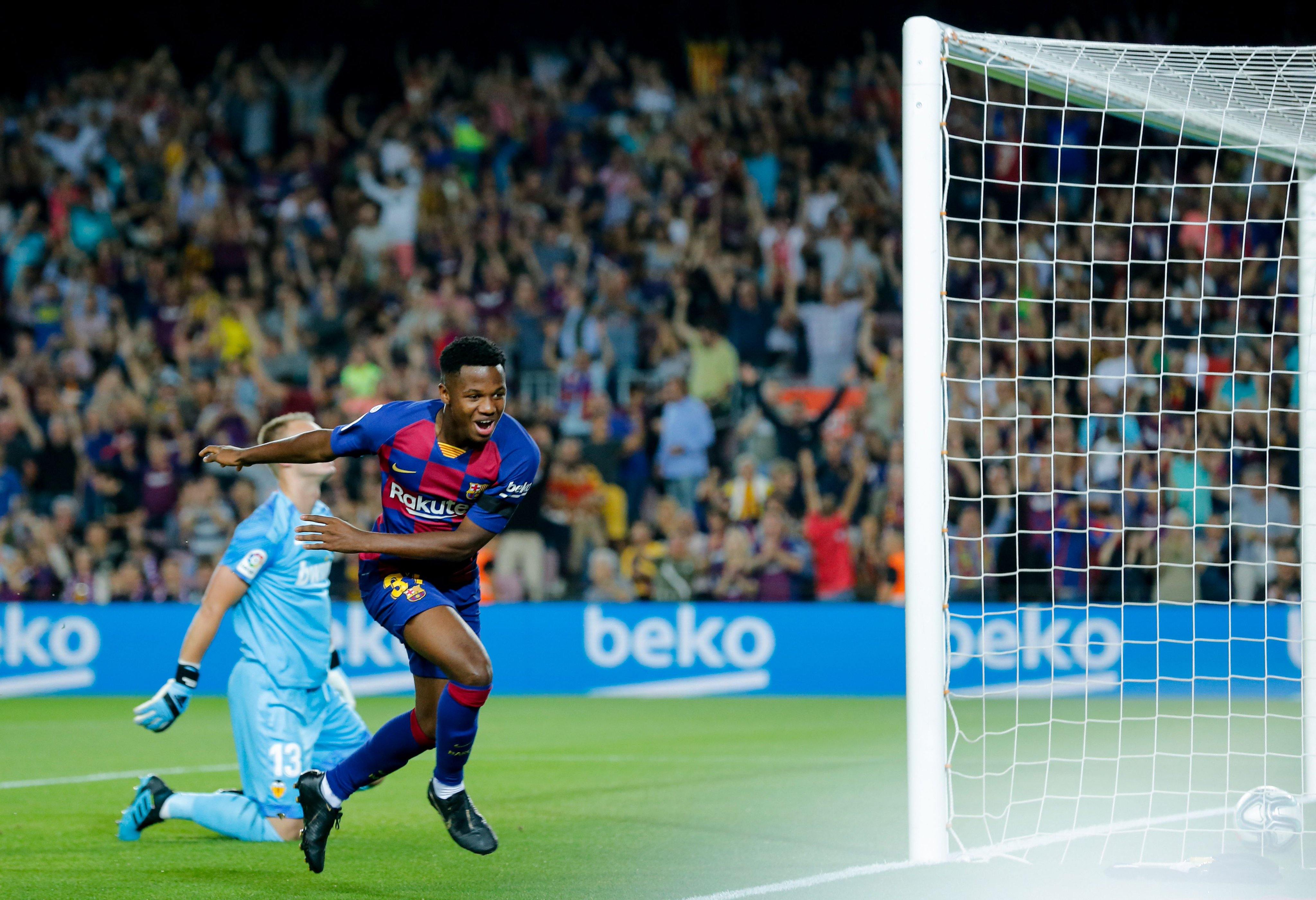 The youngest, top-squad player in Barca history scored just 111 seconds into his first professional start against Valencia on Saturday. Five minutes later, a Fati assist set up a goal for Frenkie de Jong, paving the way for a 5-2 Barcelona win over Valencia. The combo made Fati the youngest La Liga player in history to notch a goal and an assist in a single match.
Coming off the bench earlier in the season, Fati scored his first La Liga goal as a sub against Osasuna, which made him the youngest goalscorer in Barca history. And now, with three La Liga matches to his credit, Fati has Barcelona fans on their feet and management reaching for their wallets.
First reported by the Sun, and later confirmed by club officials, Fati's new deal will tie him to the team for the next five years. His annual salary will start at €300,000 (approx. $331,000) and rise to €600,000 (approx. $663,000) by year five. Those numbers will rise to €1,000,000 (approx. $1.1 million) in year 1, and €1.5 million ($1.6 million) by year 5 if Fati is permanently promoted to the first team. Add in the teen's €700,000 signing bonus and, somewhere, there's a financial advisor looking at his next cash cow.
Barca Dynasty Continues with Messi's Blessing
Barca fans expect their team to win. After all, Barcelona has won seven La Liga championships in the last 10 years. Their latest championship win was secured with a goal from Lionel Messi off the bench. In 2018, Messi scored a hat trick to take the title. But, Messi has been out with a calf injury this year, leaving an opening for younger players such as Fati to make their mark.
Born in Guinea-Bissau, Anssumane "Ansu" Fati moved to Spain when he was six. In 2012, Fati joined FC Barcelona's La Masia academy, and working up through the Spanish soccer ranks, he signed with the club's top squad in July of this year.
Fati's first opportunity to play came on Aug. 26. By regulation, the team had to get his parent's permission because the match against Real Betis was at night.
Finally, the teen got his chance as a 79-minute substitution. After his first professional minutes on the pitch, Fati got reassurance and recognition from Messi himself.
Both Messi and Fati played in the Champions League on Tuesday in a 0-0 draw against Dortmund.
According to oddschecker, Manchester City remains the favorite to win the Champions League at +300, but Barca and Liverpool are both still in with a chance at +500 each.