NFL preseason Week 3 is like a dress rehearsal for the regular season. More starters play more minutes, and head coaches also get an idea of who is going to make the team.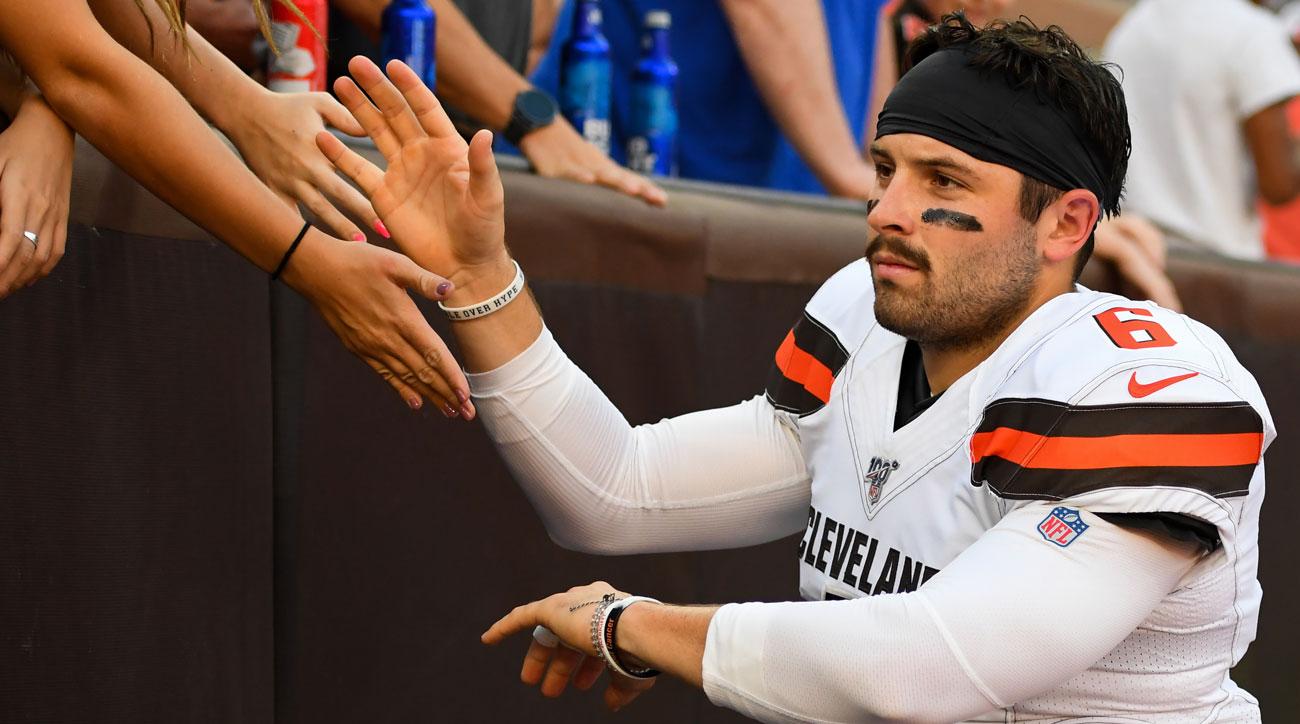 The veterans can use the games, like the two featured on Friday between Cleveland at Tampa Bay, and Buffalo at Detroit, to iron out any wrinkles. Younger players like Cleveland quarterback Baker Mayfield is eager to get on the field, while a veteran like Detroit's Matt Stafford, probably won't play as much.
The two Friday games feature a mix of young and old. We take a look at both contests, and point out some edges gamblers might like to take advantage of.
Cleveland at Tampa Bay, TB +3, Over/Under 42.5 Points
To say that Cleveland quarterback Baker Mayfield is itching to get on the field would be an understatement. The second-year signal caller for the Browns has play exactly one down in two exhibition games, and wants more.
Mayfield played the opening drive in the team's first preseason game against Washington. He took the offense down the field, going five of six for 77 yards, and connected with wide receiver Rashard Higgins for a touchdown.
Now Mayfield would like to see more action, and is hoping that head coach Freddie Kitchens keeps him in the team's game against Tampa Bay for at least one half.
"I would like to say at least a half, but it's not my call," Mayfield said. "I think that third game, a lot of the time is treated, as the last warmup before the real thing starts because none of the starters play in the fourth game, just because it so close to the real one. It's a final tune-up, iron everything out, treat it more like a game week with the mental prep work of getting into a routine, so yeah, I'm looking forward to playing."
Kitchens has been coy about who, and how much, will play on Friday against the Buccaneers.
"It is going to be a player-by-player basis," Kitchens said. "A certain player may need something different than another player."
Tampa coach Bruce Arians would like to play some of his stars, but they have been sidelined with injuries. Most notable is wide receiver Mike Evans who suffered a leg injury in practice this week.
There are others that might not see the field as well. Outside linebacker Jason Pierre Paul, safety Justin Evans, linebacker Lavonte David, and defensive linemen Vita Vea and Jeremiah Ledbetter, as well as 2019 draftees, safety Mike Edwards and outside linebacker Anthony Nelson all could stay sidelined.
Arians said he is taking the players on a case by case basis.
"Like I said yesterday, how much they play will be determined on how we're playing, and we'll make those decisions as the game goes on," Arians said. "It's a really good challenge for us. It's a heck of a good football team coming in and it will be a nice measuring stick."
Buffalo at Detroit, Bills -1.5, Over/Under 42 Points
While some of the younger quarterbacks are eager to see action, longtime veteran QBs like Detroit's Matt Stafford are in no hurry. Lions' coach Matt Patricia agrees with him.
"Um, you know what? I think obviously he's a veteran quarterback," Patricia said. "There's a lot of quarterbacks in the league that do everything differently. I've been around teams where the quarterbacks haven't played at all in preseason, they played in regular season and they've been good whether they played in all the preseason games."
Stafford said he doesn't take what happens in preseason as an indicator of what the regular season holds.
"I've been part of some preseasons where, man, I felt like we were lighting it up on offense and then maybe the season didn't go that way," Stafford said. "And then I've felt the opposite, where, like, man, we're struggling to put points up — and then you go and put a lot of points up in the season."