The low-scoring, 3-point averse Orlando Magic (6-8) have now lost six games in a row after starting the season 6-2. The Magic currently hold the NBA's longest current losing streak, which began when starting point guard Markelle Fultz blew out his ACL.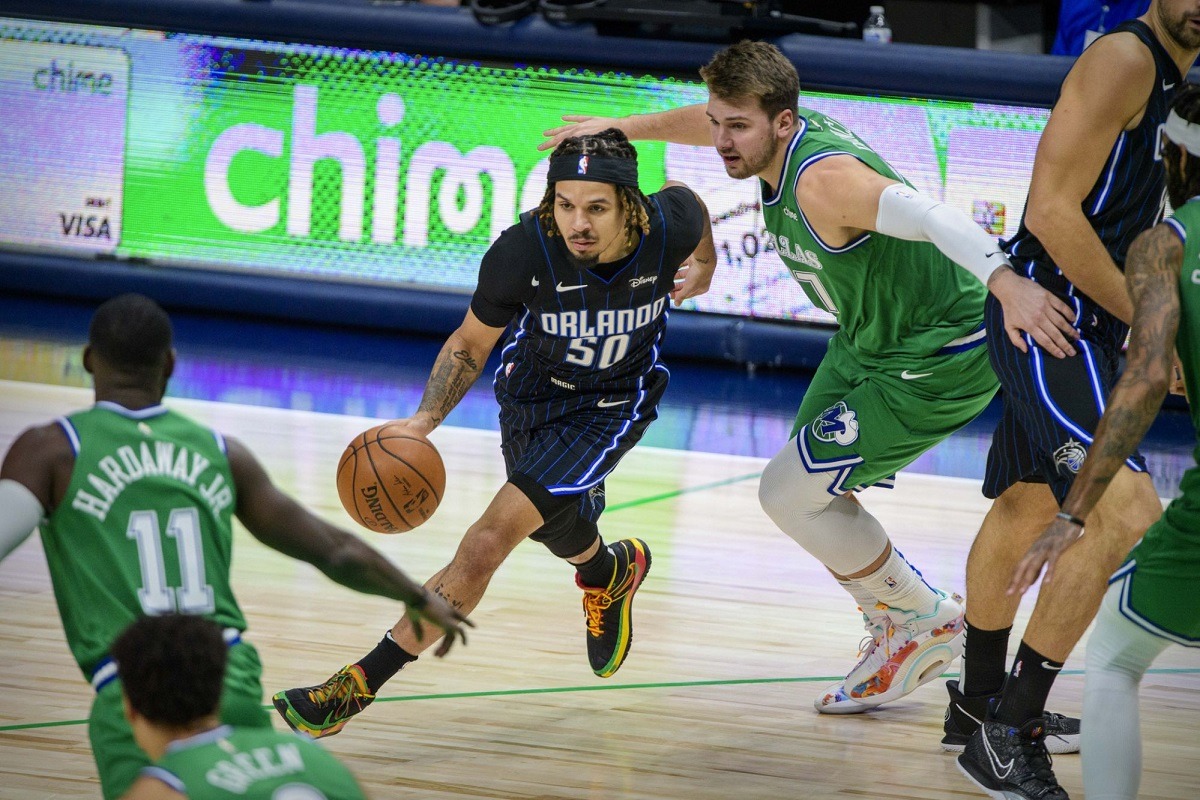 So, why are the Magic losing?
Their skid comes down to three elements: 1) losing Fultz, 2) terrible defense, 3) lack of 3-point shooting.
Skid Began When Fultz Went Down
The Magic were 6-2 before Fultz went down. Since then, they've dropped six straight games. Fultz, the former #1 pick who was plagued by injuries in Philly, was having one of his best seasons to date. He was the glue that held the offense together.
"The Markelle injury took a lot out of us," head coach Steve Clifford told The Athletic.
Orlando is in the middle of one of their toughest runs of the season. They originally had eight road games scheduled during a nine-game stretch, but one of the Celtics games was canceled due to COVID-19 protocols.
"With no Markelle we're trying to figure it out, but it's tough," said veteran guard Terrence Ross. "So, we've got to keep going at it."
"We have to move forward and find a way to still be a good team and try to win as many games as we can without him," said center Nikola Vucevic.
The Magic's losing streak began as a Texas two-step, starting with a 42-point shellacking against the Houston Rockets. The next night in Dallas, Luka Doncic and the Mavs beat the Magic by 14 points.
The Magic returned home for one game, but Greek Freak and the Milwaukee Bucks served up a 22-point loss in Orlando.
In Boston, the Magic received a 27-point butt-kicking from the Celtics. It was so bad that even Tacko Fall got some garbage-time minutes, and almost hit a 3-pointer. During a trip to New York City, the Magic lost somewhat-close games to the Brooklyn Nets and New York Knicks. The Magic only lost the last two by seven points in each game.
Bad D, No Treys
When you have an inadequate offense, you're often doomed with a below-average defense. Those problems seemed to get magnified for the Magic during their current losing streak. Through their first 14 games, Orlando's defense is ranked #18, allowing 110.7 points per game. During their six-game losing streak, Orlando allowed 117 points per game, including 121+ points four times.
On offense, only the New York Knicks (100.6 ppg) and Cleveland Cavs (99.5 ppg) score fewer points than the Magic (104.5 ppg).
---
Offense: Ranked 28/30 with 104.5 ppg
Defense: Ranked 18/30 with 110.7 ppg
3-Point Percentage: Ranked last with 31.7%
3-Point Made: Ranked last with 9.9
3-Point Attempts: Ranked 25/30 with 31.3
---
The Magic don't rely on 3-pointers, putting up the fifth-fewest long-range attempts (31.3 per game) in the league. The top 3-happy teams like Portland, Utah, and Toronto jacked 40+ 3-pointers per game this season.
Orlando has an awful perimeter game as the worst 3-point shooting team in the league with a 31.7% success rate. They don't make many threes (ranked third-lowest at 9.9 per game) either. The best 3-point shooting teams in the league are making 15 treys per game, or 45 points generated from beyond the arc. When you compare that number to Orlando, the Magic generate only 30 points per game from 10 long-range shots.
Vuc, Ross, and the Rook
Big man Nikola Vucevic leads the Magic with 22.9 points, 11 rebounds, 3.5 assists, and 1.3 steals per game. Terrence Ross, the Magic's reliable Sixth Man, averaged 16.4 points per game off the bench as the team's second-leading scorer. Aaron Gordon averages 14.9 points and seven rebounds per game, but he's struggling from the free-throw line with a career-low 63% success rate.
Rookie Cole Anthony is filling in for Fultz, and he's averaging 14.4 points per game as a starter along with 4.1 rebounds and 3.8 assists. Anthony had a baptism by fire, but he's scored at least 12 points in four of those six games.
"It's what he wants," said Clifford. "He's a confident young guy. He's handling it well."
Anthony, the son of ex-Knicks guard Greg Anthony, grew up in New York City rooting for the Knicks. Anthony struggled in his MSG debut against the up-and-coming Knicks with just six points on 2-for-12 shooting.
On Deck: at Minnesota, at Indiana, 2x Charlotte
The Magic are halfway done with their four-game road trip featuring games against the Minnesota Timberwolves (3-9) and Indiana Pacers (8-5).
The Magic can't ask for a better opponent on Wednesday. The T-Wolves are the worst team in the Western Conference, and one of three, three-win teams in the NBA's basement. The Timberwolves are a +3 home dog.
The Magic are 6-0 ATS in all six of their wins this season. When they win, they cover. They've secured four of their six wins by double-digits or more. On the flip side, the Magic are 1-7 ATS in their eight losses, with a backdoor cover against the Brooklyn Nets last Friday before James Harden joined the team.
During their six-game losing streak, the Magic went 1-5 ATS. The under total is 7-2-1 in the last 10 games for the Magic.
Next Sunday and Monday, the Magic host the Charlotte Hornets (6-8) twice. Buzz City saw their four-game win streak snapped when the squad dropped back-to-back games against the Toronto Raptors. At the time, the Raptors were the worst team in the Eastern Conference with just two wins. After the two-game homestand against the Hornets, the Raptors swept Charlotte and doubled their win total.