With one Babe Ruth card going up for auction later this month expected to compete for the record sale price for a sports card, another Ruth card just set the new standard at $6 million – even if the exchange could be part of a marketing gimmick.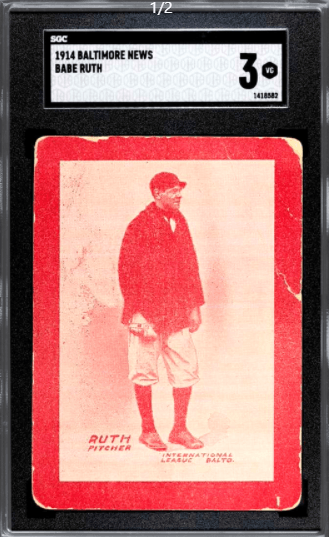 Yahoo Sports reported on Wednesday that a minor league card of Ruth produced by the Baltimore News in 1914 sold for $6 million. Shares of the card will be available on Collectable, an investment platform that sells shares of primarily high-dollar cards to collectors.
Few details on sale of Babe Ruth card 
Collectable said a private buyer purchased the card, but it didn't disclose the name of the buyer or the seller. Ezra Levine, the CEO of that company, told CNBC that it's a "reasonable assumption" the buyer paid what he called the value price of the card of nearly $6 million – although it's unclear how he came up with that number given that no card has ever sold for that amount.
The record holders are the 1952 Topps Mickey Mantle rookie card and a LeBron James rookie card-patch-autograph card limited to 23 copies. Both of those sold for $5.2 million in recent months.
The 1914 Ruth minor league card, which lists a then 19-year-old Babe as just a pitcher, is rare, with just 10 copies known to exist. The card, recently graded a Very Good 3 by SGC, has been displayed at the Babe Ruth Museum in Baltimore for the past 23 years, according to Collectable. The company said the card will remain on display at the museum, although collectors can buy shares of the card on Collectable's website.
CNBC describes Collectable as a platform that emulates the stock market by allowing users to buy and sell shares of sports-related items. The company plans to offer nearly 2 million shares of the Ruth card at $3 each. "He loved the ability to share this asset with the public," Levine said of the card's buyer. "He's taking this physical asset and almost transforming it into a stock, which can be liquidly traded on a platform."
1933 Goudey could break record next month
Ruth's most famous card, a 1933 Goudey, will go up for auction on June 21 in a sale hosted by Memory Lane Auctions. The Ruth card is part of a collection believed to be worth about $20 million, which was owned by a Florida neurologist who died in January. More than 1,000 cards and pieces of sports memorabilia will be part of the auction that runs through July 10.
The 1933 Goudey was graded Mint 9 by PSA, the finest example of that card ever seen. JP Cohen, the president of Memory Lane Auctions, said in a press release that he expected the card to break the $5.2 million record.
Now it has another bar to clear.