One of the world's most valuable sports card collections will soon go up for auction, and a famed Babe Ruth baseball card from the lot could break sales records, experts say.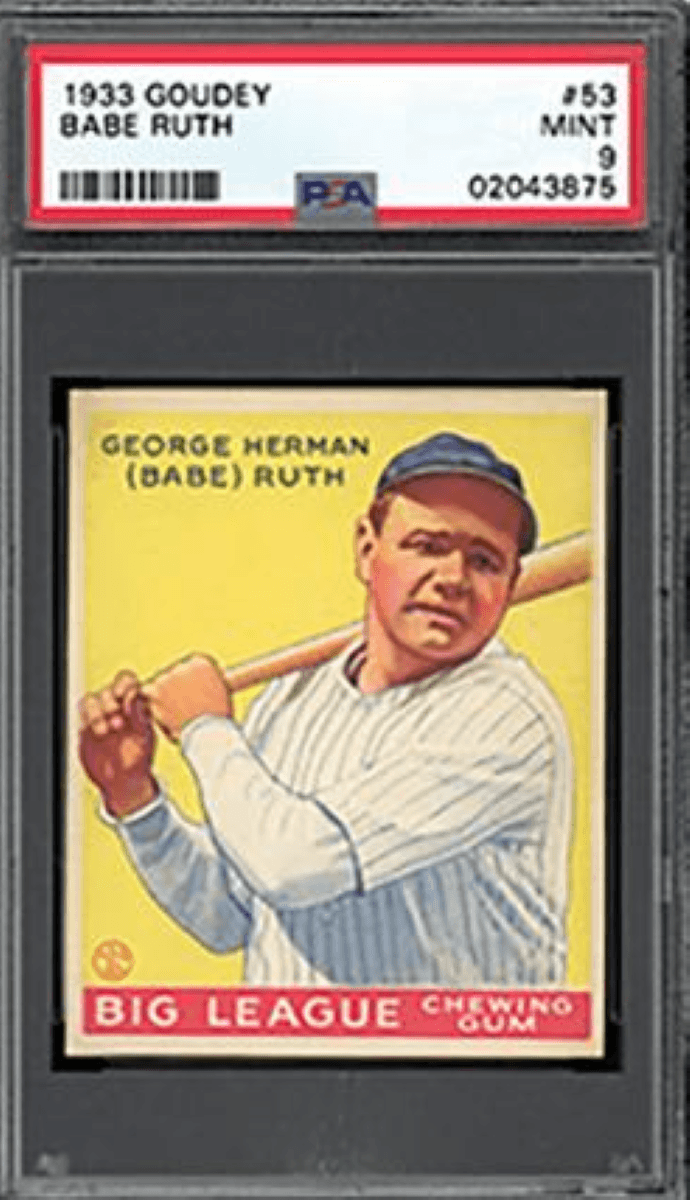 Dr. Thomas Newman, a Florida neurologist, died at age 73 in January from complications caused by COVID-19. His wife, Nancy, will put his card and memorabilia collection – valued at around $20 million – up for sale via Memory Lane Auctions.
Nancy Newman said that her husband collected avidly for more than four decades, attending card shows across the country to add to his collection of "paper babies," CNN reported.
Babe Ruth baseball card could top $5.2 million sale record
JP Cohen, president of Memory Lane Auctions, said in a press release that a 1933 Goudey Babe Ruth card, graded Mint 9 by PSA, serves as the crown jewel of the collection. He said that card "is the finest known of its kind and we expect it to break the record of $5.2 million for any sports card."
That record is now shared by two cards sold in 2021 – a 1952 Topps Mickey Mantle rookie graded PSA 9 sold on PWCC Marketplace in January and a 2003-04 Upper Deck Exquisite Collection rookie-patch-auto card of LeBron James numbered to 23 and graded Mint 9 by BGS that sold on PWCC in April.
The auction house will sell more than 1,000 cards and sports memorabilia from the Newman collection in an online public auction that runs from June 21 to July 10.
"The Thomas Newman collection exhibits the kind of depth and level of quality that are rarely achieved," Joe Orlando, CEO of Collectors Universe, the parent company of PSA, said in the release. "During his lifetime, Dr. Newman was a custodian of some of the most historically important cards, the iconic pillars of our hobby."
PSA graded the cards and authenticated the autographed items included in the auction.
Newman collection impressive in scope
The collection includes a Topps Mantle rookie graded Near Mint 8 by PSA. As an example of the disparity of values between grades, Memory Lane expects that card to bring around $1 million at auction, or only about 20% of the value of the Mint 9 sold in January.
In addition to cards of such luminaries as Ty Cobb and Lou Gehrig, the collection includes a Ruth signed baseball and World Series programs dating to 1903. The press release noted that Newman began collecting baseball cards as a boy in the late 1950s, but his mother threw them out. In the 1980s, he began reassembling the collection from his youth, and it grew from there.