Smoke from bushfires has caused havoc at the Australian Open this week, but officials have been reluctant to discuss how the ongoing situation might impact the remainder of qualifying or the main draw.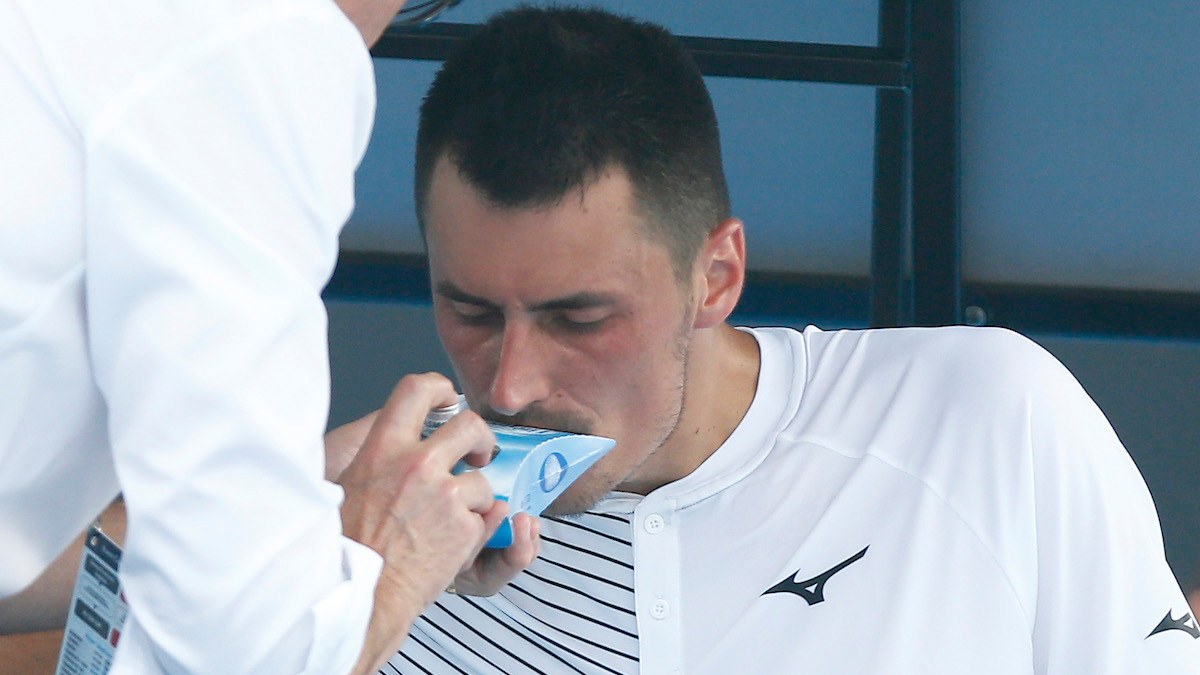 Organizers pushed forward with qualifying matches on Tuesday, despite air-quality standards in Melbourne being officially designated as among the worst in the world, a situation that had dramatic impacts on players.
Players Struggle to Breathe
Several competitors complained of breathing issues, including women's world No. 180, Dalila Jakupovic, who retired after collapsing to the court while coughing.
"We are all pissed and a bit disappointed because we thought they would take better care of us," Jakupovic told reporters. "Also my opponent after the match said she also had trouble. Not as bad as me, but she said she couldn't breathe normally because of the air. It's not the way you want to compete like this."
Organizers eventually suspended play during qualifying on Tuesday, restarting Wednesday afternoon under conditions that were considered slightly better, if far from ideal. Heavy rain halted play for the day, but also brought hopes that the storms might clear the air enough to give players a fairer playing field on Thursday.
Some top players hit out at tournament officials, with fifth-ranked Elina Svitlona taking to Twitter to say organizers should have taken action before players were impacted, not because of retirements. "Why do we need to wait for something bad to happen to do an action," she questioned.
Why do we need to wait for something bad to happen to do an action 🤷🏼‍♀️🥵 #Melbourne pic.twitter.com/bYpXyQAfKe

— Elina Svitolina (@ElinaSvitolina) January 14, 2020
Frenchman Gilles Simon also lashed out at tennis officials in general, saying they frequently distort conditions to keep tournaments running.
"When we find doctors who say that playing at 45 degrees [113 Fahrenheit] is not dangerous at the Australian Open, and referees who say that the wet grass is not slippery at Wimbledon, we must be able to find an expert who certifies that the air quality is sufficient right?" Simon tweeted, according to a Google translation from his original French.
Top Stars Silent on Australian Open Conditions
Roger Federer and Rafael Nadal have been notably silent about the conditions, something that did not sit well with many lower-ranked players.
"It's got to come from the top guys," Canadian Brayden Shnur, who is ranked 103rd in the world, told reporters. "Roger and Rafa are a little bit selfish in thinking about themselves and their careers, because they're near the end and all they're thinking about is their legacy, and they're not thinking about the sport itself and trying to do what's good for the sport. So those guys need to step up."
The Australian Open's main draw begins on Monday, and the ongoing bushfires in Victoria could result in more poor conditions or delays as the world's top players converge on Melbourne for the first Grand Slam event of the year.
There has been no indication that any of the world's top players might skip the tournament or seriously protest the conditions. FanDuel Sportsbook lists Novak Djokovic as the +120 favorite to win on the men's side of the draw ahead of Nadal (+480), Daniil Medvedev (+900), Stefanos Tsitsipas (+1000), and Federer (+1200). Serena Williams is the +440 favorite in the women's draw, ahead of Ashleigh Barty (+750) and Naomi Osaka (+750).