Los Angeles Chargers running back Austin Ekeler is making management and fans forget holdout Melvin Gordon pretty quickly. Gordon's understudy the past two years, Ekeler had a breakout game Sunday against the Indianapolis Colts, giving bettors plenty to think about.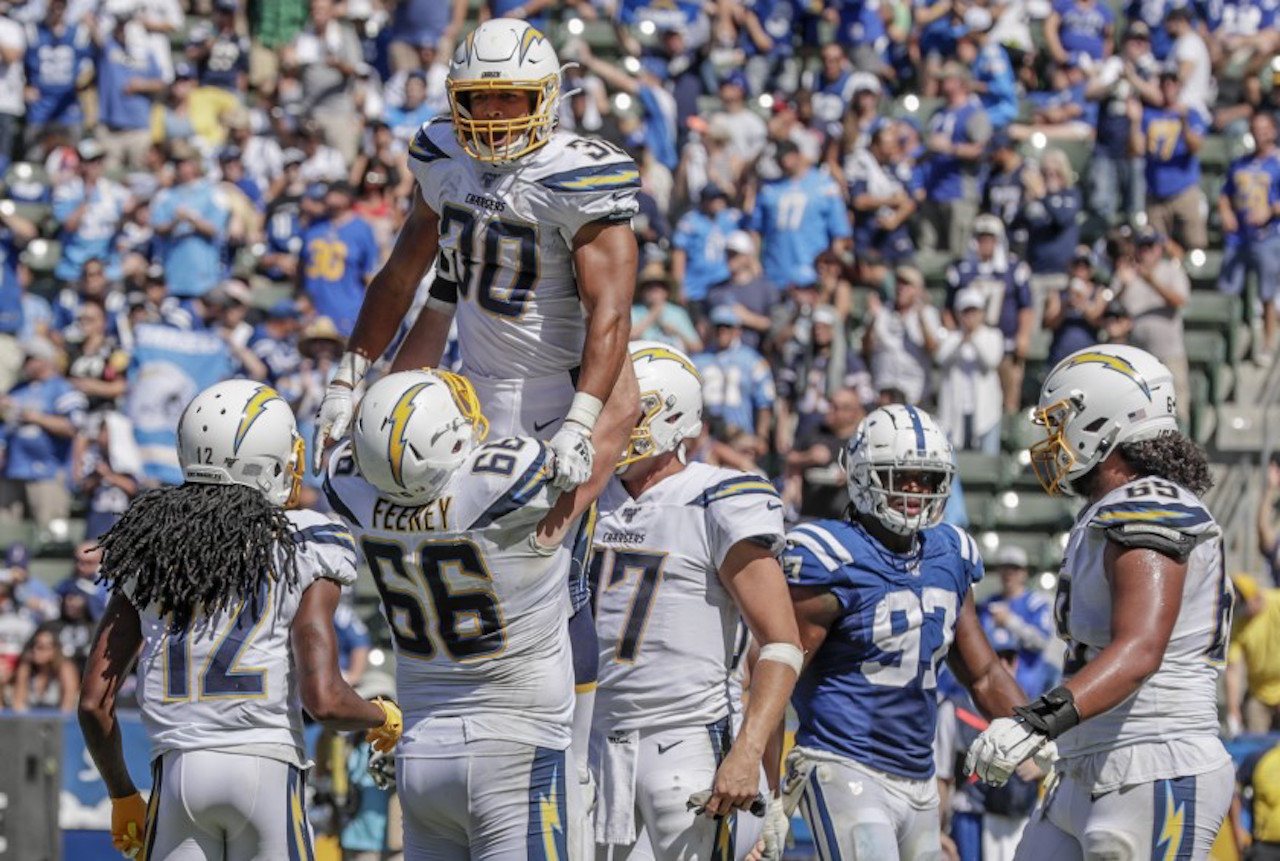 The 24-year-old rushed for 58 yards on 12 carries, including the game-winning touchdown in overtime. Ekeler also had 96 yards and two touchdowns as a receiver. He said he isn't worried if Gordon comes back.
"This was so much fun today," Ekeler said. "I was out there screaming as loud as I could all day, every time I did something. I imagine that's the feeling a rock star has. Melvin has his own situation. We're in the building, so we don't focus on that. When he comes back, we'll have another weapon on the field. Look out for that, when that comes."
Chargers general manager Tom Telesco said last week he was through negotiating with Gordon.
"We have to get focused on the season and our next opponent," Telesco said. "So when or if Melvin reports, he'll play this season on his current contract, and we'll just revisit it after the season."
Gordon watched his bargaining power plummet with Ekeler's performance.
Harbaugh Punts on Criticism
If you expected Baltimore Ravens coach John Harbaugh to feel bad for the Miami Dolphins, you would be wrong. With the Ravens leading 35-3, Harbaugh called for a fake punt on fourth and one.
The trick play worked so well that Anthony Levine gained 60 yards. It set up another touchdown.
"The point is, and I know the Dolphins understand this, the objective is to keep your offense on the field and keep your defense off the field by any means necessary," Harbaugh said. "We're not looking for more snaps for our defense. We knew we were going for that fourth down once it got to fourth and close to one. We thought the fake punt was the best play."
Miami coach Brian Flores said he had no problem with the call.
"It's not their job to let off, it's our job to stop them," he said. "John's a good coach, they've got a good team, it's our job to stop them. We're not looking for handouts here."
Guice Injured, Peterson Sits
Washington Redskins starting running back, Derrius Guice suffered a right knee injury a year after he had ACL surgery on his left knee. The team hasn't said how severe the injury is, but did say that an MRI was taken.
Back-up running back Adrian Peterson wasn't able to relieve Guice because coach Jay Gruden didn't have him active for Sunday's game against Philadelphia.
Washington right tackle Morgan Moses wasn't pleased that Peterson was a healthy scratch. He went on a local radio sports show on Monday and vented his frustration.
"Any time you've got a Hall of Fame guy that doesn't dress, man, it's a slap in the face. And obviously, we've gotta figure out what the reason is. And it's my job as one of the older guys on the offensive line to speak up and say, 'Hey, we need him.' Obviously, you don't put a Hall of Fame guy like that on the sideline, and when he's healthy, as well. I think he brings a lot to the game. I think he brings a lot to our team. But to have that guy just standing on the sideline is just, it doesn't sit well to guys on the team or the NFL. So I think this is something we need to correct, man, because he is a helluva football player."