Austin Dillon survived three late restarts to hold onto the lead and win Sunday's O'Reilly Auto Parts 500 at Texas Motor Speedway.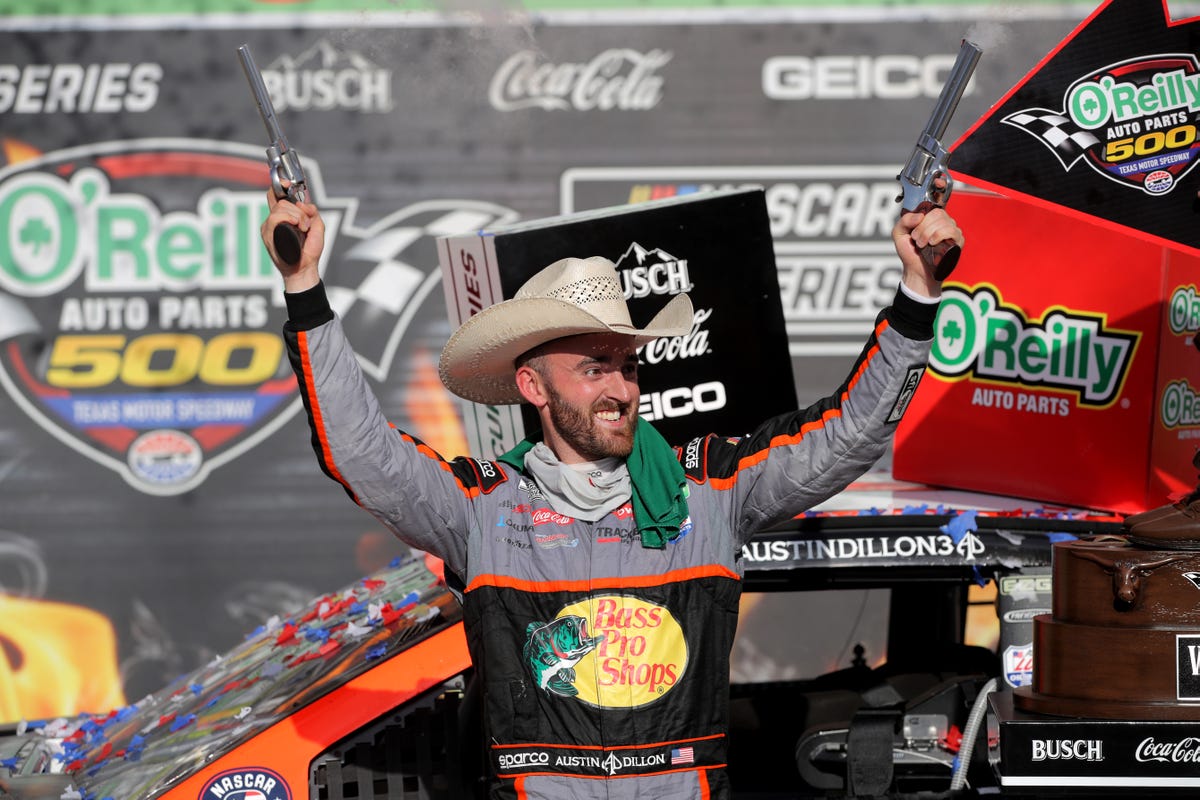 Dillon picked up his first win of the 2020 NASCAR Cup Series season, and the third of his career. The victory puts him firmly in the NASCAR playoffs, as he is the 10th driver to win a race this year.
Dillon Outraces Teammate in One-Two Finish
Dillon beat out Richard Childress Racing teammate Tyler Reddick by .149 seconds. The team posted its first 1-2 finish in a NASCAR Cup Series race since 2011.
"Not bad for a silver spoon kid, huh?" Dillon – the grandson of NASCAR Hall of Fame team owner Richard Childress – said after the race. "Tyler Reddick, he raced me clean. One-two for RCR. This has been coming. We've had good cars all year."
The first of three restarts came after a caution with 29 laps remaining. Rookie Quin Houff mistimed a move to pit road, causing a crash that altered the makeup of the race.
"We were trying to get to pit road and I didn't get called off in time, and the guys that were committed underneath me were already there, and that's my fault," Houff said of the incident. "So, rookie mistake. It's one of those really tough learning instances."
Houff was racing laps off the pace at the time and left the race in 34th place. He clipped two cars on his pit attempt: rookie Christopher Bell and playoff contender Matt DiBenedetto. Bell ended up in 21st place, while Dibenedetto climbed back to the lead lap to take 17th.
Drivers Criticize Houff After Pit Road Error
DiBenedetto harshly criticized Houff, tweeting that the rookie driver had "zero awareness."
This guy having zero awareness ruined our day. Had a very fast car at the end. Lovely https://t.co/AredQ1HAwO

— Matt DiBenedetto (@mattdracing) July 19, 2020
Brad Keselowski, who finished ninth, told reporters that he'd like to see NASCAR use a promotion and relegation ladder for drivers in its top series that could take incidents like this one into account.
"I would like to see drivers be able to graduate into this level, and equally I'd like to see them be able to be removed from this level when they have repeated issues," Keselowski said. "I can't speak enough to the gentleman that had that issue today, but I have seen in the past where drivers that have had this issue multiple times somehow are still here, where I think they should effectively be placed in a lower series or asked to go back to a more minor-league level to prove their salt."
Joey Logano, Kyle Busch, and Kevin Harvick rounded out the top five behind Dillon and Reddick.
Despite the victory, Dillon remains a +10000 longshot to win the NASCAR Cup Series Championship, according to odds posted by William Hill. The sportsbook lists Kevin Harvick as the +250 favorite, followed by Denny Hamlin (+400) and Chase Elliott (+650).