Rafael Nadal is not dead yet. The 33-year-old superstar saved a match point before coming from behind to beat Daniil Medvedev on Wednesday in what was, arguably, the best match so far in the group stage of the Nitto ATP Finals.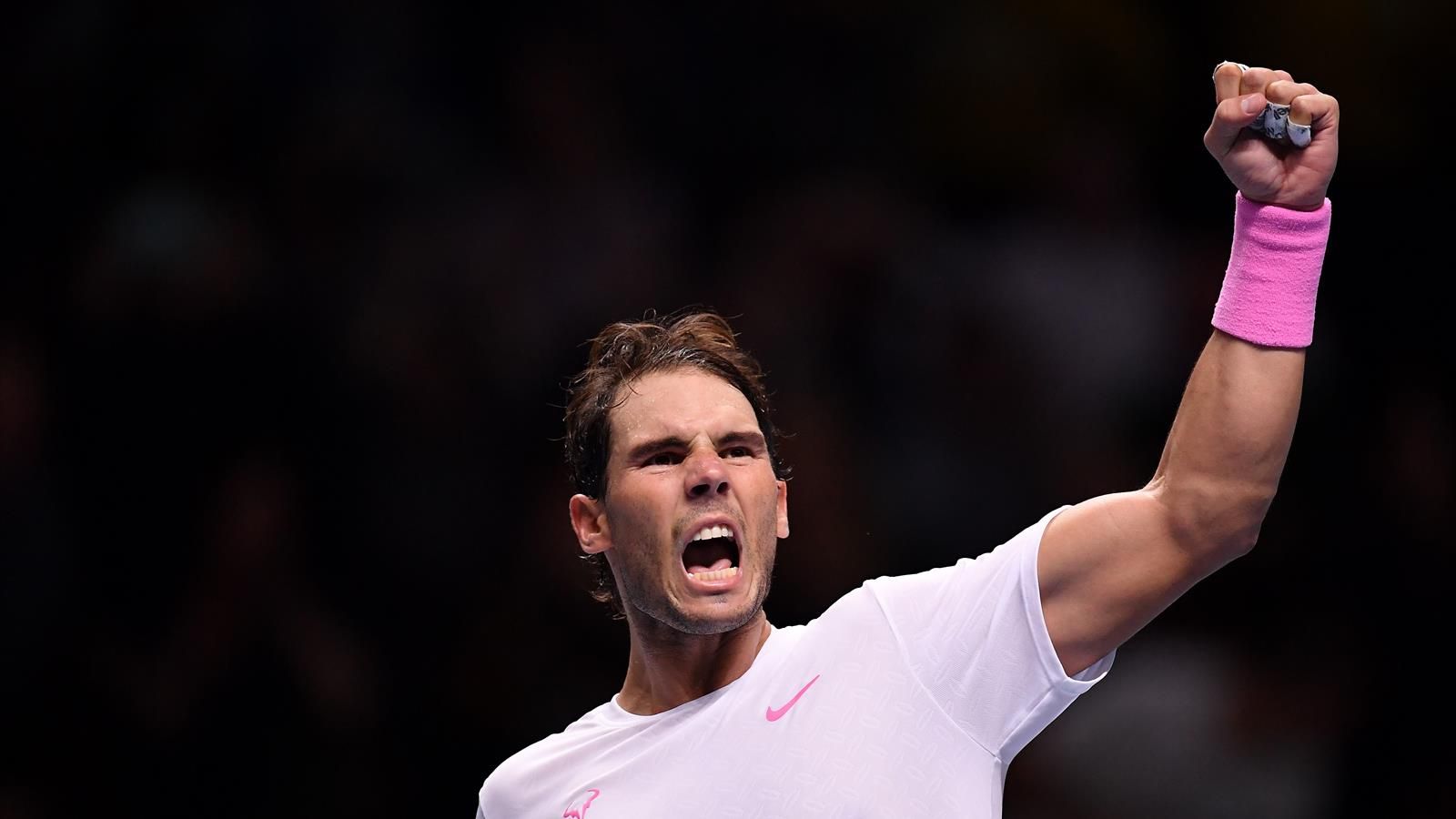 Nadal defeated Medvedev 6-7 (3-7), 6-3, 7-6 (7-4) to grab his first win at the ATP Finals in London.
Nadal Keeps ATP Finals Hopes Alive
The victory keeps Nadal alive in Group Andre Agassi, where all four players still theoretically have some hope of reaching the semifinals.
---
ATP Finals Group Tables
Group Andre Agassi
Stefanos Tsitsipas (2-0)
Alexander Zverev (1-1)
Rafael Nadal (1-1)
Daniil Medvedev (0-2)
Group Bjorn Borg
Dominic Thiem (2-0)
Novak Djokovic (1-1)
Roger Federer (1-1)
Matteo Berrettini (0-2)
Players in BOLD have qualified for semifinals
---
Nadal was down 5-1 and facing match point in the third and deciding set before he would go on to win five straight games. Medvedev managed to survive into the tiebreak, but sent a backhand wide on Nadal's match point to give the Spaniard the victory.
"Today is one of those days that one out of 1,000 you win, and it happened today," Nadal said after the match. "In that moment, you play with not much pressure because you are almost lost."
In Wednesday's other match, Stefanos Tsitsipas moved to 2-0 by defeating defending ATP Finals champion, Alexander Zverev, 6-3, 6-2. Zverev now has a 1-1 record in the group stage, and has the opportunity to qualify with a win over Medvedev (0-2) on Friday.
"Things are still in my hands, and I'm looking forward to it, because I can still decide whether I'm here on Saturday or not," Zverev said afterwards. "There is nothing I can do about today now. He played a fantastic match, I thought. I played really bad."
There are a number of different tiebreaker scenarios that could still play out in Group Andre Agassi, though Tsitsipas is certain to go through, even with a straight-set loss to Nadal on Friday.
Federer, Djokovic Play for Semifinal Berth
The situation is much clearer in Group Bjorn Borg. Dominic Thiem is already through to the semifinals with a 2-0 record, while Matteo Berrettini has been eliminated at 0-2. That just leaves a matchup on Thursday between Novak Djokovic and Roger Federer – both of whom are currently 1-1 – to see who will grab the second ticket to the knockout rounds.
The fact that the premier matchup of the round-robin phase of the ATP Finals is now also for a spot in the semifinals should make the latest edition of the Federer vs. Djokovic rivalry a can't-miss match. Federer will be looking to avenge his loss in the Wimbledon final, a five-set epic that he admitted stuck with him for a while.
"Actually, it's good for me to play him again, and maybe that all helps to get a chance to get him back," Federer told reporters. "Maybe it took me a few days, couple weeks at most, to get over the Wimbledon loss… we'll find out, but I think it's all flushed away from my side."
Djokovic is a solid 4/11 favorite in the matchup, according to Betway, while Federer is fetching 11/5 odds. In Thursday's other match, Thiem (4/11) is favored to get past Berrettini (11/5), and go through to the semifinals with a perfect 3-0 record.