The ATP Finals draw took place on Tuesday afternoon, with Roger Federer drawn into the same group as Novak Djokovic in a rematch of their epic Wimbledon final earlier this year.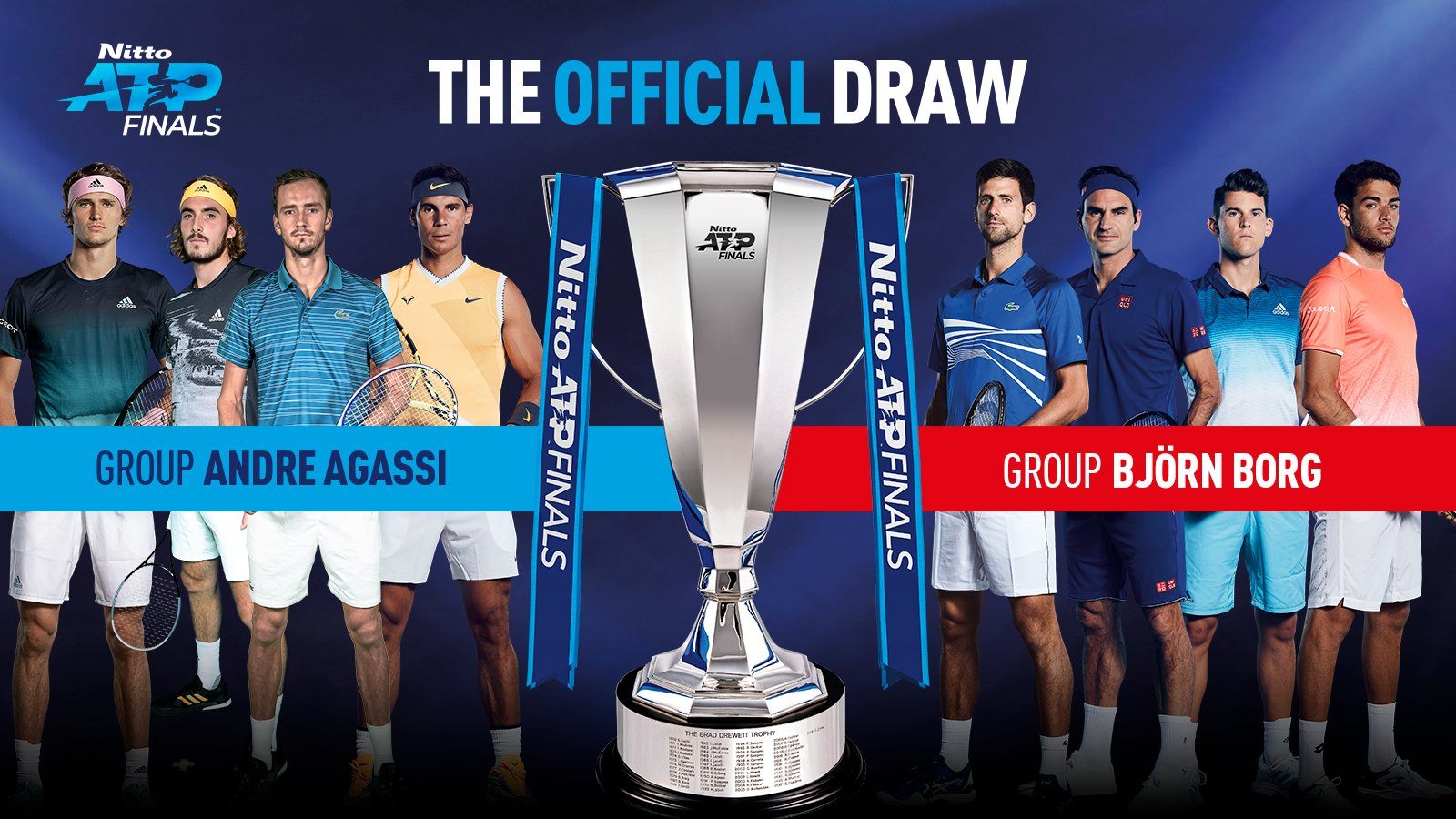 Djokovic and Federer have been placed in the same group with Dominic Thiem and Matteo Berrettini, in what is known as Group Bjorn Borg.
Fans Wait as ATP Finals Draw Delayed
Meanwhile, top-seeded Rafael Nadal will face off against US Open final opponent, Daniil Medvedev, along with defending Nitto ATP Finals champion Alexander Zverev and Stefanos Tsitsipas in Group Andre Agassi.
---
ATP Finals Draw
Group Andre Agassi
Rafael Nadal
Daniil Medvedev
Alexander Zverev
Stefanos Tsitsipas
Group Bjorn Borg
Novak Djokovic
Roger Federer
Dominic Thiem
Matteo Berrettini
---
The draw, which was set for 1pm GMT, started about 40 minutes late, frustrating eager fans who had waited patiently in anticipation of the matchups they'd begin seeing on Sunday in London.
Once the draw began, however, it took less than 10 minutes to complete. First, the top two seeds were assigned to their respective groups, followed by the next two, and so on, until both groups were fully populated.
Nadal Avoids Rivals, But Faces Young Challengers
Typically, the assumption might be that the group with two of the big three – Nadal, Djokovic, and Federer – would be, by default, the more difficult of the two. It's unclear if that will be the case in 2019, where all of the top five seeds in the ATP Finals have won either four or five titles this season.
In particular, Medvedev has come on strong, with his fiercely contested championship match vs. Nadal at the US Open showing that he is not far off from winning a major.
While Nadal may have avoided his biggest rivals, he still has plenty to deal with in his draw. Zverev and Tsitsipas are two of the most promising young players on tour today, with Zverev proving he can play with anyone by winning the Nitto ATP Finals last year.
The top seeds won't be playing each other in the first round of matches on Sunday and Monday. On Nov. 10, Djokovic will begin the festivities by taking on Berrettini, with Djokovic installed as a -550 favorite by FanDuel Sportsbook. That same day, Federer (-420) will face off against Thiem (+330).
The Andre Agassi group will kick off on Monday. Medvedev (-330) will meet Tsitsipas (+260) in the early match, with Nadal (-260) beginning his group stage against Zverev (+210) later on.
Each group will play a complete round-robin, meaning every player will get a guaranteed three matches. At the end of the group stage, the top two players in each group will advance to the semifinals. For more information on how this works – including potential tiebreakers – check out our guide to the ATP Finals.
The eight competitors will be fighting for an ATP Finals purse of $9 million, with the winner potentially taking home as much as $2.87 million if they can run through the event undefeated.