Among Steve Asmussen's five Saturday victories at Fair Grounds came Epicenter's record-setting Louisiana Derby win and Echo Zulu's heart-stopping Fair Grounds Oaks win.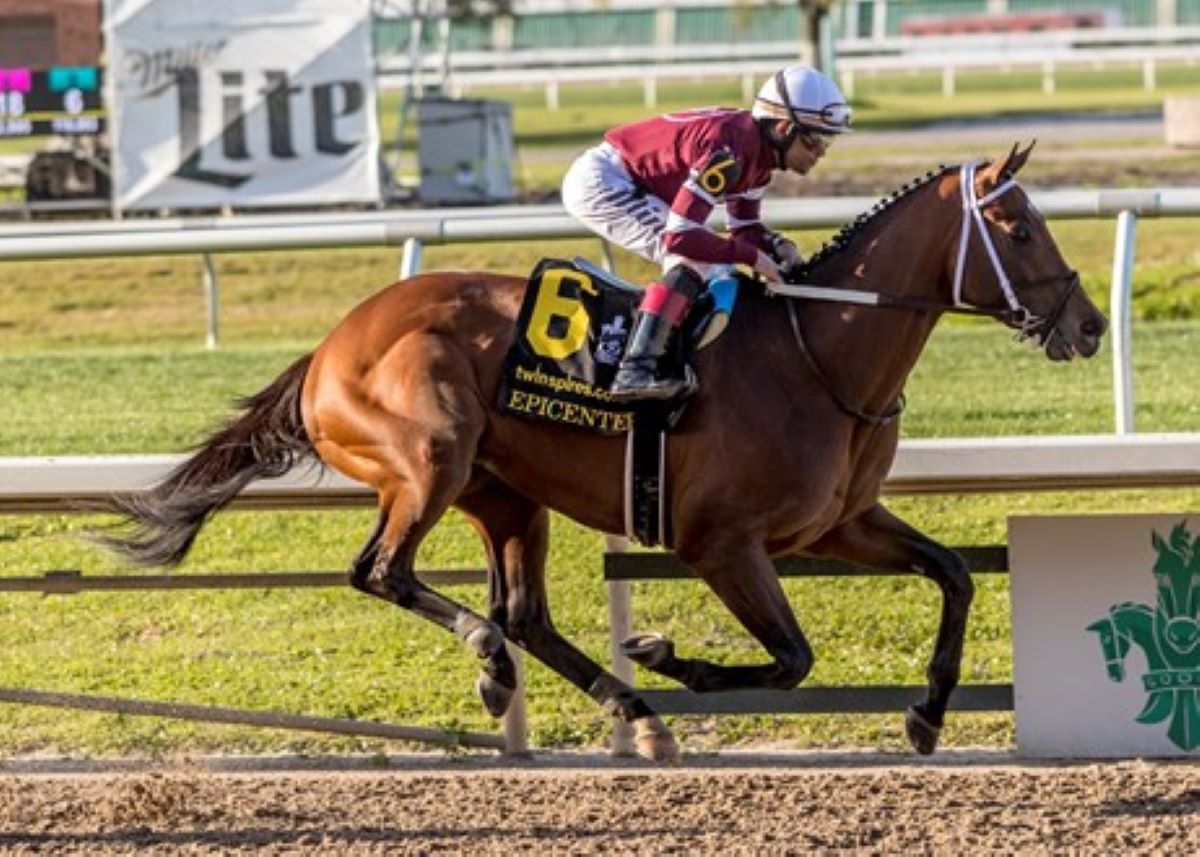 Both victories brought more than a five-spot for Asmussen and jockey Joel Rosario. They brought horseplayers a key glimpse into how Asmussen will be a force in both the May 6 Kentucky Oaks and the May 7 Kentucky Derby.
It's one of the enduring storylines entering every Derby when Asmussen's name comes up. The all-time winningest trainer in North American history owns 9,687 wins through Sunday. Not one of those is a Kentucky Derby. But Epicenter, who had already stamped his ticket to the Derby, put his name on the front row of Derby favorites to end Asmussen's futility streak.
Going off as the even-money favorite in the 1 3/16-mile Louisiana Derby, Epicenter stalked matters in third until the stretch, when he glided into the lead and pulled away from runner-up Zozos for a 2 ½-length victory. His time of 1:54.38 for the 9 ½ furlongs set the Fair Grounds track record for that distance. It came with a 102 Beyer Speed Figure that illustrated why the Not This Time colt is one of the future board favorites to win the Derby.
Epicenter went 3-1-0 in four Fair Grounds preps
Epicenter is 7/1 on both Circa Sports and Caesars/William Hill boards.
The win made Epicenter 3-for-4 in Fair Grounds' four Derby preps this winter. His only miss was a second to Call Me Midnight in January's Lecomte Stakes. Epicenter avenged that Saturday, beating sixth-place Call Me Midnight by 8 ¼ lengths.
"He's made some great progress over the winter," Asmussen said after the race. "He's done so well over the surface here at the Fair Grounds, which has aided his physical development … He got a mile and an eighth in him, a front-running win, and today, a little bit off the pace going a mile and three-sixteenths in a very solid time. It gives us a tremendous amount of confidence in him moving into the Kentucky Derby. Everything is headed in that direction and we couldn't feel better about how we've gotten to this point."
As 1/9 favorite, Echo Zulu needs a nose
Things weren't nearly as easy for Echo Zulu, who scored a very deceptive gate-to-wire victory over a surging Hidden Connection in the Grade 2 Fair Grounds Oaks. Echo Zulu's fifth victory in as many starts was far more difficult than her previous four. Those came by a combined 22 lengths.
This time, she had to fend off Hidden Connection by a mere nose. You could look at Echo Zulu's nose victory a couple of ways. One way is that it was her first race back after 4 ½-months off and there is understandable rust, even after winning the Breeders' Cup Juvenile Fillies by 5 ¼ lengths.
The second isn't as charitable. Echo Zulu went off as the 1/9 favorite in the Fair Grounds Oaks, yet needed the wire to hold off Hidden Connection who finished third as the 2/1 favorite in the Rachel Alexandra. A Hidden Connection who finished 13 ½ lengths behind her in the Breeders' Cup Juvenile Fillies. You should get better than a nose victory out of a 1/9 favorite. Can Echo Zulu turn back the clock to her dominant juvenile campaign come Kentucky Oaks time?
Asmussen sees a glass half-full
Asmussen knows which side he's on in this debate.
"She barely made the race and barely won the race, right?," Asmussen said. "I can't say enough about how proud I am. Her 2-year-old season: three Grade 1 wins asked a lot of her. We gave her a very necessary break. She came back in looking well and she proved narrowly best today. It was a very emotional win because of how much the filly means to us."