When it comes to must-see tracks, Zia Park is far off the high-profile path. The New Mexico track isn't even located in – or near — one of the state's two high-profile cities, Albuquerque or Santa Fe.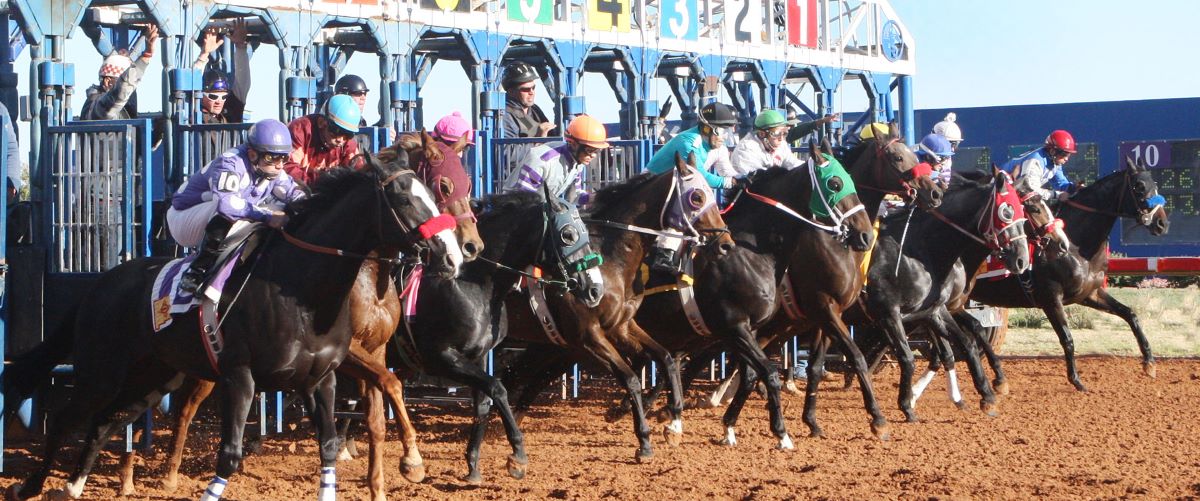 But for Tuesday's Land of Enchantment Stakes card, Zia Park is big enough for Hall of Fame trainer Steve Asmussen to invade. It's big enough for three-time Eclipse Award-winning jockey Irad Ortiz Jr. to find. And it's big enough for the West Coast's leading rider, Flavien Prat.
Located in Hobbs, a dusty oil town located in New Mexico's southeast corner, Zia Park opened its 36-day meet on Sept. 26. Tuesday's Land of Enchantment stakes card serves as the meet's signature day. The 10-race card features seven stakes. Headlining that card is the $250,000 Zia Park Derby. And headlining that race is Asmussen's Super Stock. The Arkansas Derby winner, who finished 16th in the Kentucky Derby, is the 1/5 favorite in the 1 1/16-mile race.
Joining the Zia Park Derby on the card is the $200,000 Zia Park Oaks, the $75,000 Zia Park Championship Handicap, the $75,000 Zia Park Distaff, the $75,000 Zia Park Sprint, the Zia Park Juvenile, and the Zia Park Princess, two 2-year-old races worth $50,000 each.
Asmussen comes to Zia Park loaded
The Land of Enchantment card went on hiatus last year due to COVID. Its return brings Asmussen, Ortiz, and Prat from both coasts seeking what looks to be easy stakes pickings. If it looks like Asmussen — North America's all-time leading trainer — is big-footing Zia Park, well, he is.
Aside from Super Stock in the Zia Park Derby, Asmussen sends favorites Casual (3/5) in the six-furlong Distaff and Tenfold (8/5) in the 1 1/8-mile Championship. Tenfold is a two-time graded-stakes winner who finished third in the 2018 Preakness. Asmussen is also fielding graded-stakes winner Pauline's Pearl (9/5) in the 1 1/16-mile Oaks, Optionality (3/1) in the six-furlong Princess, and Much Better (4/1) in the six-furlong Sprint. Pauline's Pearl already banked more than $613,000, hitting the board in seven of her nine career races.
That's where Ortiz comes in. He's riding all of Asmussen's entries on the card. This marks Ortiz's Zia Park debut.
From California, here's Prat, Miller, and Eurton
The invasion doesn't end there. California-based Peter Miller, who announced last week that he's taking a break from training, sends three horses to the card. Heading that contingent is 2/1 favorite Aquitania Arrival in the Juvenile. Miller is also fielding A Paycheque Smile in the Princess and None Above The Law in the Derby, where he's the 4/1 second favorite.
Prat will ride all three Miller entrants, along with fellow Californian invader Peter Eurton's Lady Mystify, the 6/5 favorite in the Oaks.
Dealing with that high-profile firepower is Mr. Money Bags. The 5-year-old gelding, who runs primarily in the Southwest, makes his Zia Park return in the Sprint. He returns to Zia Park for the first time since winning the 2019 Zia Park Derby. The remarkably consistent Mr. Money Bags hit the board in 19 of 22 starts, banking $529,376.
Zia Park's leading trainer takes his shot
Elsewhere on the local front, Todd Fincher, the track's leading trainer this year, casts his lot with Slammed. The 3-year-old filly is 6-for-7 this year, all in New Mexico-bred races. She won the one-mile New Mexico Cup Championship in rousing fashion, besting older fillies and mares by nearly five lengths on Oct. 31.
The Land of Enchantment card offers intriguing betting options. But as you dive into one Pick 5 and two Pick 4s – an early and late – take Zia Park's high takeout into account. Betting those Pick 4s and Pick 5s, along with trifectas, superfectas, and Pick 3s, costs you 25% takeout. Win, place, and show bets come with a 19% takeout, and exactas and daily doubles 22%.