Arsenal manager Arsene Wenger looked out to the capacity crowd of more than 60,000 fans chanting, "There's only one Arsene Wenger," and smiled. His 22-year run as the Premier League soccer team's head man was coming to an end, and he acknowledged the fan's adulation in his final home game at Emirates Stadium on Sunday.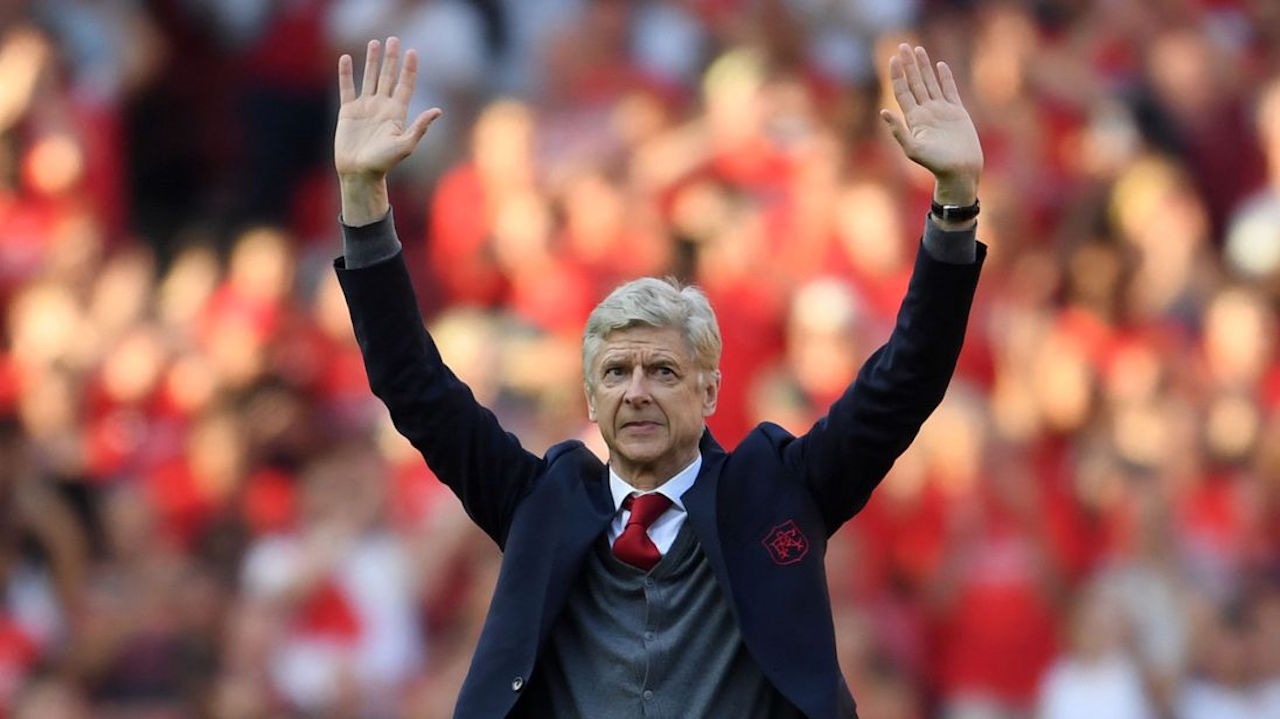 It has been a difficult season for one of the iconic clubs in English soccer. The team's 5-0 victory over Burnley ensured a sixth-place league finish, Wenger's lowest in a career that began in 1996. But it was a nice sendoff, nonetheless. The Gunners were a 1/2 pick to win the game, according to Paddy Power.
It has been a trying year for the 68 year old. There was speculation that he was forced out with one year remaining on his contract because of the team's disappointing finish. His legacy, though, is complete. He coached more years than the next six longest tenured managers.
"Thank you for having me for such a long time," Wenger said in an address to fans. "I know that's not easy. Above all I am like you, I am an Arsenal fan. That means this is more than just watching football, it's a way of life. It is caring about the beautiful game, about the values that we cherish."
Favorites to Replace Wenger
With two road games remaining in the season, speculation is starting to swirl over who will be the next coach. When asked about who would replace him, Wenger wasn't interested in guessing who his successor will be.
"I have nothing to do with that," Wegner said. "I just think he inherits a team which is much better than people think it is. You can see there's a great togetherness in this team."
While Wenger has no curiosity as to who will be the next Gunners manager, UK betting shops and internet sportsbooks are feeding off the wild conjecture as to who will succeed him.
The favorites at most sites are Italian Soccer League Jeventus manager Massimiliano Allegri and Liverpool assistant Zeljko Buvac. They are both at 4/1 at SkyBet, but at other outlets the two flip flop positions. Ladbrokes has Buvac at 5/2 and Allegri at 5/1, while BetVictor has Allegri at 3/1 and Buvac at 4/1.
Both candidates have been mum about the job, but Southhampton midfielder Mario Lemina said Allegri would be a perfect fit for the club.
"Because he is Italian he will give something special because he is more tactical," Lemina said. "I think he would be very good for Arsenal if he goes."
Job Reservations
Another leading contender for the position is former Barcelona manager Luis Enrique. He is at 8/1 at SunBets and 888Bet.
But all three reportedly have expressed reservations about taking the job. Their concern is how the team's new structure would affect their coaching duties.
Arsenal recently revamped its front office and added Raul Sanllehi as head of football relations and Sven Mislintat as head of recruitment. The two candidates have allegedly told confidants that they are unsure how much say they would have on personnel decisions, or how much on-field meddling Sanllehi and Mislintat would exert.