Cincinnati Reds rookie outfielder Aristides Aquino set a new MLB record on Monday when he hit his eighth career home run in just his 12th game in the big leagues.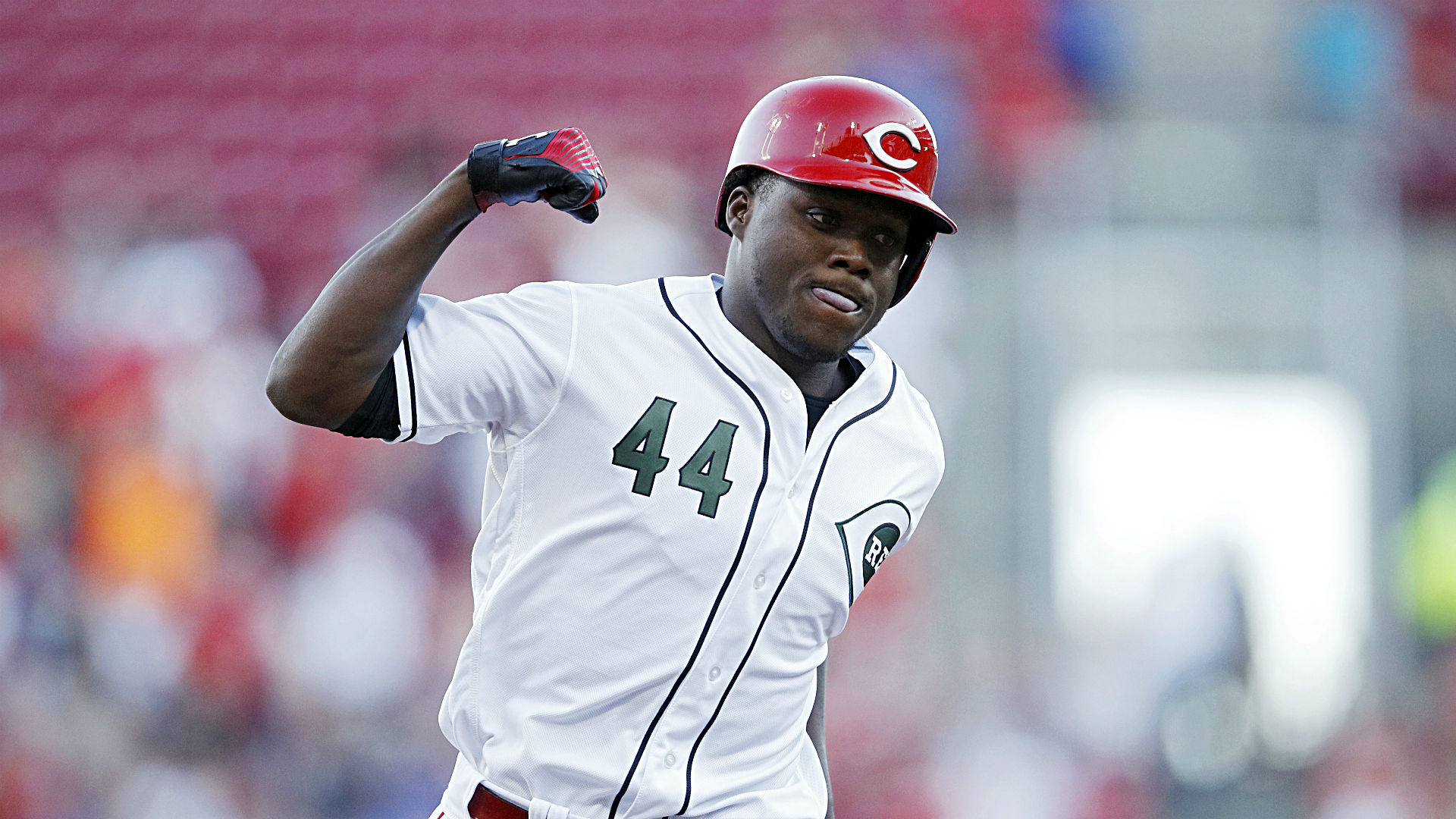 The record-setting shot came off of Washington Nationals reliever Tanner Rainey in the eighth inning of a 7-6 loss to the Nats.
Aquino Earns Player of the Week Honors
Aquino actually started his career last season, when he appeared in one game for the Reds, striking out in his only at bat. That means the rookie has actually hit his first eight homers in just 11 games since being called up to the majors again on Aug. 1, Including three against the Cubs in a 10-1 win on Saturday.
Still considered a rookie this year, Aquino is hitting .429 with 8 homers and 16 RBIs on the season. And while it has come in a very small sample size, his 1.617 OPS is still turning heads.
"A lot of us say we've never seen anything like it, and that would explain it," Reds manager David Bell told reporters after Monday's game. "It's never happened before. We've been talking about him now, and the great thing is, with the success, just the way he's handling it, just his maturity level, he's handled it with a lot of poise, and we believe in him. We believe that he's going to keep going."
Four players had previously hit seven homers in their first 12 games, including Houston Astros rookie Yordan Alvarez, who did so earlier this season.
Aquino's success has been impressive by anyone's standards, let alone a rookie's. The 25-year-old was named NL Player of the Week on Monday, after a week in which he had hit six home runs and driven in 11 runs in six games.
Aquino wasn't seen as a particularly promising prospect heading into 2019. But he was having a sold year with AAA Louisville, where he was hitting .299 with 28 home runs and 53 RBIs in 78 games.
"I think the timing has been perfect," Aquino told reporters with the help of a translator. "God has a plan, and I just want to go out there and do the best I can do."
So far, the Reds have been able to collect all of Aquino's home run balls, which he says he has plans for.
"I want to give those balls to special people I have in the Dominican," Aquino said.
Records Fall in Year of the Home Run
Aquino's heroics have only been enough to keep Cincinnati on the fringes of the NL wild card race. The Reds are currently 5.5 games back of the St. Louis Cardinals for the final Wild Card position, with five other teams – including the surging New York Mets – in between Cincinnati and a playoff spot. FanDuel Sportsbook is offering 100/1 odds on the Reds to win the World Series this year.
While it takes nothing away from Aquino's accomplishments, it isn't surprising to see a home run record fall this season. Home runs are up tremendously in 2019, with most players and pundits blaming the ball.
4. And the data?

AAA HR rate this year: 160 % of last year.
AA HR rate: 92 % of last year
HiA HR rate: 95% of last year
LoA HR rate: 95% of last year.

It's the ball.
All ball.
Nothing but the ball.
The ball explains it all.

— JJ Cooper (@jjcoop36) August 13, 2019
Data seems to support that idea. As Baseball America executive editor JJ Cooper pointed out on Twitter, home runs are also up significantly in AAA leagues, which are using the same ball as MLB this year. However, there's actually been a slight decline in homers at lower minor league levels, which use a ball manufactured at a different plant.