Argentina still has hope of making the quarterfinals of Copa America after a Lionel Messi penalty allowed the team to escape with a draw against Paraguay on Wednesday.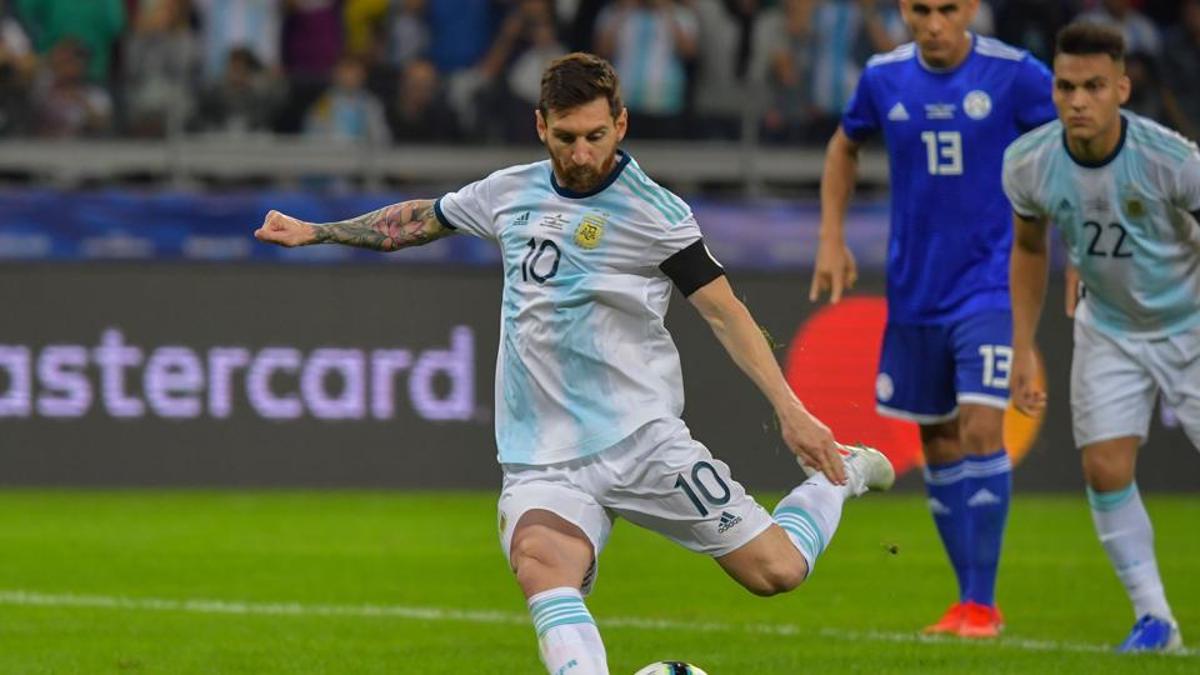 The 1-1 draw leaves Argentina with just a single point in its first two group stage matches, but the side is still likely to get through to the knockout rounds if they win their final match against Qatar on Sunday.
VAR Grants Reprieve for Argentina
Richard Sanchez opened the scoring for Paraguay in the first half, ending a blistering attack by slotting the ball into the bottom corner past Argentinian keeper Franco Armani.
"Our first half was not good," Argentina manager Lionel Scaloni told reporters after the match. "We played with desperation at times and we couldn't control the play or create attacks. We had a very clear plan but couldn't execute it as we kept losing the ball."
The Argentinians got their chance to equalize early in the second half. After Lautaro Martinez rocketed a volley off the crossbar, Messi had the ball in front of the net, only to see it tipped away by Paraguay goalkeeper Roberto Fernandez.
That appeared to set up a corner kick for Argentina. But despite the fact that nobody on the field had noticed, VAR picked up a possible handball, and the referee went to the screen to take a second look at the previous play. It was then ruled that Martinez's shot had hit Paraguay's Ivan Peris in the hand, resulting in a handball call and a penalty. Messi converted to tie the match at one goal each.
Paraguay still had chances to win, receiving a penalty of its own in the 63rd minute after a poor tackle by Nicolas Otamendi. But Armani was able to make the save on the penalty kick by Derlis Gonzalez, preserving a draw for Argentina.
Must Win Match Sunday vs. Qatar
The result leaves Argentina in fourth place in Group B. Colombia has clinched first place with six points, while Paraguay sits in second place with two. Qatar and Argentina each have one point, but Qatar has the superior goal differential.
That leaves Argentina in serious trouble heading into the final round of group stage games. A win over Qatar would guarantee it at least third place in the group, but only two of the three third-place teams will advance to the Copa America quarterfinals, and it's too early to know if four points would be enough to go through – though the odds would certainly be in Argentina's favor.
Meanwhile, a draw would almost certainly spell elimination, making the final match against Qatar a true must win for Messi and Argentina.
"We know we'll be playing for our lives," Messi told reporters. "It would be crazy if we can't advance from the group stage, when basically three advance from each group. I have no doubt we'll do it."
The good news for Argentina is that it is widely expected to get the full three points against Qatar. FanDuel Sportsbook has Argentina as a -420 favorite to win on Sunday, though the team's play so far probably won't leave supporters comfortable heading into the match.
Those struggles have knocked Argentina from its previous position as the second choice to win Copa America, however. While Brazil (+115) is still the favorite, Uruguay (+280) and Colombia (+525) are now considered more likely to lift the trophy than Messi and Argentina (+750).