Anthony Rendon has signed with the Los Angeles Angels for $245 million over seven years, according to reports by multiple media outlets, including ESPN.com and MLB.com.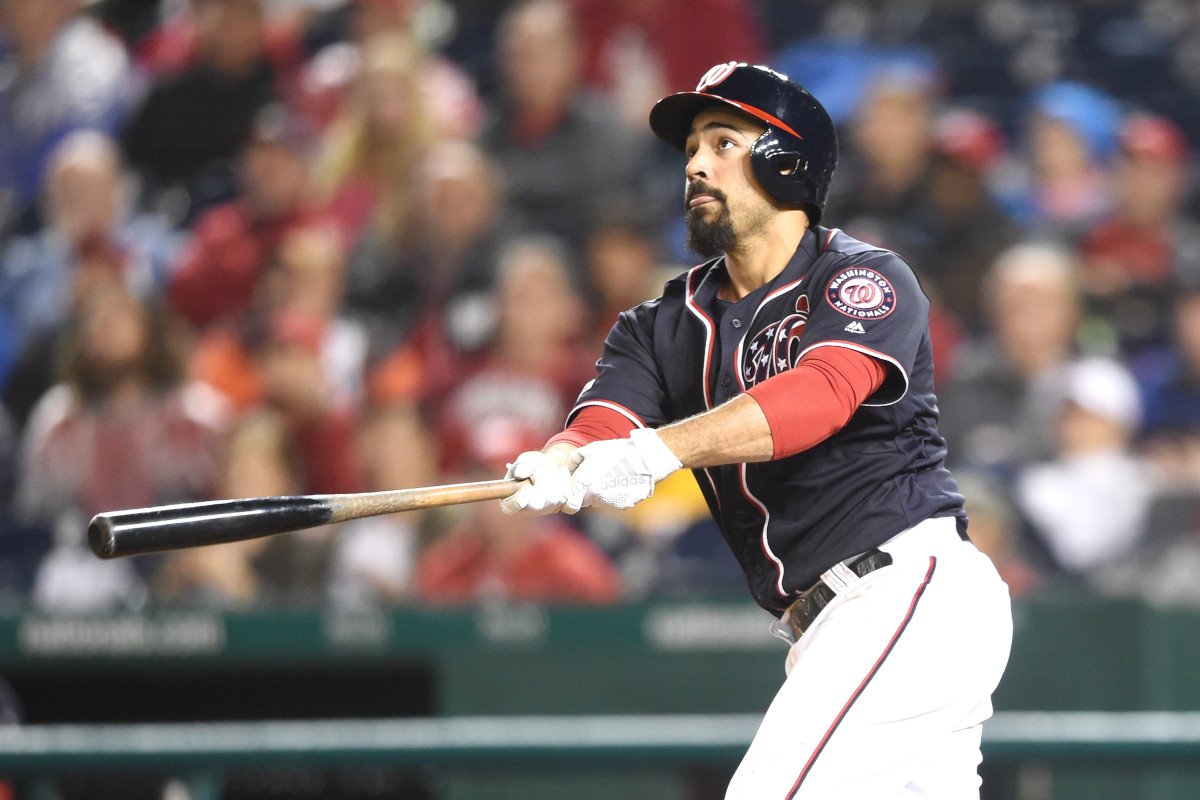 The third baseman is expected to be introduced by the Angels on Saturday after completing a physical on Friday, according to sources cited by ESPN.
Rendon Joins Trout, Ohtani in Potent Angels Lineup
Los Angeles made the move to sign Rendon after losing out on Gerrit Cole to the Yankees on Tuesday. Angels owner Arte Moreno has committed to adding more talent to a team that already includes three-time MVP, Mike Trout, and two-way player Shohei Ohtani, but lacks depth compared to its leading American League rivals.
Rendon is coming off of a season in which he made his first All-Star Game appearance. The 29-year-old spent the first seven years of his career with the Washington Nationals, and had his best season yet in 2019, hitting .319 with 34 homers and 126 RBIs. Rendon finished third in the 2019 NL MVP race.
According to sources cited by ESPN and MLB.com, Rendon's contract will include a full no-trade clause, no opt-out clause, and no deferred money.
Who's Still on the Market?
The offseason before the 2019 season saw the top free agents remain unsigned for months, with some not reaching deals until the start of spring training. In contrast, most of the consensus top names on the market have already been signed this year, including Rendon, Cole, Stephen Strasburg, and Zack Wheeler. Other major names like Didi Gregorius, Yasmani Grandal, and Mike Moustakas have also found homes.
That said, there are still a handful of big names who have yet to sign with teams this offseason. Here's a breakdown of the top free agents who remain on the market.
Hyun-Jin Ryu
Perhaps the biggest name remaining unsigned, Ryu is coming off a year in which he went 14-5 with a 2.32 ERA for the Los Angeles Dodgers. The 32-year-old appeared to be on course to win the NL Cy Young Award, but a relatively weak stretch run allowed Jacob deGrom to win the award for the second consecutive year.
Still, several teams are said to be pursuing Ryu, who now has a career 2.98 ERA over six Major League seasons. Franchises rumored to be interested in the lefty include the Chicago White Sox, Minnesota Twins, Toronto Blue Jays, St. Louis Cardinals, and Philadelphia Phillies.
Josh Donaldson
At 34-years-old, Donaldson is unlikely to command a long-term contract, but the third baseman hasn't seen age catch up to him just yet. The 2015 AL MVP would be a welcome addition to most lineups after hitting .259 with 37 home runs and 94 RBIs for Atlanta in 2019. He still plays well in the field, as well.
According to The Athletic's Ken Rosenthal, several teams are interested in Donaldson, including the Braves, Nationals, Rangers, Dodgers, and Twins. Rosenthal cited sources as saying that Donaldson's preference would be to stay in Atlanta, though he also wants a large guaranteed contract, as this will likely be his last chance to sign a major deal.
Madison Bumgarner
Once a four-time All-Star, the shine has come off Bumgarner a bit in recent years. But the San Francisco Giants starter is still putting up solid numbers, going 9-9 with a 3.90 ERA over 207.2 innings in 2019 to show he still has the durability to complete a full season on the mound. Teams bidding for his services include three California clubs: the Dodgers, Angels, and the Giants themselves.