The Los Angeles Lakers survived a huge scare when center Anthony Davis suffered a bruised tail bone injury after a frightening fall against the New York Knicks on Tuesday night.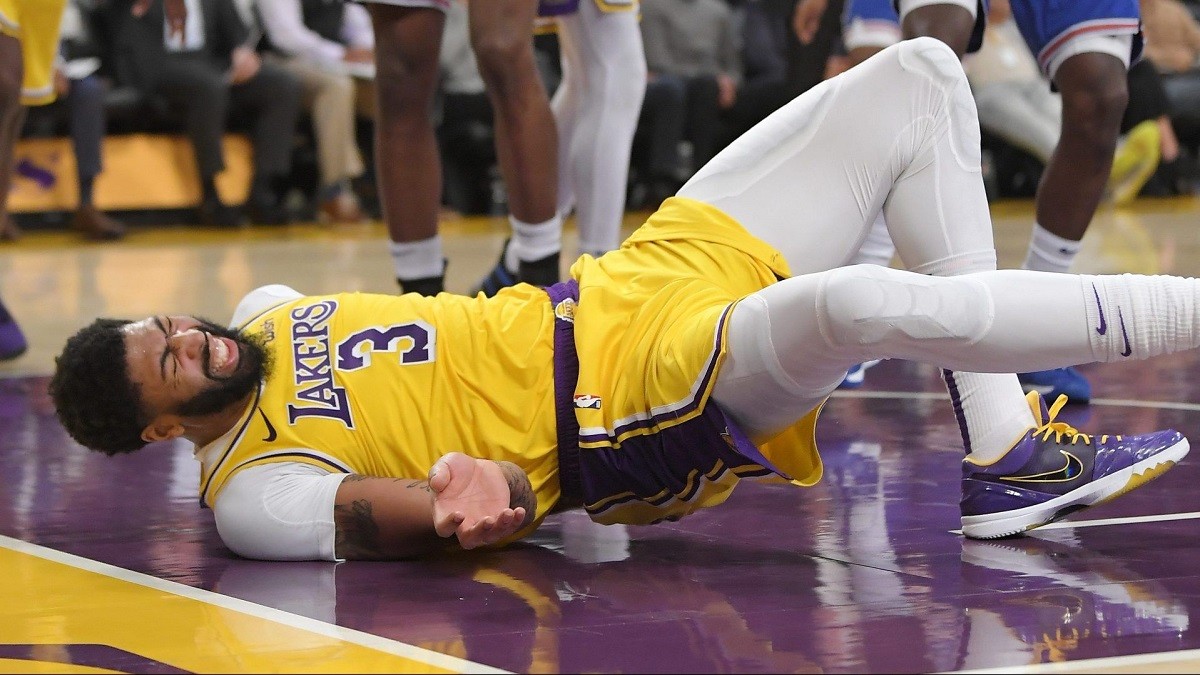 With under three minutes remaining in the third quarter, the Lakers led by 19 points. Knicks center Julius Randle attempted a shot, and Davis swooped in for a block. During the attempt, Davis was unable to brace his fall and crashed hard to the floor. He pounded the court in obvious agony while a stunned, Staples Center crowd went silent.
Davis remained on the court for several minutes while medical staff attended to him. He left the court on his own accord, but made a slow exit.
The Lakers (30-7) held on to defeat the Knicks, 117-87. LeBron James led all scorers with 31 points, and Kyle Kuzma added 16 off the bench.
"It's a scary fall," said Kuzma. "I fell on my tailbone once. It wasn't broke or anything, it had a bruise. It really, really hurt."
Oh no. Anthony Davis is down after a hard fall. pic.twitter.com/VvhzEXUvOz

— Dime (@DimeUPROXX) January 8, 2020
Davis had five points, six rebounds, five assists, three steals, and two blocks when he went down.
AD Injury: Bruised Butt
Davis underwent x-rays after the fall, and the results all came back clean aside from a bruised tail bone. The Lakers received good news with the best-case scenario diagnosis: bruised butt. Things could have been significantly worse, with AD suffering something like a fractured tail bone or fractured back.
Team officials listed the Davis injury as a bruised sacrum, which is the term for the lowest part of the spine by the tailbone.
"We hope he'll be fine," LeBron said. "Tough night for us."
Davis will undergo further testing for his injury, including an MRI on Wednesday.
"He's one of our pillars," said head coach Frank Vogel. "He's our present, he's our future, and he's one of the best players in the world. So obviously it means a lot."
Davis leads the Lakers in scoring with 27.7 points and 9.5 rebounds per game. He's become a main focal point of the offense, but he's also the heart and soul of the defense.
Davis will miss at least the next two games due to the injury. The Lakers hit the road this weekend for back-to-back games against the Dallas Mavericks and Oklahoma City Thunder. It will be up to LeBron to carry the team once again.
"We'll see what happens with AD's injury and take it from there," he said.
The Lakers are one of the co-favorites to win the NBA championship at 3/1 odds. Any deep run they may make is predicated on the fact that both Davis and LeBron are healthy.