As controversy about his Preakness Stakes appearance swirled around him, Kentucky Derby champion Medina Spirit seized the familiar favorite status Derby champions get coming into the Preakness. The Derby winner became the 9/5 morning-line favorite for Saturday's second jewel of the Triple Crown.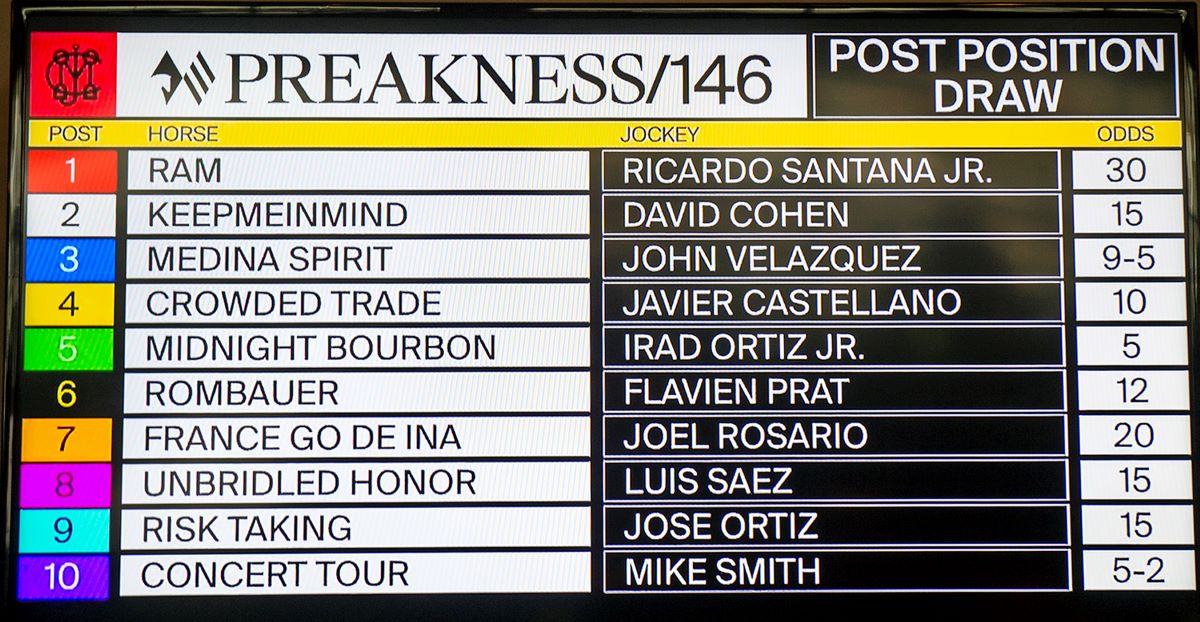 Along with favorite status, which nearly all Derby winners inherit for the Preakness, Medina Spirit drew post 3 at Tuesday afternoon's post-position draw for the 146th Preakness Stakes. Given the week his trainer Bob Baffert is enduring, this seems to be the least of the Protonico colt's issues.
Not wanting to be a distraction in the wake of Medina Spirit's positive test for excessive amounts of an anti-inflammatory, Baffert won't be in Baltimore this week. His attorney, Craig Robertson, worked out an agreement with the Maryland Jockey Club that allows Medina Spirit into the Preakness with special conditions.
With that housekeeping done, Baffert turned matters for his two Preakness entries, Medina Spirit and Concert Tour, over to assistant trainer Jimmy Barnes and Gary Young. The latter is a noted clocker, bloodstock agent, and racing manager for Zedan Racing Stables, Medina Spirit's owner.
You know where the Preakness speed will be
"Post 3 won't win the race for him and it won't lose the race for him," Young told the MJC's David Joseph about Medina Spirit. "We anticipate that he and Concert Tour will be 1-2 early in the race. One will be in front, one is probably going to be second – unless someone alters their plan totally."
Concert Tour, meanwhile, begins his front-running tour in the 1 3/16-mile Preakness from the outside in post 10. He's the 5/2 second choice in the 10-horse field as the Preakness' star "new shooter." Concert Tour did not run the Derby after a disappointing third in the Arkansas Derby. He is one of seven new shooters in the Preakness field.
"He's a speed horse, so he will get out of there and get a position and be on the outside somewhere," Barnes said. "I think we're fine with both our positions. They are both front-running horses, so they will probably be up there in the clear, hopefully. He's one that is placed forwardly in the racing. Being on the outside should be fine."
Post 5 works for Midnight Bourbon
Another likely forwardly placed horse is 5/1 third choice Midnight Bourbon. His post 5 draw pleased trainer Steve Asmussen, who's seeking his third Preakness title. Asmussen does so, putting ace rider Irad Ortiz Jr. aboard the Derby's sixth-place finisher for the first time.
"Middle of the field. Good run to the first turn. Obviously, post-position draw in a 10-horse field is half as important as in a 20-horse field, but I think it gives you all the options you would ever have wanted with a talented horse," Asmussen said.
Pimlico sends Preakness horses on a quarter-mile run to the clubhouse turn, so post positions aren't nearly as key as they are in the 20-horse Derby. This explains why virtually every trainer found something good about their draw.
Keepmeinmind wants you to do the same for Preakness
That included Robertino Diodoro, who conditions 15/1 Keepmeinmind. He'll start from post 2 off his seventh-place Derby finish as one of the three Derby horses turning around for the Preakness.
"I like it. I think with his (closing) running style, the post doesn't matter a whole bunch," Diodoro said. "But at the same time, at least we don't have to worry about getting hung out in the middle of the racetrack, which can sometimes happen with an outside post. So I'm more than happy with the '2.'"
The odds ranged from Medina Spirit's 9/5 to D. Wayne Lukas' long shot Ram at 30/1. The 85-year-old Lukas is seeking his seventh Preakness win with a horse making his stakes debut. Ram, the son of 2015 Triple Crown winner American Pharoah, drew the rail – post 1.
France Go de Ina's trainer gets his wish
Japan-based France Go de Ina is the second-longest shot at 20/1. He'll break from post 7, which pleased trainer Hideyuki Mori.
"It's good. He is not too far to the inside, but he also is not too far to the outside," Mori said. "Right before they called the No. 7, I said 'That's the one I want.' And they called France Go de Ina. I could not be happier with it."