If soon to be pro Viktor Hovland wanted to learn about life on the tour, he couldn't have two better professionals to get advice from as playing partners. The Norwegian golfer has been paired with two-time US Open champion Brooks Koepka, and international superstar Francesco Molinari.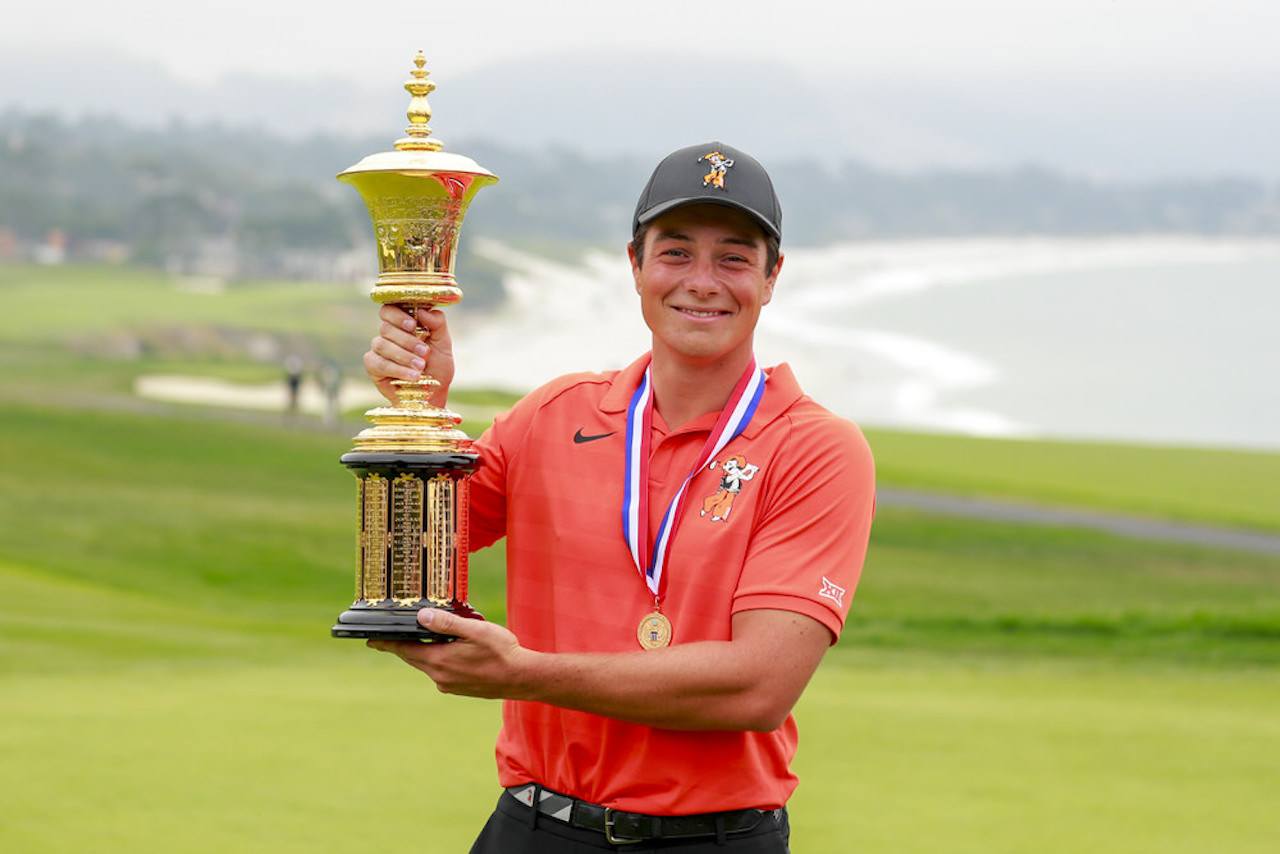 An incredible year is just getting better for Hovland. He won the US Amateur last year at Pebble Beach, the same site as this week's US Open. He also earned the Ben Hogan Award for the top amateur.
Now in his last tournament as an amateur Hovland, who played at Oklahoma State, is prepping for what many believe will be successful pro career. He is playing in four consecutive events on sponsor exemptions, though he is focused on only this week.
"I'm pretty laid back," Hovland said. "I'm thinking about the U.S. Open right now, and when I get to Connecticut next week, we'll figure it out. There's no real secret. You've just got to play good golf. Go about your business. Get a good routine and strategy to the course and just got to play good golf."
He has already gotten some advice from fellow OSU alum Rickie Fowler, who isn't worried about Hovland.
"It is an adjustment turning pro," Fowler said. "Sometimes it takes longer for some guys than others. I'm excited for him to start his professional career soon. I think he's going to have a lot of success. I hope that would be sooner rather than later. But I'm looking forward to helping him if I can at all. He may not need it. He might come out and just get on a run and go."
Stricker, Harrington Miss Out
Even though Steve Stricker is 52, he had qualified for the US Open the past two years. The PGA Tour Champions player was trying to make it three appearances, but failed to get past the qualifier. It will be the first time since 2016 Stricker won't be at the tournament.
Another golfer that won't be at Pebble Beach is Padrig Harrington. The Irishman hasn't been at the major since 2013, where he tied for 21st. He also failed to qualify.
Greens Concerning USGA
The USGA is sensitive to criticism about how they set up a golf course for the US Open, especially after failures in recent years. Golf's ruling body in the US has been communicating with players about their concerns, and Monday one USGA official said that the greens will be getting plenty of scrutiny.
The putting surface is poa annua, and that type of grass can react negatively to dry conditions. The weather for the Monterey peninsula is expected to be warm, and with no rain in the forecast, those working on the course might have to intervene a bit to keep the greens from turning brown.
Officials have told players that they may syringe the greens with water if they deem it necessary. The last time they did that was 2004 at Shinnecock Hills, when the greens started to turn brown in the hot conditions.