All Elite Wrestling has announced its presence to the world of professional wrestling, promising to offer an alternative to World Wrestling Entertainment (WWE). And while that may seem like a tall order, the new promotion will have the financial backing of the family that owns the Jacksonville Jaguars in their corner.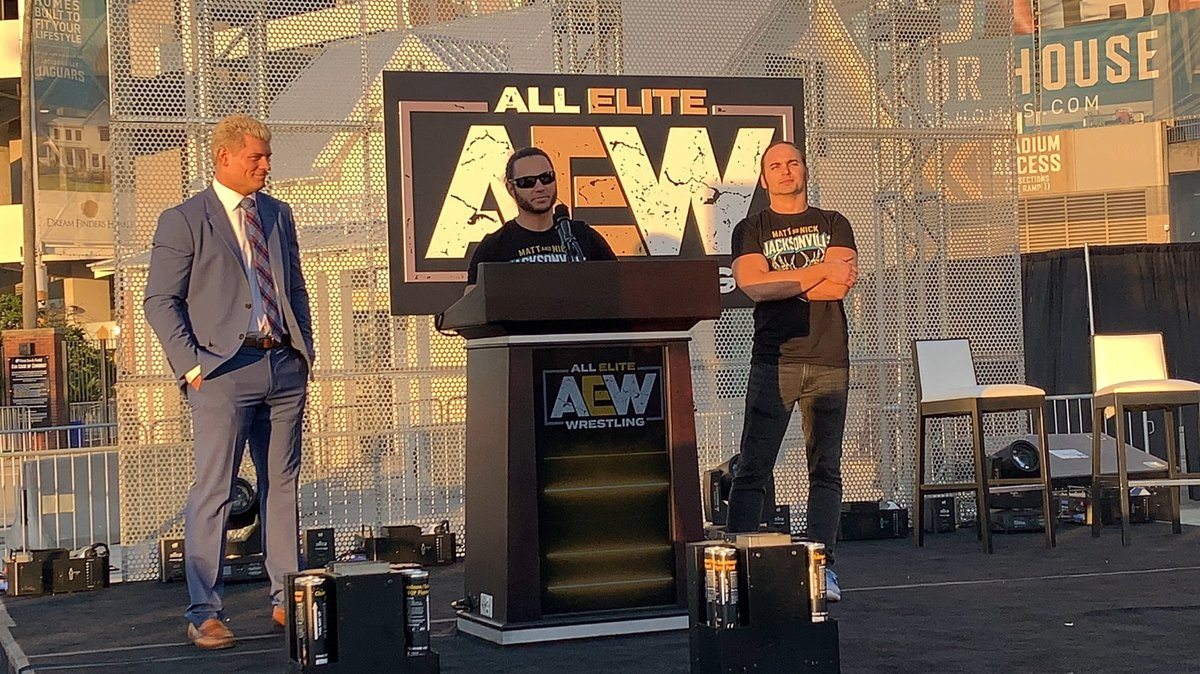 Jaguars owner Shad Khan and his son Tony Khan are the chief investors into All Elite Wrestling, a promotion that has already signed many of the biggest names in the wrestling industry who aren't currently under contract with WWE.
Top Independent Stars Headline AEW Roster
AEW has already signed many of the top stars of the independent circuit, headlined by "The Elite:" Cody Rhodes, Adam Page, and The Young Bucks (Matt and Nick Jackson). At a rally outside TIAA Bank Field – the home of the Jaguars – on Tuesday, the promotion also announced a number of other signings, including that of Chris Jericho, a former WWE and WCW superstar who is still drawing crowds and getting praise for his in-ring performances at the age of 48.
"AEW will launch with a roster of the top wrestlers in the world," Tony Khan said in a statement. "While they'll clash in what will be some of the most intense and fast-paced contests ever sanctioned in the squared circle, they'll also share a common goal: to make this the true golden age, to make this the greatest time ever to be a wrestling fan."
During the rally on Tuesday, AEW announced that its first show – known as "Double or Nothing" would be held at the MGM Garden Arena in Las Vegas on May 25. If the promotion could sell out the venue, which has a capacity of over 17,000, it would send a signal that there is an audience for a serious competitor to the WWE in the United States.
WWE Audience Shrinks in 2018
There are already signs that this could be the case. Television ratings for WWE programming have dropped precipitously over the past year, with critics blaming repetitive matchmaking, uninspired writing, and a lack of dynamic stars as reasons for the decline. The promotion has also been the subject of controversy for its lucrative deals in Saudi Arabia, especially when WWE held a show called "Crown Jewel" in Riyadh soon after the death of Jamal Khashoggi.
Meanwhile, the independent wrestling scene in America has been thriving. In September, Rhodes and the Young Bucks spearheaded "All In," an independent pay-per-view that drew a crowd of more than 11,000 people to the Sears Centre in Chicago. That event suggested that with the right product and strong financial backing, a new promotion might be able to siphon off a sizable part of the WWE audience that isn't happy with what they've been seeing lately.
"I know AEW will be welcomed by wrestling fans here in the US and throughout the world who are ready for something new and authentic," Shad Khan said in a statement. "AEW will work hard to deliver on that promise."