Former NFL player Aldon Smith turned himself in to police in San Francisco on Tuesday after facing domestic violence charges. He has since been released on $30,000 bond.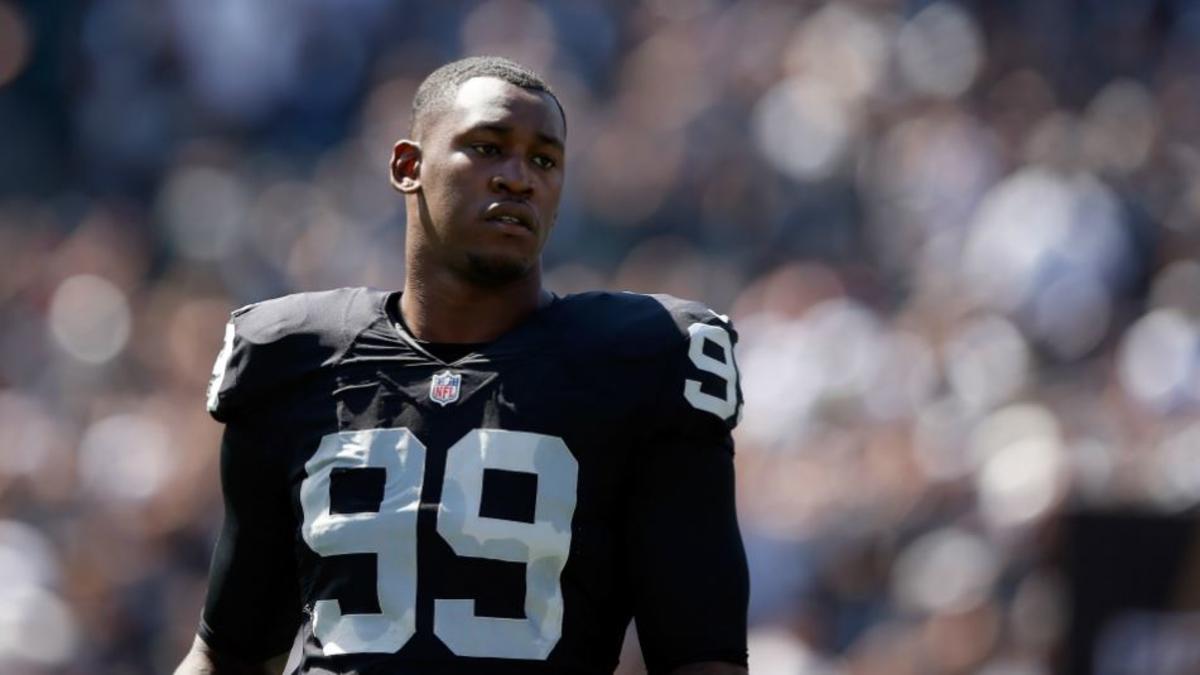 Smith has been charged with misdemeanors for domestic violence, assault with force likely to produce great bodily injury, false imprisonment, and vandalism.
Smith was a linebacker who most recently played for the Oakland Raiders. His NFL career began in 2011 when he was a first-round draft pick of the San Francisco 49ers. He quickly made his mark on defense, becoming a first-team NFL All-Pro in 2012 in a season where he recorded 19.5 sacks, second most in the league that year.
Legal Issues Plague Promising Career
But Smith's career was dogged by legal issues. He has had multiple arrests for DUI charges, and once faced weapons charges, though those were later reduced.
Most recently, Smith played for the Raiders in 2015. He started seven games and recorded 3.5 sacks. However, the NFL suspended Smith for one year in November 2015 due to violations of the league's substance abuse policy and his history of legal troubles. Since then, the league has yet to reinstate him.
San Francisco Police obtained a warrant for Smith's arrest on Monday after allegations arose that he had assaulted a woman on Saturday night. TMZ reported that they had spoken to Smith's fiancé, who confirmed that she was the alleged victim in the domestic violence incident.
Smith's fiancé told TMZ that he had gone to her parents and asked them to take him to a rehab facility. She added that she was mostly concerned about Smith getting treatment for his issues, including substance abuse.
"I wish the best for Aldon. And I'm scared for his life with his addiction," she told TMZ. "I cannot comment on the altercation but I can tell you I love him and [I am] so happy he turned to my family who considers him family and hopefully he gets the help he truly needs."
Cut From Oakland Roster
Prior to the incident, Smith was on the Raiders roster. However, Oakland cut him on Monday after learning about the domestic violence charges.
Smith was chosen seventh in the 2011 NFL Draft, in the same class as Von Miller (chosen second overall) and JJ Watt (the 11th pick). While he was only used situationally in his first season, he collected 14 sacks, and was named to the NFL All-Rookie Team.
But off-the-field issues began to emerge just days after the season ended. The week after the 49ers were eliminated from the playoffs, Smith was arrested on suspicion of driving under the influence in Miami Beach.
His stellar 2012 season may have helped many observers forget about that incident, as Smith set a record for the most total sacks for a player in their first two NFL seasons. But in September 2013, Smith faced another DUI arrest and missed five games while he spent time in rehab.
Later that same season, he would turn himself in on three felony counts of possessing illegal assault weapons. In 2014, he was arrested on suspicion of making false bomb threats at Los Angeles International Airport, though charges were never filed in the case. A third DUI arrest would occur in August 2015, which prompted the 49ers to release him from their roster.