The College Football Playoff National Championship may have ended only two weeks ago, but bookmakers are already posting their odds for next season. And in the eyes of bettors, there is a clear favorite once again.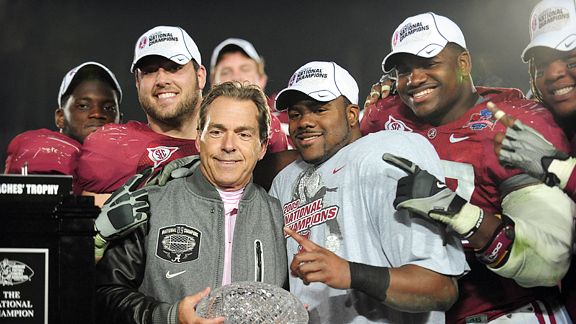 The University of Alabama is favored to repeat as national champions in the 2018-19 season, with William Hill posting the Crimson Tide as 5-2 favorites to take home the title.
Alabama has won 22 national championships in the schoolís history, and has appeared in the last three national championship games, winning two of them. Alabama has made the playoffs in all four seasons under the current format.
Alabama Returns Key Players
Alabama will bring back many of the key pieces that helped them come from behind to defeat Georgia in the National Championship. Quarterback Tua Tagovailoa, who came off the bench to spark the rally, along with leading rusher Najee Harris and wide receiver DeVonta Smith, are all freshmen who will be looking to improve further in their sophomore seasons.
The Ohio State Buckeyes are listed as the second choice at 7-1.
The College Football Playoff selection committee controversially left the Buckeyes out of this seasonís final four, but the school remains a perennial contender, having made the playoffs in two of the last four season.
Ohio State last won a national championship in the 2014-15 season, when they defeated Oregon 42-20 in the championship game.
Two other participants in this seasonís playoff round out the betting favorites. The Clemson Tigers, who won the 2016-17 title, are listed at 8-1 odds following a third straight playoff appearance and a semifinal loss to Alabama. Oddsmakers have made the Georgia Bulldogs a 10-1 choice after the school came up just short last season, losing to Alabama in overtime in the final.
Other teams given reasonable odds to claim a championship next season include the Penn State Nittany Lions (14-1), the Michigan Wolverines (16-1), the Auburn Tigers (25-1), and the Oklahoma Sooners (25-1), who lost to Georgia in the semifinal playoff round this past season.
Ready for Next Season
Some sportsbooks have gone beyond allowing bets on next seasonís winner, and have begun to post odds on some of the marquee opening week matchups.
Alabama will kick off their season Sept. 1 in Orlando against Louisville, where the Crimson Tide open as four-touchdown favorite. Oddsmakers have set the line at 29.5 points, as Louisville is expected to struggle after the loss of 2016 Heisman Trophy winning quarterback Lamar Jackson.
A much closer contest is expected between Midwestern powerhouses Michigan and Notre Dame. The Fighting Irish are favored by just two points over the visiting Wolverines. Meanwhile, Miami will take on LSU (+1) in Arlington, Texas, at AT&T Stadium. Both games feature teams with playoff aspirations, making these results critical even so early in the season.