Alabama football coach Nick Saban has spent the last few days answering his critics about his handling of quarterback Tua Tagovailoa. Some fans and media blasted Saban for leaving the star QB in last Saturday's game against Mississippi State, despite having a big lead.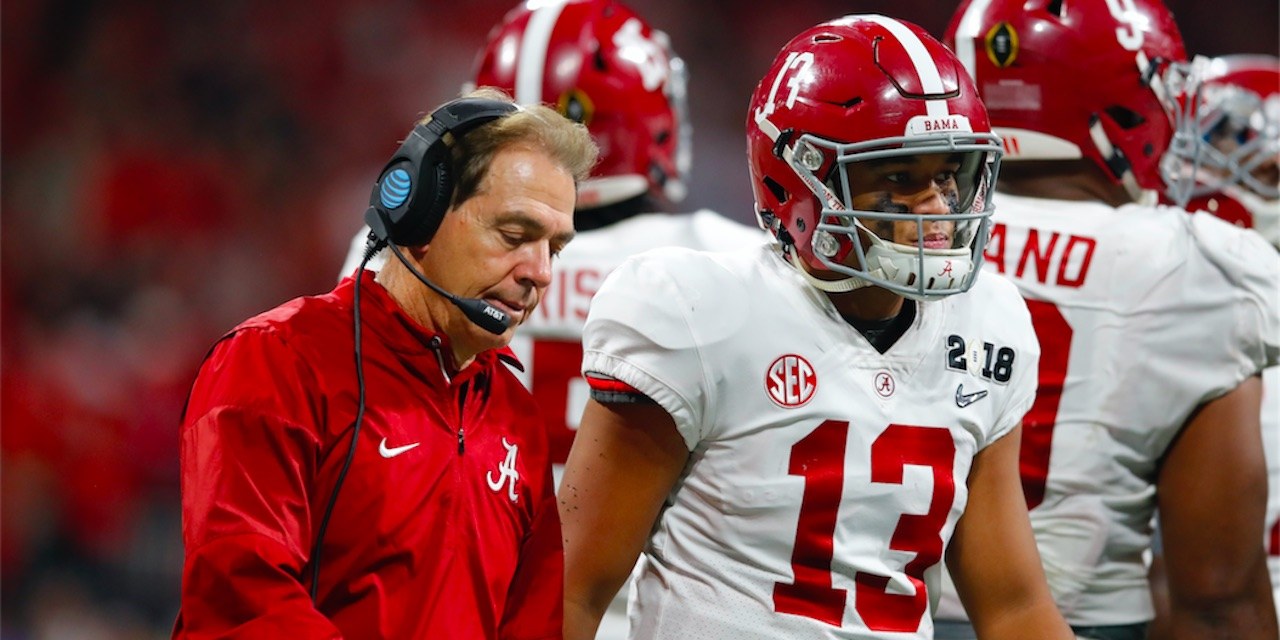 The Crimson Tide led 35-7 with three minutes remaining until halftime, and Tagovailoa was seen on the sidelines talking to Saban. The head coach then put Tagovailoa into the game. The junior signal caller was hurt three plays later in what would probably have been his last action in the game.
Some maintain Saban should have never let Tagovailoa back in the game with a 28-point lead. ESPN college football analyst, and former Georgia defensive end, David Pollack sent out a tweet after the injury. He said playing Tagovailoa in that situation "made no sense. None!"
Saban was asked about it after the game, and went right on the defensive.
"We can second-guess ourselves all we want," Saban said. "We told (back up quarterback) Mac (Jones) to warm up, we were going to go two-minute (situation) before the half, Tua wanted to play in the game, so… I don't really make a lot of decisions based on worrying about guys getting hurt."
Saban Supporters Not Silent
Saban got his fair share of criticism, but there were several that came to his defense. Former Ohio State coach Urban Meyer, now an analyst on Fox Sports, talked about how he had made a decision to rest a quarterback. He said the player and his father showed up at his house, screaming at him to let him play.
Clemson quarterback, Trevor Lawrence empathized with Saban on keeping Tagovailoa in the game. The sophomore told The State.com that athletes always want to play.
"If I'm ever asked what I want to do it's usually, 'Yeah, lets go another series.' So sometimes they'll say that, but usually it's either, 'You wanna go one more?' or it's, 'You're done,'" Lawrence said. "So it just depends. I'm sure that was similar with Tua — was kind of like, 'You want to be done or you want to go one more and get a last two-minute drive in?' or whatever it was. Obviously any competitor wants to go in and play more if they can, so I would've done the same thing."
Chance at National Championship Over?
Alabama and defending National Champions Clemson were the 9/4 favorites to win the 2020 College Football Playoff before the season began. After Tagovailoa's injury, however, the Crimson Tide slipped to 16/1, well behind new favorite, Ohio State. The Buckeyes are 2/1.
Saban has two more regular season games. The first is Saturday against Western Carolina. That game was taken off the board at sportsbooks. The following week's game is at No. 15 Auburn, and should be a much more difficult test.
Even if Alabama wins both games, they won't get into the SEC Championship game if LSU wins out. The Tide are currently fifth in the College Football Playoff Rankings, and might not get into the top four before the final poll is released Dec. 8.