Nick Saban has ruled college football for the last decade, and Alabama decided he should yet again be rewarded for his dominance. For the third consecutive year, the 66-year-old had his contract reworked to make him the highest paid coach, as well as the highest paid public employee in the nation.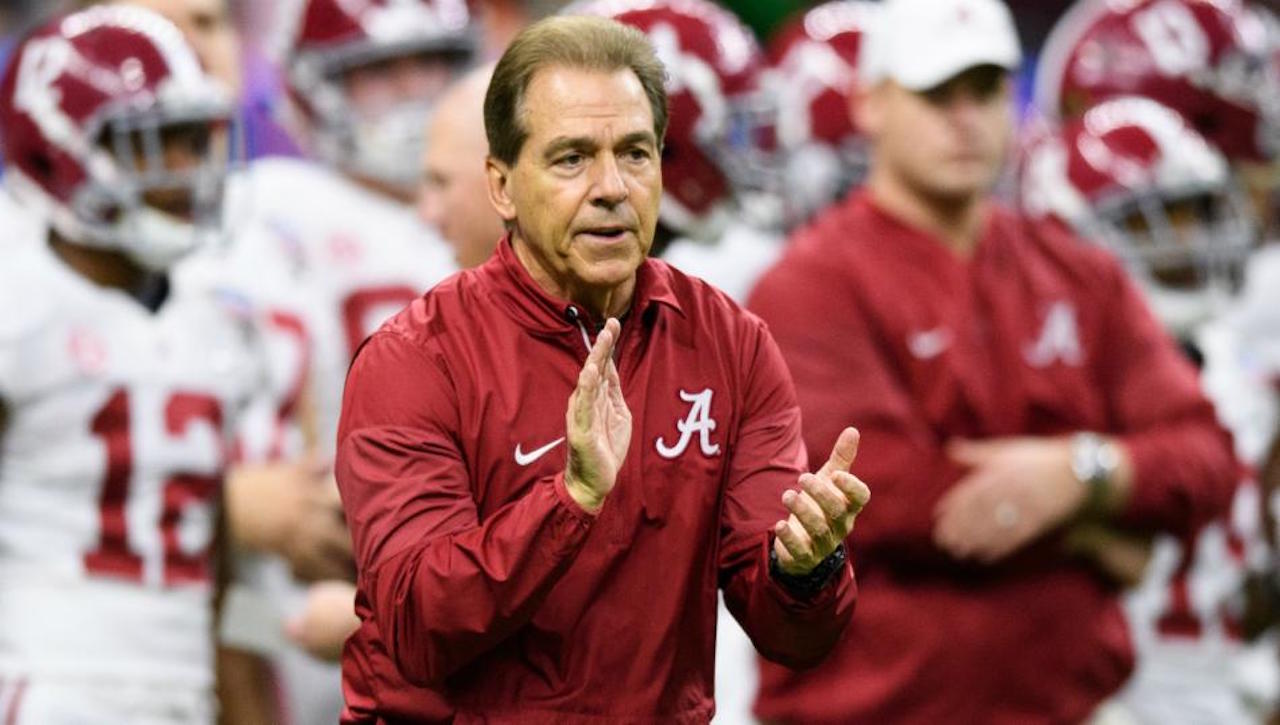 The university added another year to the contract, which will have him coaching the Crimson Tide through the 2025 season. He will make $8.3 million this season, and get pay increments of $400,000 annually.
"Our family is thrilled to agree to a contract extension with The University of Alabama that will keep us in Tuscaloosa for the rest of our coaching career," Saban said in a statement released by the university. "For Terry and me, the Tuscaloosa community and the state of Alabama have become home, and a place with deep roots for our entire family."
The Crimson Tide is expected to be ranked No. 1 in the AP Top 25 poll when it is released in August, and are the 2/1 favorite to win the 2019 National Championship.
Big Money Coaches
At an average of at least $9.25 million a year, Saban will once again be the highest-paid coach in college football.
He is followed by Ohio State's Urban Meyer at $7.6 million and Michigan's Jim Harbaugh at $7.5 million. New Texas A&M hire Jimbo Fisher signed a 10-year deal worth a reported $75 million, but details on his contract have yet to be made public.
Since coming to Tuscaloosa in 2007, Saban has made the team one of the most successful in college football history. He has won five National Championships in nine years, and amassed a 132-20 record. He also recruited the only two Heisman Trophy winners for the school, running backs Mark Ingram in 2009 and Derrick Henry in 2015.
Of those who have played for Saban, 77 have been drafted in the NFL, including 26 first-round picks.
"Before I came to Alabama, I was always impressed with Coach Saban and how he ran his program," athletic director Greg Byrne said in a statement. "After being here and seeing first-hand the job that he does, I've come away even more impressed. Coach Saban has obviously won a lot of football games and championships, but he has also done an outstanding job when it comes to academics and community service"
Buidling 'Bama Community
The University of Alabama has shown noticeable growth since Saban's arrival 12 years ago. In 2007, enrollment was at 25,580 students. By 2017, the number had increased to 38,563. And in 2014, out-of-state students outnumbered in-state students for the first time in school history.
But Saban's influence goes well beyond the football field. According to Forbes, revenue categories are up significantly since fiscal year 2008, including ticket sales (+32.5 percent), contributions (+10.6 percent) and rights/licensing fees (+208 percent). Collectively, it all adds up to a 40.8 percent revenue increase.
Additionally, Nick's Kids Foundation has helped children and families throughout Alabama. The non-profit charity has donated millions of dollars to hundreds of other charities.