Alabama, Clemson, and Ohio State all take on conference opponents this Saturday, but will it be any harder than their first two games? By the point spreads being offered it doesn't appear so.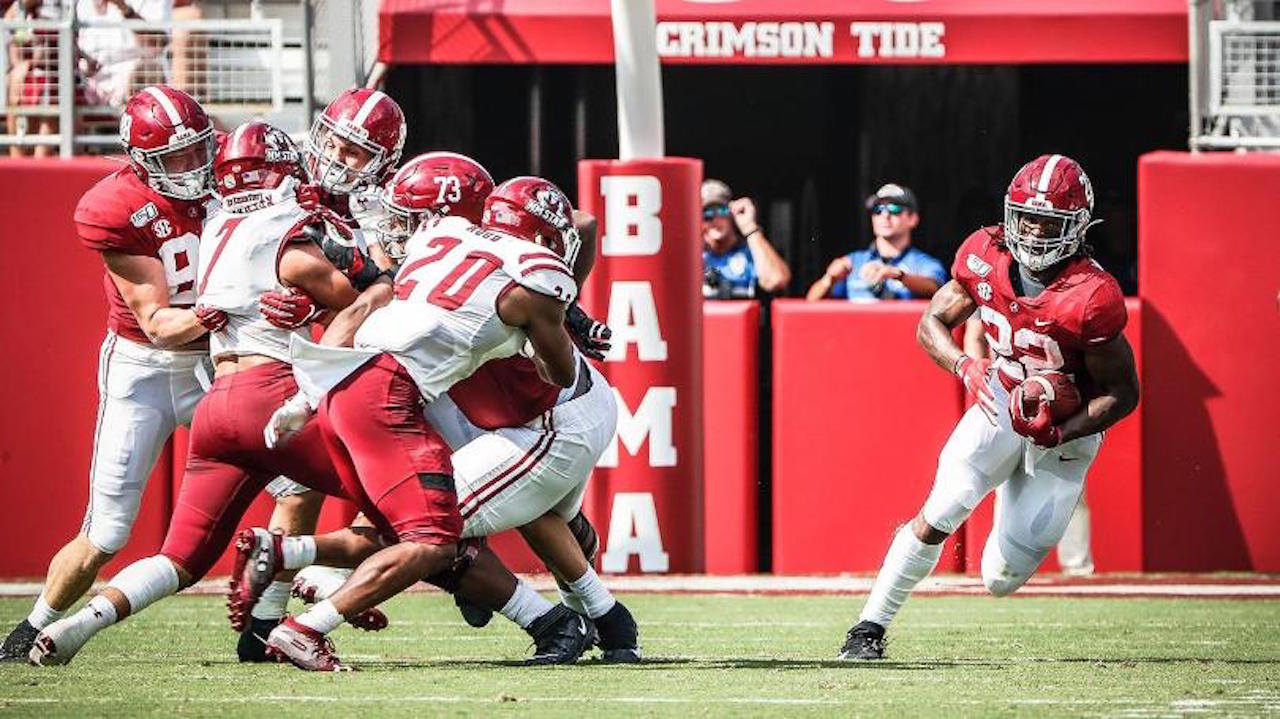 Alabama, the No. 2 team in the country, is playing South Carolina. Despite being on the road, the Crimson Tide is a 25.5-point pick. Sure it's less than the 35 they gave Duke, and the 55 that New Mexico State got, but this looks like another easy contest for Nick Saban.
South Carolina coach Will Muschamp says the formula for beating Alabama is easy.
"You got to have an aggressive mindset when you go into the ballgame," he said. "You have to do the simple things really well in the game. You can't start trying to play out of what you normally do. At the end of the day, there's going to be 4-6 plays in this game that are going to determine the outcome of the game. Just like any other game we play."
Clemson Ready
The No. 1 team in the country was going to face its second consecutive ranked opponent. That was until No. 21 Syracuse got blown out by unranked Maryland, 63-20. The loss was the most lopsided defeat of a ranked team by an unranked team since Oklahoma beat No. 13 Texas A&M 51-13 in 1999.
The line reflected how little faith bettors had on The Orange's chance at an upset. It opened at 24, but has since jumped to 28, even though Syracuse is at home.
The Tigers handling of No. 12 Texas A&M last week, 24-20, also has gamblers believing that this will be a one-side affair. Clemson, though, has been shaky with the spread. They covered against Georgia Tech by 1.5 points, and failed to cover against the Aggies. Clemson coach Dabo Swinney knows how tough it is to play Syracuse.
"Last year, they had us on the mat for a two-count and we were able to get up and win the match," Swinney said. "We are very well-aware of the effort and toughness that they will bring. Last week's game got away from them, but that won't be the Syracuse that we face this week. It's a division game and there's a lot at stake. We know a lot about them, and they know a lot about us."
Ohio State Trying to Avoid Trap Game
Ohio State had two convincing wins against Florida Atlantic and Cincinnati, but could Big Ten Conference foe Indiana pull off the upset? Bookmakers don't believe so. The line opened at 14, and has gone to 16.5.
Many wondered how new coach Ryan Day would do in taking over for Urban Meyer. So far it seems like a seamless transition. Day isn't taking Indiana lightly, however, especially since it is the first road game for the Buckeyes.
"After looking at the film of Indiana the first couple of days, their first couple games, they have a good team," Day said. "A couple years into the system on defense, guys on that side flying around. They're doing a good job with the new coordinator there on offense. We know going on the road, first conference game in the Big Ten and every time we play Indiana, it's a tough game. Those guys always come ready to play. So we got our hands full early on."