Football players at both Alabama and Auburn have tested positive for COVID-19, and the news could have a negative effect on the college football season. Several conferences are debating on whether to let their schools play football because of concerns about the global pandemic. As of Monday, there have been 1.9 million confirmed cases of the disease in the US, with more than 112,000 deaths.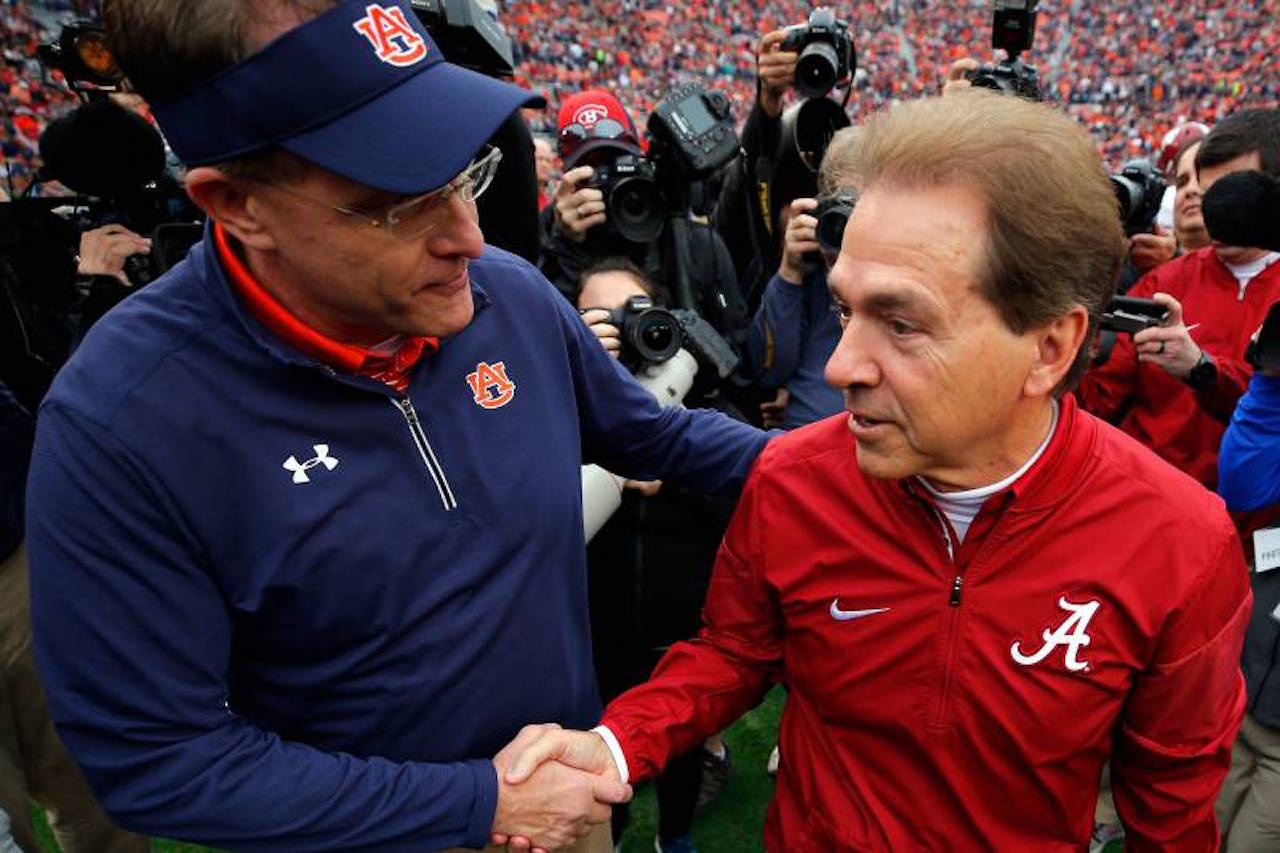 The college football season is supposed to begin on Aug. 29, though Alabama's first game is Sept. 5 against USC. Auburn hosts Alcorn State the same day.
It was reported by multiple outlets, including BamaInsider, that at least five Crimson Tide players had tested positive. Auburnsports.com reported on Sunday that three Tiger players had tested positive for the disease.
Odds To Win National Championship
| | |
| --- | --- |
| Ohio State | +275 |
| Clemson | +275 |
| Alabama | +500 |
| Georgia | +800 |
| Florida | +1200 |
| Oklahoma | +1600 |
| Oregon | +3000 |
| Notre Dame | +3000 |
| Penn State | +3000 |
| Texas A&M | +3000 |
| Texas | +3000 |
| Auburn | +4000 |
| Michigan | +5000 |
| Wisconsin | +5000 |
Source: Westgate SuperBook USA
Alabama and Auburn are both expected to compete for the national championship. The Crimson Tide is the third pick at +500, according to Las Vegas Westgate SuperBook USA.
Alabama, Auburn Take Different Approach to COVID-19
Crimson Tide players were on campus, and some were participating in player-only workouts. AL.com reported that at least one of the players that tested positive was at those workouts, adding he was asymptomatic at the time.
The university would not confirm the reports, but issued a statement saying students are safe when on the campus.
"The health and safety of our student-athletes is a top priority. Resources and protocols are in place to ensure they receive the best medical care when returning to campus. Due to privacy laws, we cannot share information specific to the health of our student-athletes," the statement read.
Tuscaloosa County, where the campus is located, has had 836 reported cases with 14 deaths, though none of the deceased are under the age of 25.
Auburn University officials say they have been just as proactive in dealing with coronavirus. The players reporting to campus are being tested. When the three players came back positive, they were quarantined in a dorm separate from the one housing the rest of the team, and will stay there for 14 days.
Auburn coach Gus Malzahn told reporters on Tuesday he is confident with the university's plan.
"(Team doctor Michael) Goodlett has done a super job of making sure that if someone tests positive, we will have a record of who's been around, who's in contact, and obviously they'll be tested at the same time," Malzahn said. "That should help. I think the challenge will be, as we move forward and trying to get back to some kind of normal, you know, everything that goes with that. But we feel very good about our plan, especially the first seven days."
Other Programs Affected
Alabama and Auburn aren't the only schools that have seen players test positive for COVID-19. Iowa, Arkansas State, Oklahoma State, and Marshall have all reported athletes testing positive for the virus.
Citing privacy concerns, the schools did not disclose what sports they played. Oklahoma State linebacker Amen Ogbongbemiga posted on Twitter that he tested positive for the disease after attending a protest for Black Lives Matter in Tulsa.
"After attending a protest in Tulsa, and being well protective of myself, I have tested positive for COVID-19. Please, if you are going to protest, take care of yourself and stay safe," Ogbongbemiga wrote.