A victory in the Alabama-Auburn game will not only provide Tigers coach Gus Malzahn a chance at a milestone, but more importantly, maybe an opportunity to silence those clamoring for his firing. Malzahn has been the Auburn coach since 2012, and has beaten Alabama twice in the annual Iron Bowl.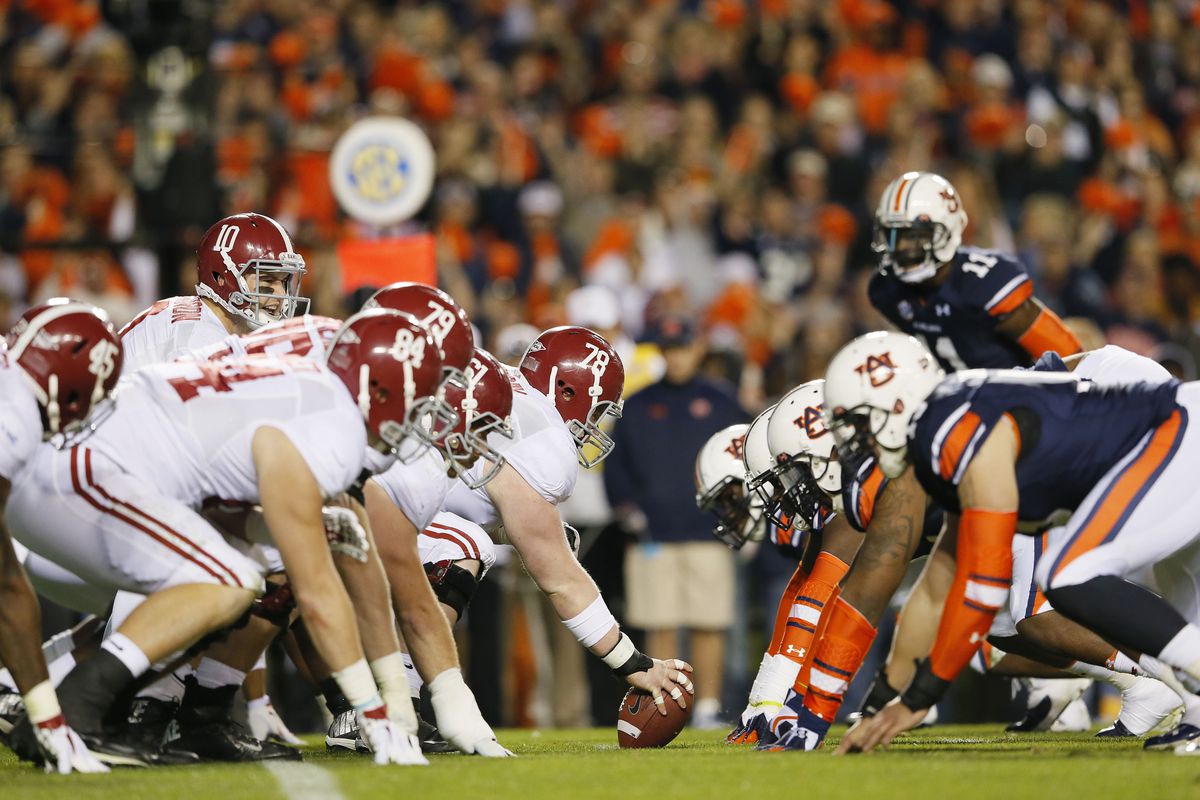 Saturday's game, which dates back to 1893, will be in Montgomery, but No. 15 Auburn is a 3.5-point underdog to No. 5 Alabama. If Malzahn's team can pull off the upset, however, he would be only the second coach to defeat the Crimson Tide three times under coach Nick Saban. Former LSU coach, Les Miles is the other.
Malzahn's record against Saban is 2-4, which is not nearly good enough to satisfy Tigers' boosters and fans. The seventh-year coach told the media on Tuesday that he knows the impact this game can have on a coach.
"There's nothing like it. The Iron Bowl's different," Malzahn said. "When I first got here, everybody would talk about it, how special it was, and you go, 'Ok, yeah,' but you've got to experience it. It's one of those things that all you've got to do is experience it one time, whether you're a coach, player or fan, it's different. It's real special and I feel blessed this will be my 10th one."
Chance to Improve Record in Alabama-Auburn Game
The Alabama-Auburn game will be the fifth time the Tigers face a ranked opponent this season, and Malzahn's record is 1-3 in these situations. He defeated then-No. 11 Oregon in the opener, but has lost to No. 17 Texas A&M, No. 10 Florida, and No. 3 Georgia.
"We've played good football at times," Malzahn said. "Like I said, we've come up short. Feel good going into this one. We need to play well on offense, we know that, and really looking forward to getting out there with the bunch."
Malzahn was on the hot seat way before the Alabama-Auburn game. At the beginning of the year, he was the fifth pick to be the first college coach fired this season, at 10/1 odds.
The firing talk seems to have cooled down, despite Malzahn failing to reach 10 wins for the fifth time in seven years. A new issue popped up this year, however, though Malzahn tried to squash it immediately.
Arkansas fired its head coach Chad Morris, and Malzahn has been one of the hot names to replace him. BetOnline has him as a 12/1 pick to be the next Razorbacks coach.
Malzahn's Focus on Alabama-Auburn Game
Despite having five years remaining on his contract, some have speculated the 54-year-old would like to return to his home state of Arkansas. It's where he first began coaching, working his way up the high school ranks, then getting an offensive coordinator's job at Arkansas in 2006. He was the head coach at Arkansas State the year before he took the Auburn job.
Still, when asked if he was a candidate for the opening, Malzahn shot down the rumor.
"I love Auburn, like I have said in the past," Malzahn said. "I love my players. We've got a bright future here. Nothing's changed."
Malzahn considers the Arkansas talk a distraction he doesn't need while trying to prepare for the Crimson Tide.
"They're always going to be one of the most talented teams in the country, or the most talented. Obviously, he does a good job coaching them," Malzahn said. "This is, what, the 10th Iron Bowl I've been a part of, so we know each other pretty good, and we'll see what happens."