Given the two-way performance that Shohei Ohtani of the Los Angeles Angels has produced this year, it would take something special from another player to challenge him for the AL MVP award. But through the first half of the season, Toronto Blue Jays star Vladimir Guerrero Jr. has put up numbers good enough to challenge Ohtani for that honor.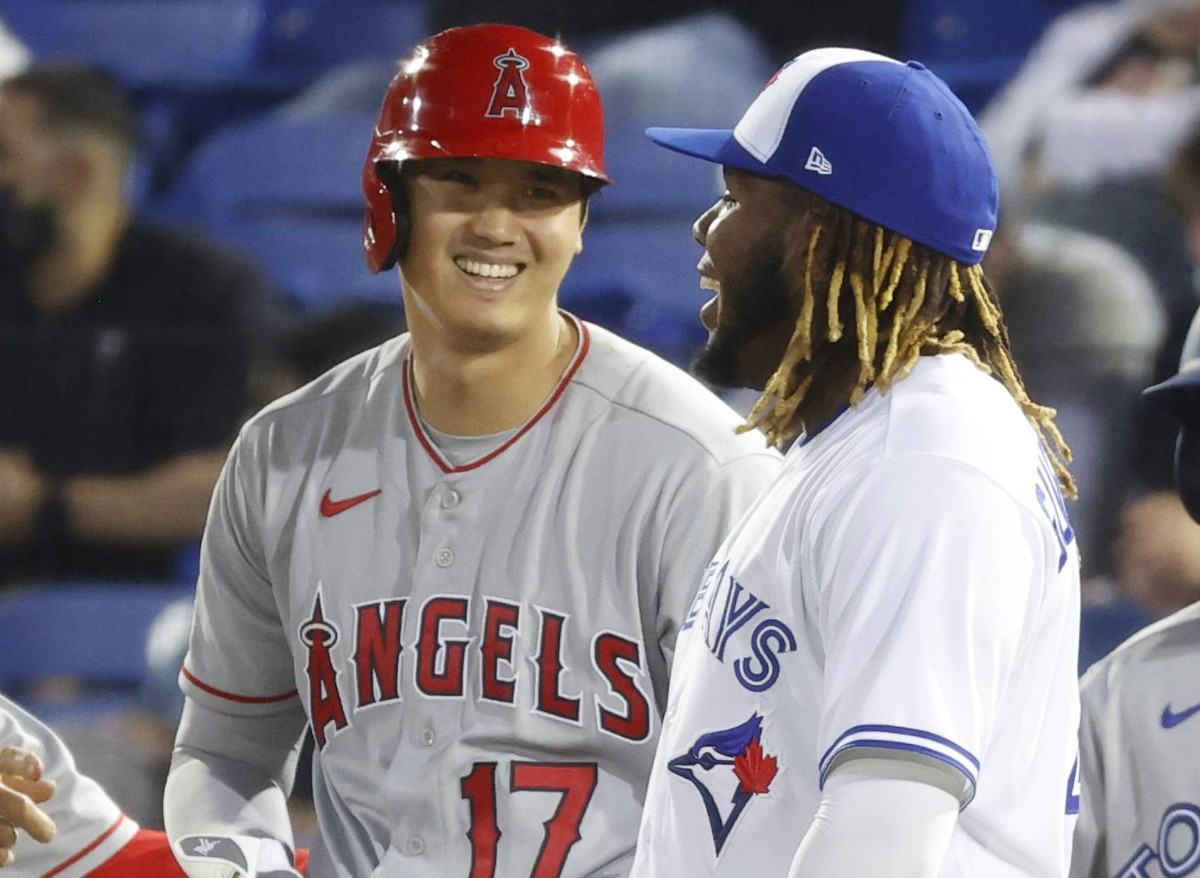 Ohtani and Guerrero have pulled far away from the pack in the AL MVP race, with nobody else in serious contention for the award this year.
Ohtani overpowering at the plate, on the mound
Right now, FanDuel Sportsbook pegs Ohtani as the -135 favorite, with Guerrero coming in at +120. The next closest competitor? Boston Red Sox shortstop Xander Bogaerts, who boasts +4000 odds.
Ohtani came into the year as a trendy MVP choice, as his ability to both hit and pitch at an elite level gave him the potential to put up a season unlike anything ever seen in Major League Baseball. Yet few predicted just how dominant the 26-year-old Japanese phenom would be.
The second home run of the evening for Shohei Ohtani! pic.twitter.com/MYQ4mjPukL

— Los Angeles Angels (@Angels) June 30, 2021
As of July 1, Ohtani leads the majors with 28 homers. He's hitting .277 with a 1.045 OPS, has driven in 63 runs, has a total of 49 extra-base hits, and has even stolen 11 bases.
Those are offensive numbers that would land any player in the All-Star Game and squarely in the AL MVP race. But Ohtani has also made 12 starts on the mound, going 3-1 with a 3.60 ERA in 60 innings. He's struck out 83 batters, though he has also been wild, walking 35.
"He's what baseball needs both as a player and as an example," Angels manager Joe Maddon told reporters earlier this week. "There's so many different things about him to really like. I enjoy watching him enjoy playing baseball."
Ohtani's pitching numbers looked even better before Wednesday, when he allowed seven runs in just two-thirds of an inning against the New York Yankees. The Angels would respond by scoring seven in the ninth inning to beat the Yankees 11-8.
Guerrero makes MVP case with offensive explosion
To compete with the all-around performance from Ohtani, Guerrero has dominated at the plate. He's hitting .339 with 26 homers of his own. Guerrero leads the league in both on-base percentage (.442) and OPS (1.117), along with RBIs (66).
It's hard to argue that anyone other than Guerrero has been the best offensive player in the American League this year.
"He's having an unbelievable season this year, and it's kind of getting [overshadowed] by Ohtani," Boston Red Sox outfielder JD Martinez told Boston.com. "It's just unreal."
The biggest obstacle to Guerrero winning the AL MVP award isn't his own performance. It's that no matter how good he is, it likely can't be enough better than Ohtani at the plate to make up for the two-way player's impact on the mound as well.
"If this guy comes out and hits .270 with 30 home runs and wins 12 games, he has to be your MVP," Martinez opined. "What other player is more valuable than that, right? To be able to do it on both sides is unbelievable."