Cleveland Browns coach Freddie Kitchens told his players not to back down from Indianapolis, and it should make the Browns Colts game a more physical affair. The team has been conducting joint practices this week, and Thursday saw no less than five skirmishes between players from the two teams.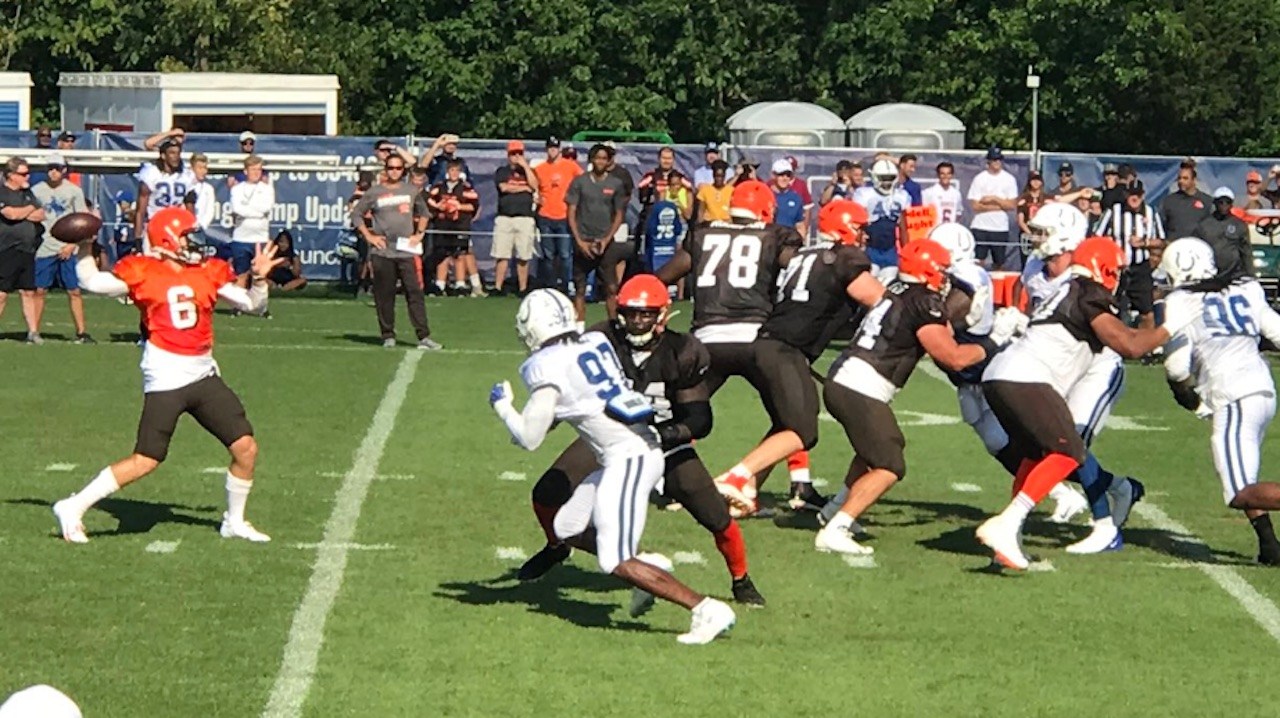 Jalen Strong, Cleveland's wide receiver, began to mix it up with a defender after catching a pass from quarterback Baker Mayfield. Several players entered the field, but no punches were thrown.
There were plenty of fisticuffs, however. Browns linebacker Ray-Ray Armstrong and threw punches at multiple Colts players during a special teams' drill. The drill was later called off.
Saturday's Games                     Odds                           Over/Under 

Cleveland at Indianapolis            Colts -3                               43

New England at Tennessee         Pats -1                               41.5

Dallas vs. Rams (in Hawaii)         Cowboys -2.5                    40.5

Kansas City at Pittsburgh             Chiefs -2.5                        46.5

Detroit at Houston                        Texans -4.5                       42.5

Odds courtesy of Circa Sportsbook
Odell Beckham told reporters that he was proud of his teammates standing up to the Colts.
"Message was received," Beckham said. "We came here to impose our will the same way we would do in the regular season when it comes up. We're not backing down from anybody and I love that mentality. That's all I've ever known."
How that translates to the game is unknown, but it could be a chippy affair, just like practices. The Colts are favored by three, and the over/under is 43.
New England's WRs Battling Injuries
In Thursday's practice there were more New England receivers on the sideline than on the field. Wide receivers Maurice Harris, Cameron Meredith, Julian Edelman, and Demaryius Thomas all did not participate in practice. Rookie N'Keal Harry and Phillip Dorset were there, but their participation was limited.
With the receiving corps healing up, how many targets there will be for back up quarterbacks Brian Hoyer and Jarrett Stidham will be limited. With a potentially sputtering offense, the under of 41.5 looks very attractive. So does the -1 point the Patriots are giving away to Tennessee as a road team.
Kansas City Starters Playing Full Half
Kansas City coach Andy Reid told reporters on Thursday that the starters can expect to see a full half of action against the Pittsburgh Steelers. That includes MVP quarterback Patrick Mahomes.
"He works, he wants to work, and we go with that," Reid said. "You never know about injuries. You never know about them during the season, you don't know about them during the preseason. When the guys go play, they're not going out there worried about injuries and all of that stuff."
Mahomes, who led the league last year with 50 touchdowns, said he is ready to go.
"I just want to be successful at moving the ball down the field," Mahomes said. "It's not so much about throwing touchdowns or going out there and getting the big play but it's just about positive gains, moving the ball the right way, and hopefully that turns into points."
With that mindset, it's no wonder the over/under is 46.5, the highest of any of the five Saturday games.
Pittsburgh coach Mike Tomlin is not taking the same mindset. He is resting starting QB Ben Roethlisberger, and will be starting Mason Rudolph. Tomlin said he will play a majority of the first half.
"I think one of the things that really attracted us to him out of Stillwater was that level of aggression, the way that he attacked defenses vertically and threw the ball," Tomlin said. "I know that it is his style, it is his demeanor and it is showing more and more consistently."
The Chiefs are favored by just 2.5 points on the road, and if Mahomes does play the entire first half, Kansas City might be a good bet.