Oleksandra provided the perfect blueprint for how to go out on top: win your final race as the lone mare in a nine-deep field of colts and horses as a 17/1 long shot.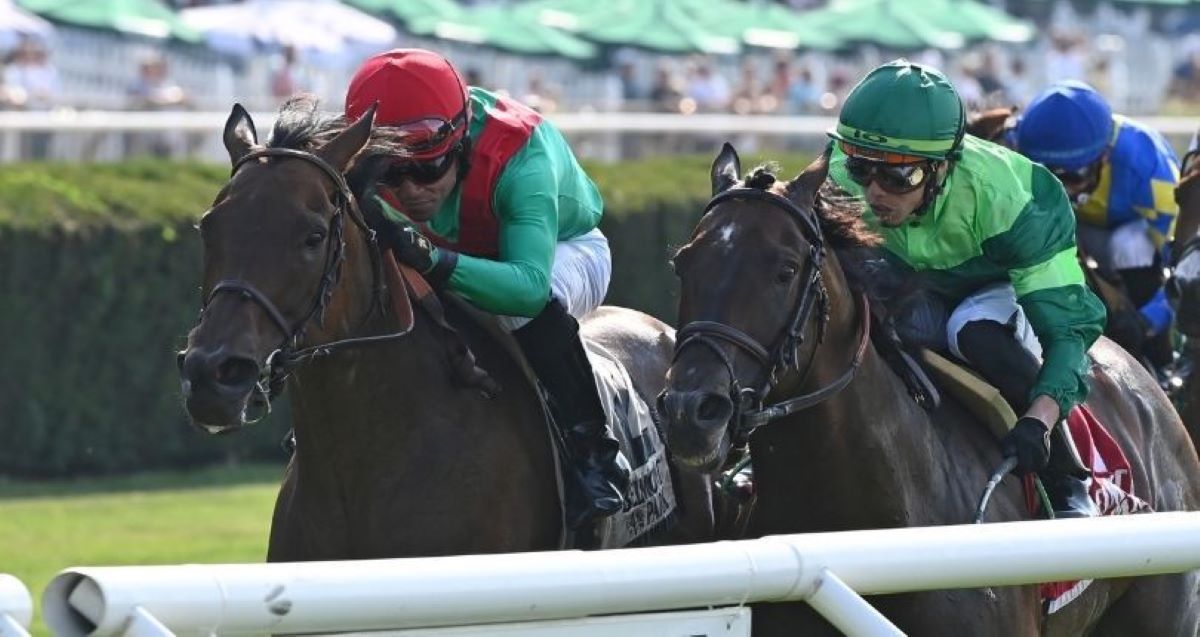 But the 7-year-old mare threw in an irresistible and endearing plot twist to her racing finale. Not only did she beat the boys on Father's Day, she did it in foal.
A pregnant Oleksandra won Sunday's Grade 3 Poker Stakes at Belmont Park in foal to Into Mischief. She did it in a sparkling 1:32.11 for the turf mile. And she went into retirement tying her career-high 101 Beyer Speed Figure with a worst-to-first effort. At the half-mile mark, Oleksandra was ninth, completely out of the picture.
That was temporary. Oleksandra survived a smoking pace from Get Smokin, who went out in 22.52 seconds for the opening quarter-mile and 44.6 for the opening half-mile. Joel Rosario kept her back until the far turn when he pulled her outside and turned her loose. Oleksandra needed the wire to hold off a furious rail rally from 3/5 favorite Raging Bull.
A tough year turns around in 92 seconds
"She ran a really tremendous race," Rosario told the New York Racing Association's Brian Bohl. "She was really relaxed. The pace was fast and she was there for me. It was very impressive. We started picking up a little bit after three furlongs and she got her momentum with that stride that she has."
Momentum has been a hard catch for Oleksandra this year. She opened her year dumping Rosario out of the gate of the Grade 3 Las Cienegas at Santa Anita Park. That came after Lighthouse drifted out into Superstition's path and sent the latter into Oleksandra. Five weeks later, she finished second in the Black-Type Wishing Well Stakes at Santa Anita.
In April, Oleksandra finished a well-beaten fifth in the Black-Type Unbridled Sidney at Churchill Downs. That 5 ½-length loss came on a soft Churchill Downs track not to Oleksandra's liking. That prompted trainer Neil Drysdale to skip the Grade 1 Jaipur on the Belmont Stakes undercard because of the spongy turf that day.
Oleksandra hit the board 75% of the time
Oleksandra was the defending Jaipur champion. That was her lone Grade 1 victory.
"Things haven't gone exactly smooth this year for her," Drysdale said. "We ran in Kentucky and realized she doesn't like the soft going. So, then we decided not to run here (the Jaipur) because it was raining a lot here too at the time. Since she's more relaxed this year, we decided to try her at a mile hoping she could get the distance, and she did. She's pregnant, so this was her swan song. She'll go out on a high note."
Oleksandra went out paying $36.80 on a $2 win bet. She went out with a career mark of 8-4-3 in 20 races. She went out with career earnings of $705,748. And Oleksandra went out giving Rosario his second Poker Stakes title in three years.
Raging Bull's first non-Grade 1 race in 13 events produced his fifth in-the-money placing in his last seven starts. He finished three lengths clear of stablemate Front Run the Fed.