According to a report by The Athletic, Washington Redskins running back Adrian Peterson owes millions in outstanding debts despite the fact that he has made nearly $100 million in salary during his NFL career.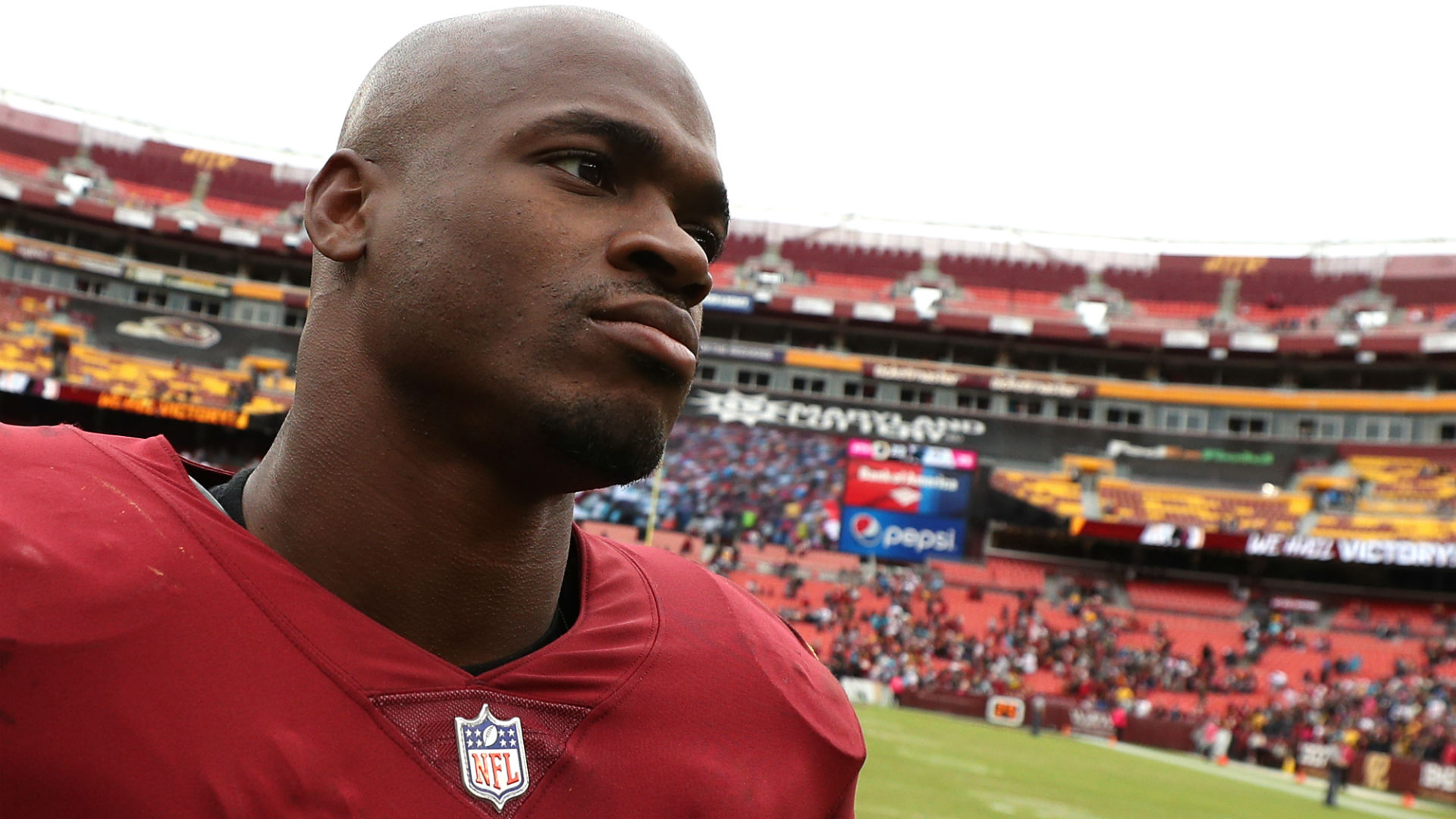 The report cites multiple multimillion dollar sums that Peterson owes to various creditors, including a $5.2 million loan that the running back defaulted on.
Loans, Insurance Policy Tied Up in Court
A Pennsylvania lender known as DeAngelo Vehicle Sales (DVS) is now suing Peterson over that loan, and is seeking to recover $6.6 million when interest and legal fees are factored in.
According to court documents, Peterson borrowed that money in October 2016, and agreed to pay it back with 12 percent interest in a single payment four months later. The loan was being used to pay off other debts, including nearly $3.2 million owed to Thrivest Specialty Funding and more than $1.3 million to Crown Bank.
However, the legal issues are far more complex than a lender simply seeking restitution from a borrower. According to The Athletic, Peterson had an insurance policy against the possibility of injury that would lessen the value of his future contract. That policy, taken out in the summer of 2016 through Lloyd's, set a floor value for Peterson's earnings at $4 million per year.
After being released by the Minnesota Vikings, Peterson then signed with the New Orleans Saints for $3.5 million. That should have triggered the policy, but Lloyd's has rejected the claim.
In the meantime, Peterson already owed money to Thrivest, which wanted to collect on the Lloyd's claim. That claim was then sold to DeAngelo, putting lawyers for that company in the position of now having to advocate for Peterson's claim to be paid in federal court – all in the hopes of collecting some of what they are owed by the NFL star.
The complex situation has led to a tangled mess of legal maneuvers, all of which come down to DVS hoping to find a way to recover the money it is owed by Peterson.
"I have no reason to believe that he has the capacity to pay it back," DVS lawyer Darren Heitner told The Athletic. "It's very concerning that he has existing liabilities, and that there are publically announced large judgments against him…I have no confidence that he'll be able to make any other sort of payment."
Lawyer: Peterson Trusted the Wrong People
However, a lawyer representing Peterson says there is more to the story than Peterson simply spending beyond his means.
"The truth behind Adrian Peterson's current financial situation is more than is being reported at this time," attorney Chase Carlson said in a statement released Tuesday. "Because of ongoing legal matters, I am unable to go into detail, but I will say this is yet another situation of an athlete trusting the wrong people and being taken advantage of by those he trusted."
According to Spotrac, Peterson – who has made $99.2 million in total earnings in his career – made just over $1 million with the Redskins in 2018 according to Spotrac, and stands to make about $2.5 million in 2019.
It's unclear how much longer Peterson will remain in the NFL. He was effective for Washington last season, rushing for 1042 yards and seven touchdowns while playing in all 16 games. However, he is now 34 years old, an age at which few running backs remain productive.
While Peterson may again be the feature back for Washington, the team isn't expected to find much success, with FanDuel Sportsbook placing the team's over/under total for wins in the 2019 season at just six.