Indianapolis Colts Adam Vinatieri broke the NFL record for all-time field goals with his 566th career FG during Sunday's game against the Houston Texans.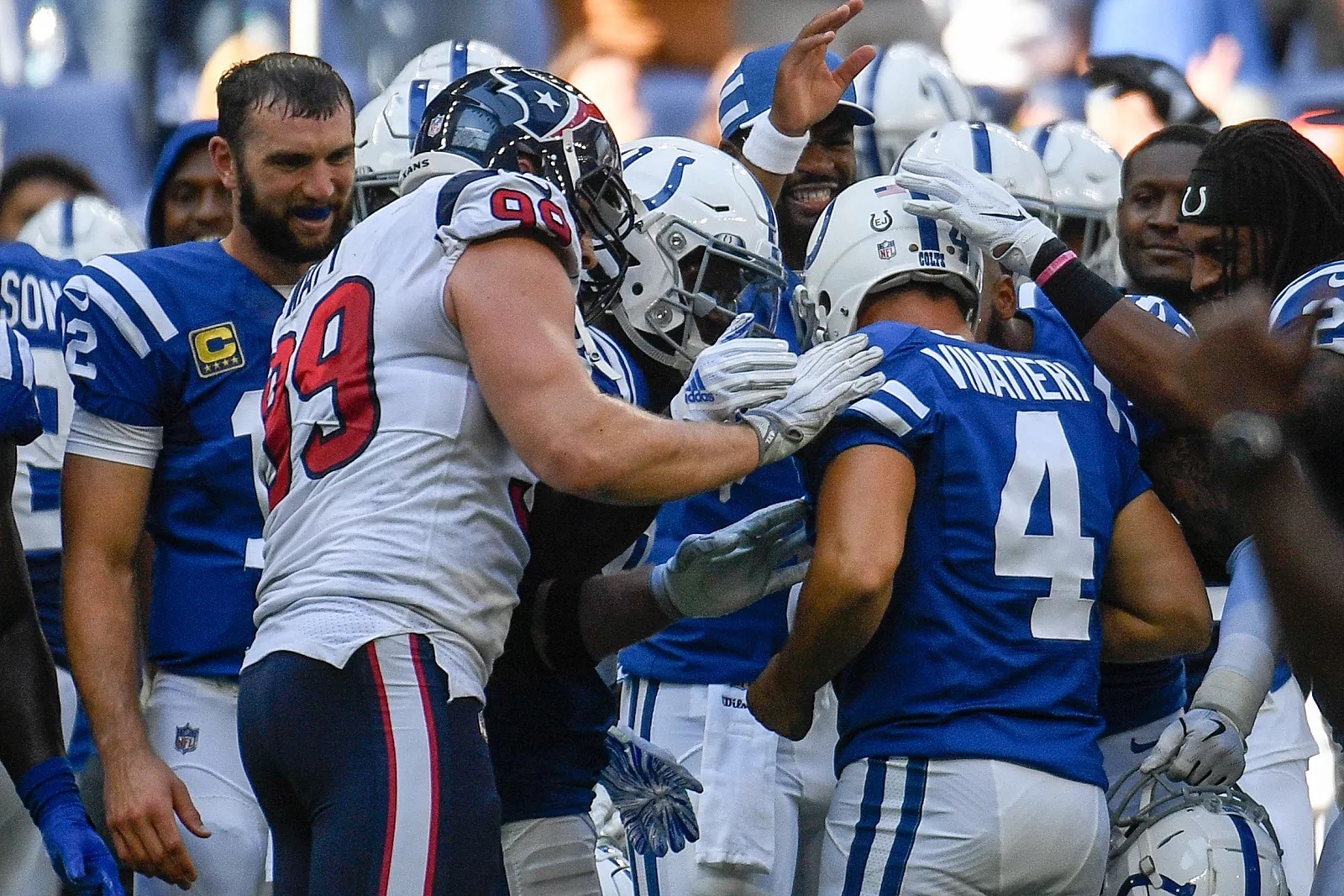 At age 45, Vinatieri is the oldest player in the NFL, playing in his 23rd season. New York Jets quarterback Sam Darnold wasn't even born when Vinatieri played in his first NFL game in 1996.
One Two for the Books
Vinatieri connected on a 42-yard field goal with two seconds remaining in the second quarter. The kick broke Morten Andersen's record of 565 – in 38 fewer attempts.
"Records are meant to be broken," Anderson told ESPN a couple weeks ago. "Adam has had a great career. He struggled in the beginning and found his way and made huge kicks in the playoffs and Super Bowl."
The Texans went on to win the game in overtime, 20-17, but Vinatieri added three more points to his career total with another field goal before play ended. Now he's just 23 points behind Andersen as the NFL's all-time scoring leader in history.
NFL All-Time Career FGs

Adam Vinatieri 567
Morten Andersen 565
Gary Anderson 538
Jason Hanson 495
John Carney 478
Matt Stover 471
John Kasay 461
Phil Dawson 436*
Jason Elam 436
Sebastian Janikowski 417*

* Active player
Greatest Kicker of All Time? 
The field goal mark was the second record Vinatieri set on Sunday: He started the game surpassing George Blanda to become fourth on the all-time games played list with 341.
Vinatieri has four Super Bowl rings – three won with the New England Patriots and one with the Colts. He played 10 seasons with the Patriots before signing a free agent contract with the Colts in 2006.
His game-winning field goal in 2002 Super Bowl was one of his most memorable — a clutch boot that gave the Patriots a 20-17 victory over the St. Louis Rams, and kicked off a decade-and-a-half of winning for the current Patriots dynasty.
Vinatieri's field-goal-kicker's greatest hits also include several made in inclement weather, such as the infamous Tuck Rule Game against the Oakland Raiders, also in 2002.
He also holds the Guinness World Record for most field goals made in one minute at 28.
Vinatieri's new field goal record likely will stand for a long time. Arizona Cardinals kicker Phil Dawson is the closest active kicker behind Vinatieri, but he's 43 years old and trails by 131 FGs.
Vinatieri is in the last year of his contract with the Colts, but he's made no indication about retiring next season.