The secret to the Green Bay Packers success might be quarterback Aaron Rodgers arguing with his coach Matt Lafleur. The two were seen in a heated exchange on the sidelines of Sunday's game in Minnesota.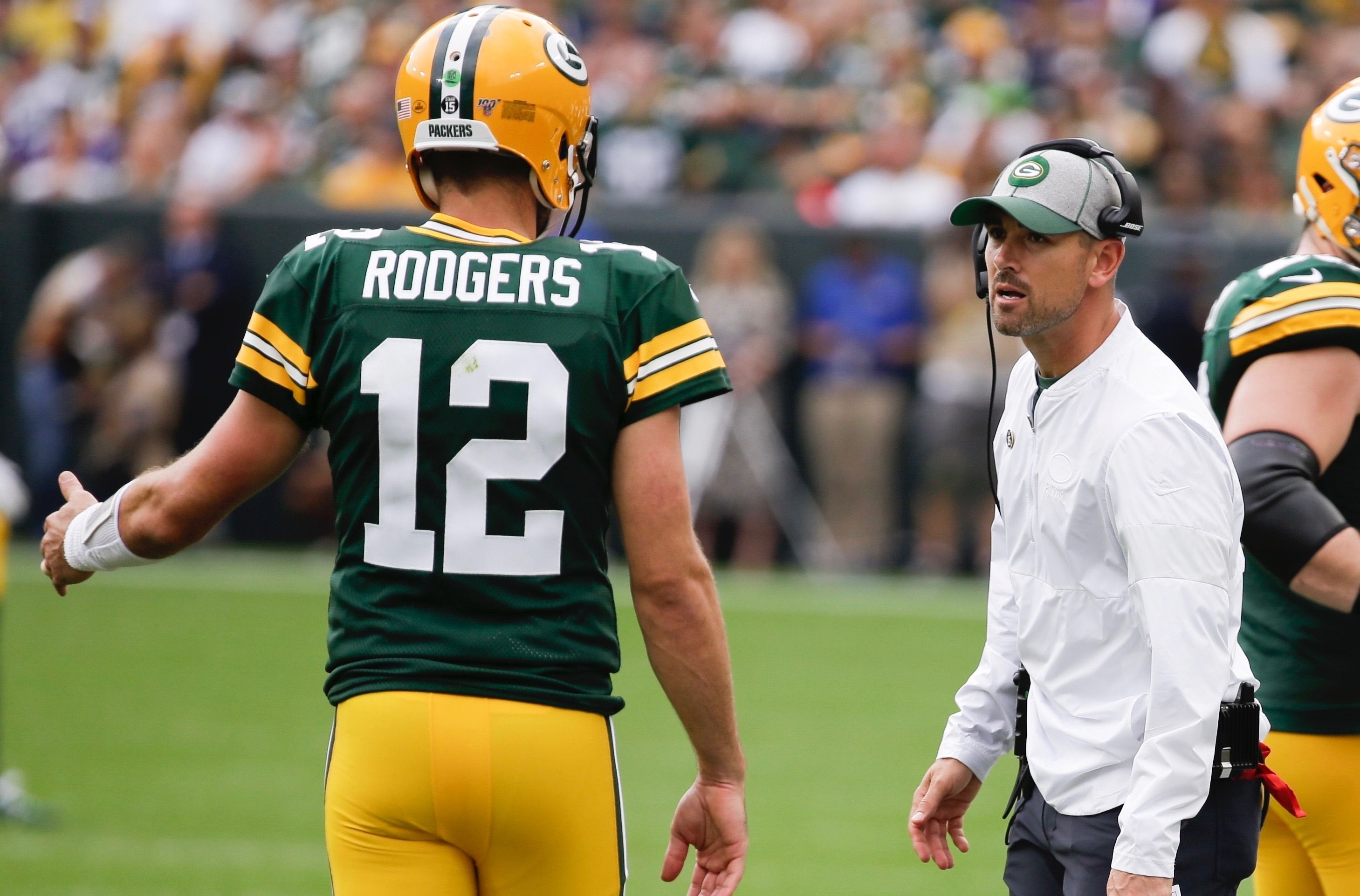 The Packers beat a divisional rival for the second straight week, and are 2-0 in the NFC North, good for first place. Green Bay defeated Chicago in the opener, and the Vikings last Sunday.
It was during that game that LaFleur and Rodgers appeared to be arguing. Both player and coach downplayed the incident, though.
"It was about the look on defense," Rodgers said."I was actually kind of surprised that he was coming over to talk about that, but we got it all sorted out over there on the sideline. It actually wasn't a big deal. He's just a… as am I… we're a little animated at times. I can't say we were yelling how much we love each other, but we definitely weren't MF'ing each other or anything. It was talking about the look there, and getting on the same page."
LaFleur agreed with Rodgers' description.
"That's just two competitive guys, and I'm sure it's not going to be the last one we have," LaFleur said. "But you know, just competitors, heat of the moment, and it is what it is. I would much rather have that than anything else, because you want guys that are extreme competitors, and that's what he is."
The Packers' Super Bowl Odds have gone from 14/1 to 12/1 after their undefeated start. They have also improved their odds of winning the NFC North, beginning the season at 2/1, along with Chicago and Minnesota. They are now at +125, while Chicago is at +250, and Minnesota is at +225.
Jaguars Jalen Ramsey Requests Trade After Spat
One coach/player sideline argument that didn't go so well was Jacksonville cornerback Jalen Ramsey, and head coach Doug Marrone. The two got into it during Sunday's game, and Marrone had to be separated from the situation.
Ramsey reportedly requested to be traded after the game, and didn't speak to the media. Marrone tried to downplay the altercation.
"Those things, they happen all the time," Marrone said. "They really do. I think now they're a little bit more publicized, but ever since I played, there's always stuff that goes on during the course of the game. I know when I was a line coach, they didn't see a lot of them, though, because no one was really in on them. But those things occur, and it's a high-intensity profession. There's a lot of emotion that goes on."
The team denied rumors they are shopping Ramsey.
Daniel Jones to Start over Eli Manning
New York Giants coach Pat Shurmer announced on Tuesday that Daniel Jones will be the starting quarterback when they face Tampa Bay on Sunday.
Other than one game, this change marks the first time Manning has not been the starting QB since Week 10 in 2004. Shurmur said he informed both players of his decision.
"Eli and I spoke this morning," Shurmur said in a release by the team. "I told him that we are making a change and going with Daniel as the starter. I also talked to Daniel. Eli was obviously disappointed, as you would expect, but he said he would be what he has always been, a good teammate, and continue to prepare to help this team win games."
The move wasn't unexpected, as Shurmur didn't exactly give Manning a vote of confidence when he spoke to the media on Monday. Shurmur was extremely vague when asked if Manning was starting this Sunday against the Tampa Bay Buccaneers.
"He's been our starter to this point," Shurmur said. "I'm not ready to talk about that. We're gonna talk about everything moving forward. I think that's fair at this point."
Oddsmakers opened the line of the game at the Bucs -4. It quickly moved to -6.5 on speculation that rookie Daniel Jones might be supplanting Manning as the starting signal caller.
Cleveland Completes Big Parlay Bet
In the happy gambling story department, a man hit an eight-play parlay when Cleveland defeated the New York Jets, 23-3. The unidentified gambler wagered $424 and, when the Browns covered the 6.5-point spread, won $74,000.
The bet was made at a CG Technology sportsbook in Las Vegas. The other bets in the parlay were Rams -2, Saints/Rams over 52, Broncos +2.5, Chicago-Denver under 41, Falcons +1, Eagles-Falcons 52.5, and Chiefs-Raiders under 53.