Aalon Cruz earned a quick call-up to the big leagues on Tuesday, when he landed a flying knee with just seconds left in the final round to knock out Steven Nguyen in their fight on Dana White's Contender Series.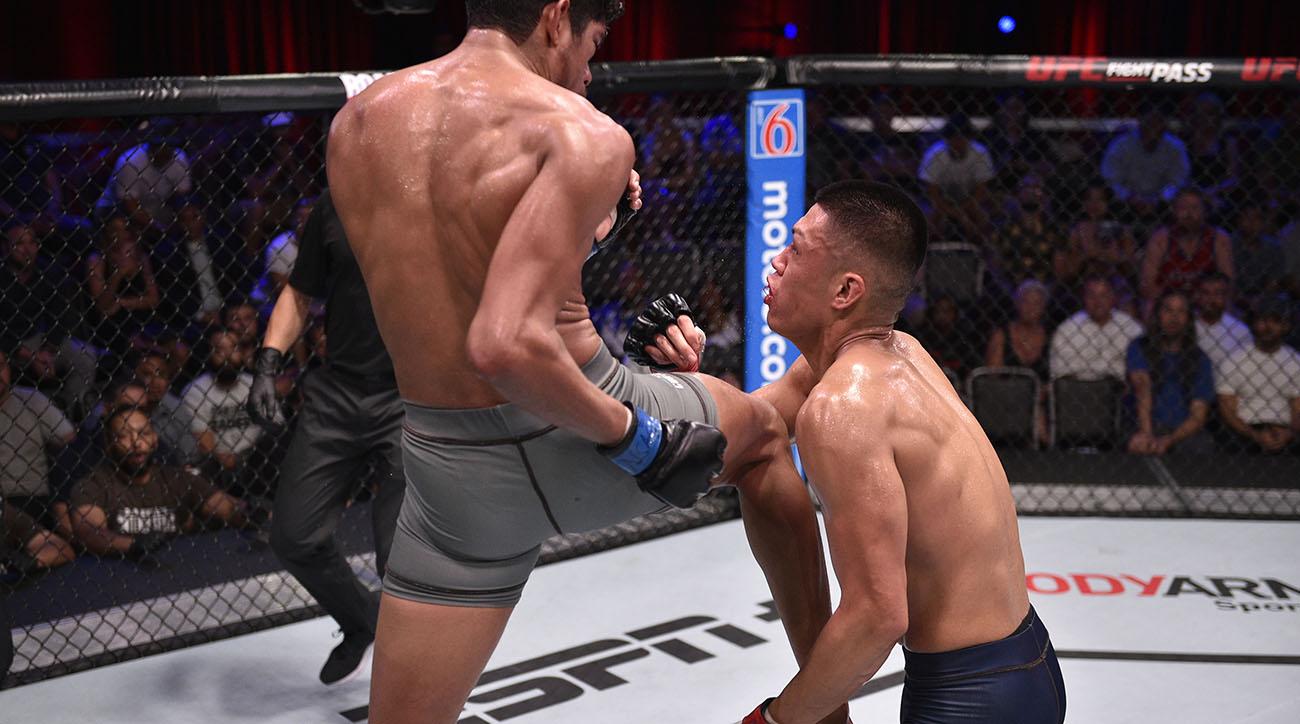 The win brought Cruz's career professional MMA record to 6-2, according to data on mixed martial arts website Sherdog, and earned him a UFC contract.
White: Cruz 'Exactly What I'm Looking For'
The fight was immediately stopped by referee Jason Herzog after the knee connected, as Nguyen fell limp to the canvas. UFC president Dana White could then be seen motioning that he was ready to sign Cruz – the goal of every fighter who lands a spot on the Contender Series.
"When I looked at Dana, and I gave him the signature sign, and he was like, 'Yeah,' and I was like 'Oh [expletive]!'" Cruz told MMA Junkie after the fight. "I didn't have to really think about whether I'm getting in or not. He just basically told me, 'Yeah, you're in.'"
ARE YOU KIDDING ME?! 😱 #DWCS@danawhite signed @AalonCruz to the UFC on the spot after this KO pic.twitter.com/xLdgaMHPBK

— ESPN MMA (@espnmma) July 31, 2019
While the highlight reel knockout made signing Cruz a no-brainer for White, the UFC president also said that there were other things he loved about the 29-year-old featherweight.
"First of all, Cruz just looks mean," White said, via Fansided. "Then he comes back here and he's the nicest guy in the world. But when he's in that Octagon, he looks mean, he fights mean, he's nasty, he moves forward, he tries to finish you and he's exactly what I'm looking for."
Nguyen Takes First Professional Loss
The excitement over the finish overshadowed what had been a competitive fight that could have gone either way. The loss was the first for Nguyen (3-1), a 26-year-old who hails from Dallas and began fighting professionally in 2016.
"Man, Steven's tough," Cruz told MMA Junkie. "I knew it was the last 30 seconds. It was kind of a close fight. Let me throw a flying knee, because he's coming forward so hard…and it hit. I was surprised actually when I hit it, because when I hit him in either the first of second round with a flying knee, and he caught my leg."
Cruz fights out of Tampa, Florida, and first turned pro in 2013, beating Bradford May by unanimous decision at RFC 29. From there, he fought on cards for smaller MMA promotions RFC and Conflict MMA sporadically over the next four years. Before his fight on Tuesday, his last bout came in June 2018, when he submitted Steve Garcia in the first round of Jackson-Wink Fight Night 3.
The Contender Series show originated as Dana White's Tuesday Night Contender Series in 2017. Each episode features five fights, with fighters knowing that they have the chance to earn a UFC contract if they win and impress White in the process. In addition, some fighters who have been featured on the show but have not immediately been given contracts have made it onto UFC cards, often as late injury replacements.
Three other fighters also earned UFC contracts on Tuesday's edition of the series: Light heavyweight Aleksa Camur, women's flyweight Tracy Cortez, and heavyweight Rodrigo Nascimento.