Katie Sowers will become the first woman to coach in a Super Bowl on Feb. 2. Sowers, an offensive assistant coach, has been with the San Francisco 49ers since 2017. And while she's about to break some career barriers, her primary mission is to break the 49ers' Super Bowl drought.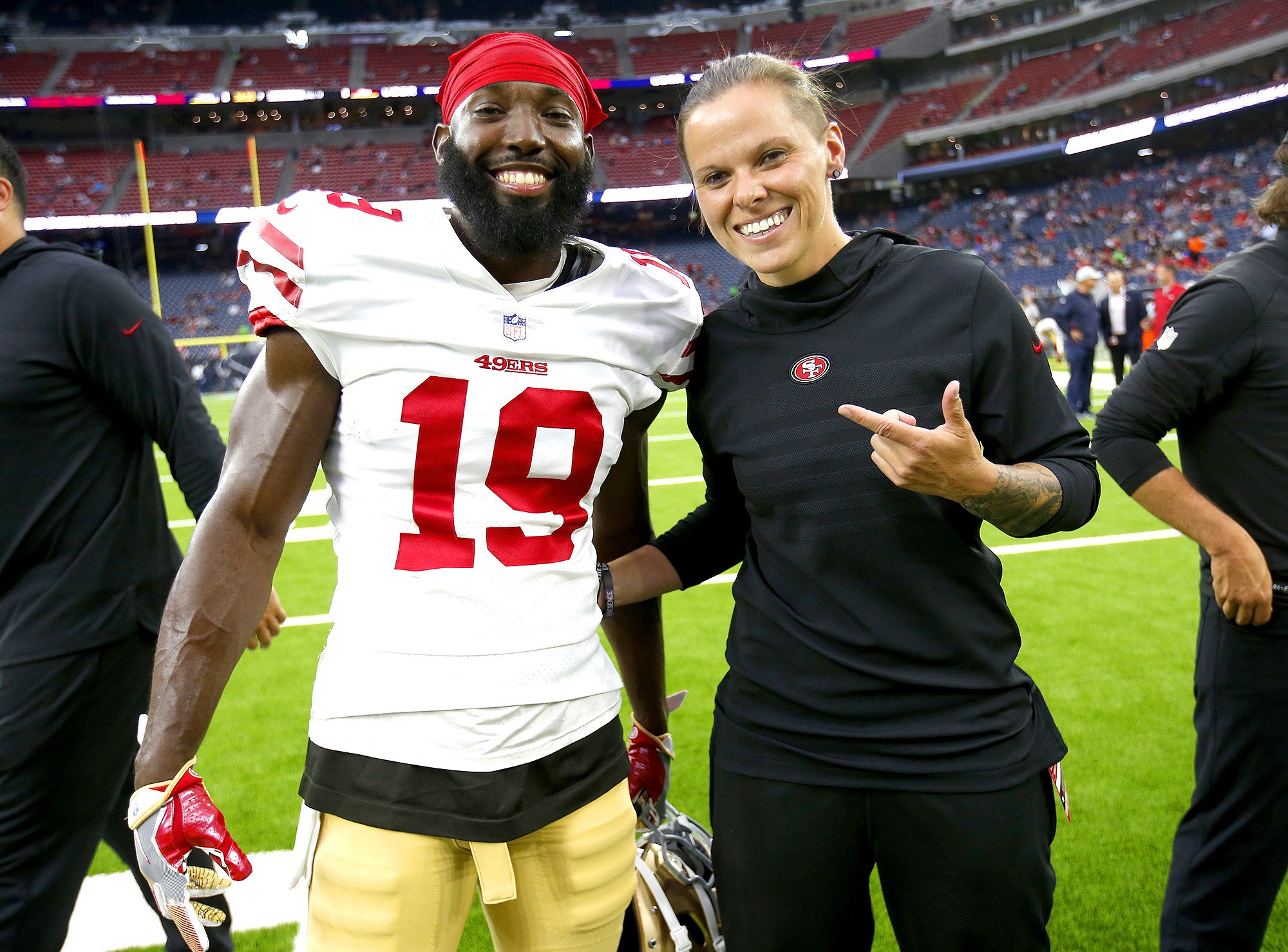 Predictably, Sowers receives a lot of press from a wide range of media outlets. You can find stories about her everywhere from Glamour to the tattoo magazine, Inked. She's been featured on ESPN and Out Magazine.
But Sowers will be the first to tell you, she's not where she is to make a point. She's here because she loves football and wants to win. Maybe that sounds trite, because all great coaches are motivated to win. But perhaps we should take it at face value. Sowers is a big-league coach, spurred on by the same driving force as her NFL peers. This Microsoft Surface commercial may provide the best glimpse of Sowers' football aspirations and goals.
Sowers' Road to Super Bowl 2020
At the time of her hiring, Sowers was only the second woman to land a full-time coaching job in the NFL. Unlike other major league sports, football lacks a dependable pipeline for woman coaching candidates.
There are no women's NCAA football teams. The largest professional women's full-contact football league, the Women's Football Alliance (WFA), doesn't pay its athletes a salary. And while there is a United States Women's National American Football League, the International of Federation of American Football (IFAF) has only held three championships to date. But Sowers made the best of the pipeline available.
Sowers played for the WFA's West Michigan Mayhem, eventually at quarterback. She was also the quarterback for Team USA in 2013, bringing home the IFAF championship. Oddly enough, however, it was an elementary school coaching job that would provide her big break.
In 2013, Sowers coached a fifth-grade basketball team, which included the daughter of the former Kansas City Chiefs general manager, Scott Pioli. By the time Pioli was hired as the Atlanta Falcons' assistant general manager, he knew he wanted Sowers to be part of the organization. When Kyle Shanahan was hired away from Atlanta in 2017 to take on the head coaching position with the San Francisco 49ers, he took Sowers with him. Granted, it would take a record of 13-3 for 49ers to make it into the playoffs. But when the team ultimately beat the Packers in the NFC Championship, Sowers secured her first shot at a Super Bowl ring.
Women Coaches on the Rise
Today, there are eight women working as full-time coaches in the NFL. Some of the increase is due to a relatively new event, the Women's Careers in Football Forum, which has served as a sort of ice breaker — or glass ceiling breaker — between NFL executives and women coaches.
Two months after last year's forum, Tampa Bay's head coach hired two women coaches. Coach Lori Locust joined the Buccaneers as an assistant defensive line coach, while Maral Javadifar signed on as a strength and conditioning coach.
They're good fits for what we need," Tampa Bay Coach Bruce Arlens said. "The fact that their gender's different — who gives a shit?"
The expression "Winning isn't everything, it's the only thing" has been attributed to at least two football coaches. UCLA's Coach Red Sanders and legendary Packer's coach Vince Lombardi both used it in their day. And as Katie Sowers' team takes the field next week, I suspect she — like the great coaches of the past — will be thinking more about breaking records on the field than crashing through ceilings.