Karsten Warholm and Rai Benjamin easily qualified for the men's 400-meter hurdles final, setting up another confrontation between the rivals at the Tokyo Olympics on Tuesday.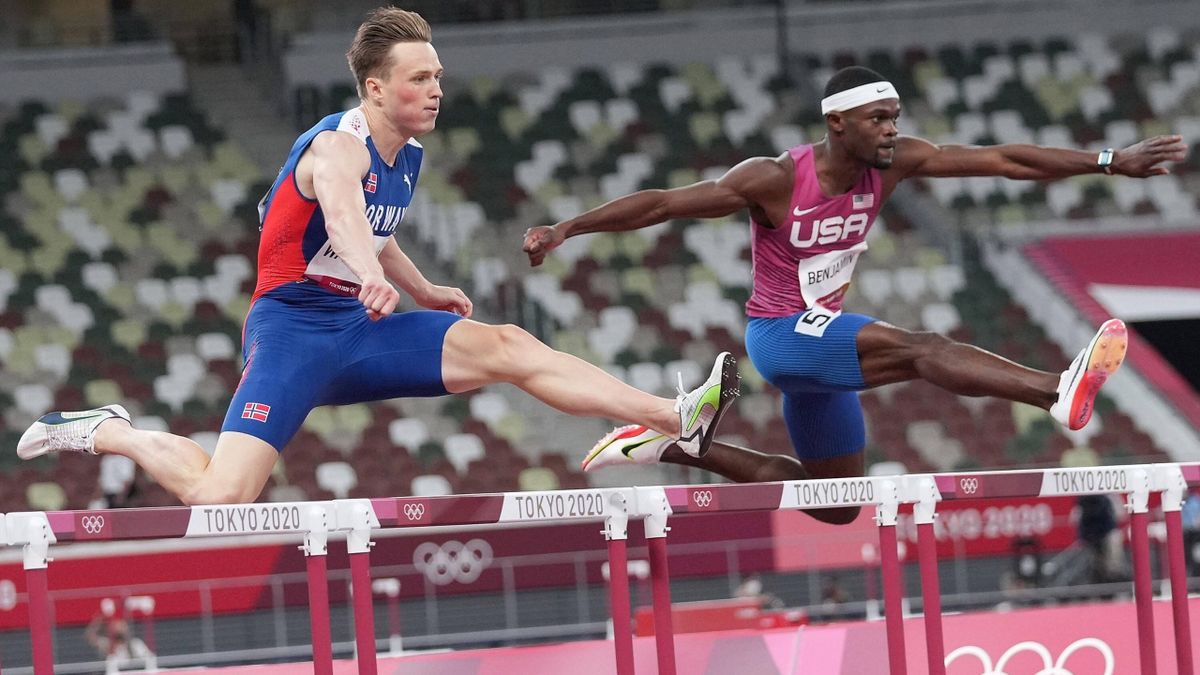 Warholm and Benjamin both ran in the same semifinal heat on Sunday and may have engaged in head games down the stretch of that race.
Selmon: 400m hurdles world record will fall
The two led the heat from start to finish, with Benjamin taking the lead heading over the final hurdles. But as Benjamin eased up down the stretch, Warholm used a burst of speed to take first place. Warholm finished the semifinal in 47.30 seconds, with Benjamin posting a 47.37 time. Both will be aiming for Warholm's world 400m hurdles record of 46.70 seconds, one that could easily fall in the final.
"I think it'll be broken on Tuesday and it's going to take that to win, that's for sure," American Kenneth Selmon said after the first round of qualifying.
Selmon missed out on qualifying for the final himself, finishing fourth in his semifinal heat. But the runners who will race on Tuesday make the 400-meter hurdles one of the must-see events of the Tokyo Olympics.
Warholm finished 10th in the 2016 Olympics, running a relatively pedestrian 48.81 seconds. But, the Norwegian won the past two World Championships in 2017 and 2019. He also won the 400-meter hurdles 12 times in Diamond League events.
Meanwhile, Benjamin finished as the runner-up to Warholm at the 2019 World Championships and has three Diamond League titles to his name. The American has clearly become the No. 2, 400-meters hurdles runner in the world, and can stake his claim for the top spot by knocking off Warholm in Tokyo.
Warholm slight favorite over Benjamin in final
Oddsmakers see Warholm as a slight favorite, but both men come into the race with real chances of taking home gold. FanDuel Sportsbook rates Warholm as the -125 pick to win gold in the 400-meter hurdles, with Benjamin the +150 second choice.
---
Olympic 400m Hurdles Odds – To Win Gold (via FanDuel Sportsbook)
Karsten Warholm (Norway): -125
Rai Benjamin (USA): +150
Alison Dos Santos (Brazil): +500
Abderrahman Samba (Qatar): +2100
Kyron McMaster (British Virgin Islands): +5500
Yasmani Copello (Turkey): +10000
Alessandro Sibilio (Italy): +10000
Rasmus Magi (Estonia): +10000
---
While Warholm and Benjamin stand as the most likely winners, there's at least one other man who could serve as a spoiler. Brazil's Alison dos Santos (+500) impressed in the preliminaries, then ran a South American record of 47.31 seconds in the semifinal. While he'll need to run even lower to realistically win the final, dos Santos has established himself as a threat and a likely member of the podium.
"Everybody is in their best form," dos Santos said after his preliminary heat. "Each heat will be harder with best times. There is a possibility that the world record will be broken."
Qatar's Abderrahman Samba (+2100) could also grab a medal after winning bronze at the 2019 World Championships. Kyron McMaster (+5500), Yasmani Copello (+10000), Alessandro Sibilio (+10000), and Rasmus Magi (+10000) round out the men's 400-meter hurdles field.