The #6 Miami Heat looked awful in their previous two losses against the #3 Milwaukee Bucks, who led the entire way in both Game 2 and Game 3 victories. The Heat are down 0-3 in the opening round of the Eastern Conference playoffs and looking to avoid the embarrassment of getting swept on their home court in Game 4 against the Bucks.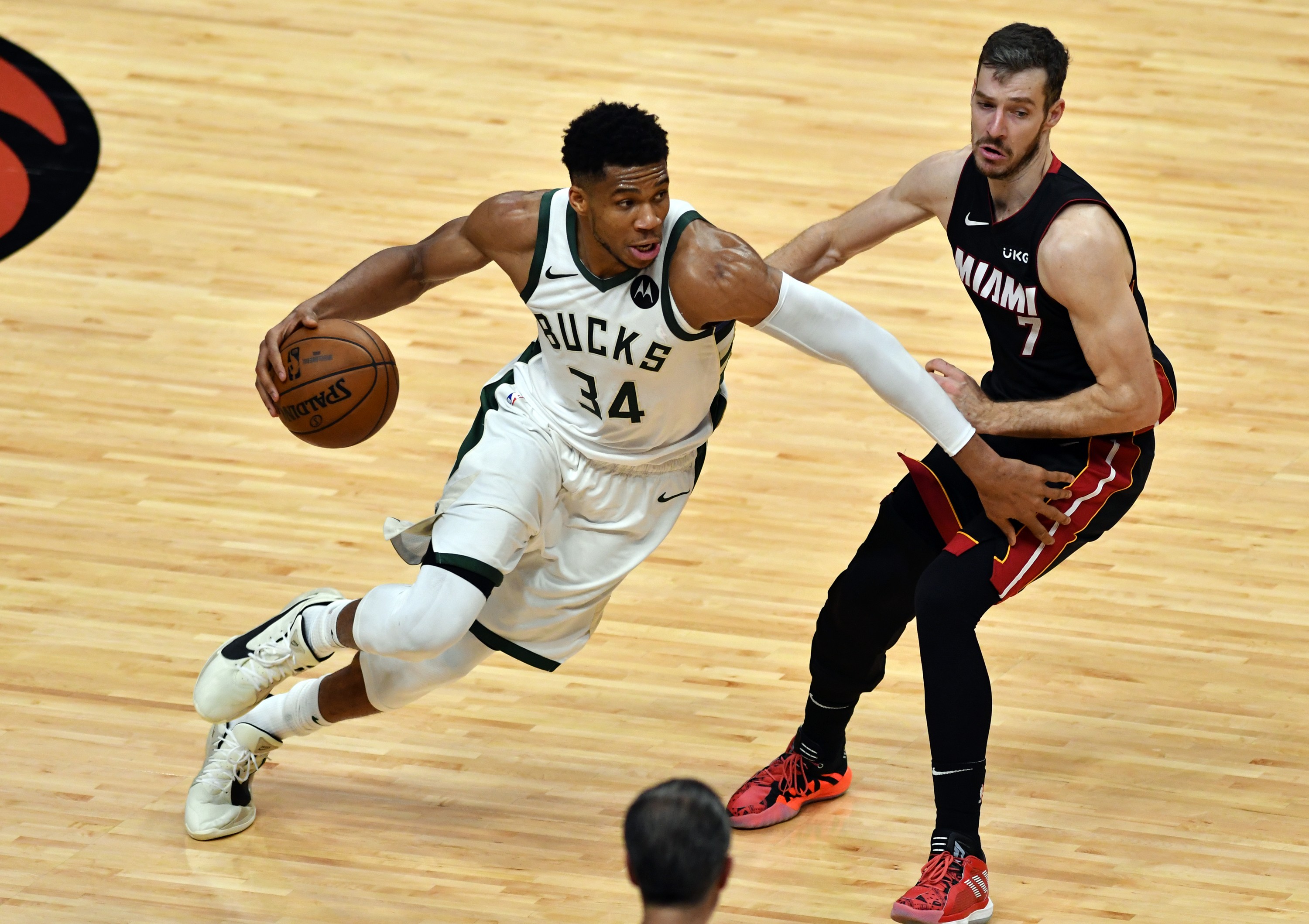 After losing Game 1 in overtime by two points, the listless Heat lost Game 2 by 34 points and got spanked in Game 3 by 29 points.
The Bucks were knocked out of the Eastern Conference semifinals by the Heat last year, so this series offers Giannis 'Greek Freak' Antetokounmpo and the rest of the team a chance of enacting revenge.
Game 4: #3 Milwaukee Bucks (3-0) vs #6 Miami Heat (0-3)
Tip-off: 1:30pm ET
Location: American Airlines Arena
Point Spread: MIL -5
Total: 221.5 o/u
Money Line: MIA +165 / MIL -185
---
The Bucks lost starting shooting guard Donte DiVincenzo to an ankle injury. DD tore up ligaments in his left ankle and he's dunzo for the remainder of the playoffs.
The Heat are a home dog once against getting +5 against the Bucks in Game 4.
The Bucks are +550 odds to win the 2021 NBA championship according to a recent update by Westgate SuperBoook in Las Vegas. The Bucks are also +250 odds to win the Eastern Conference as the second highest-team from the east on the futures board.
Miami Heat: Panic mode in South Beach
In Game 1, the Miami Heat looked like the team from last year that caused match up problems for every opponent they face en route to a berth in the NBA Finals. They went toe-to-toe with the Bucks only to lose on a buzzer beater by Khris Middleton. But the current Heat squad played like amateurs in the next two games, where the Bucks massed 30-point leads in Game 2 and Game 3. In Game 3, the Heat scored just 14 points in the first quarter.
"Man, just how fast that got out of hand," said Butler about Game 3's blowout. "We've got to pick who we want to be."
The Bucks were unstoppable on offense and their clamp down defense sent the Heat off kilter.
"The rhythm is off, it's way off," said Goran Dragic. "We lose our confidence. We still have one game left."
Dragic leads the Heat in scoring with only 17 points per game during this year's postseason. The Bucks did a stellar job keeping Jimmy Butler (15.3 ppg) and Bam Adebayo (14 ppg) in check. However, heading into Game 4, you should expect Butler to light it up with one of his 40-point eruptions.
Tyler Herro, who made a name for himself as a rookie last postseason, has been a non-factor this postseason with 7.7 ppg on 33.3% from 3-point range.
Duncan Robinson dropped 24 points in Game 1 after knocking down 7-for-13 from 3-point land. But over the last two games, the Bucks held Robinson to just 12 points on 2-for-10 shooting from beyond the arc.
But where's Adebayo? He was ferocious on both ends of the court during Miami's run to the 2020 NBA Finals. But Adebayo pulled a disappearing act this series.
Milwaukee Bucks: Almost a sweep, but lose DD
While the Bucks are led by Greek Freak (24.7 ppg) and Khris Middleton (22 ppg), Jrud Holiday (16.7 ppg) has been the x-factor in this series. The Bucks added Holiday in the offseason to shore up their defense, especially in the postseason as a lock-down defender.
Holiday drew tough defensive assignments on Butler and Robinson. He shutdown Robinson in the last two games.
"Jrue's the most underrated player in the NBA by far," said teammate PJ Tucker. "People don't understand how good he is. I didn't understand how good he is until I played with him. He gets it, and he is the quietest dog to ever play with in your life."
"We've got to continue to work," said Milwaukee Bucks head coach Mike Budenholzer about Game 4. "The Heat have so many weapons on the other side. They do a lot of things that are hard to guard. Defensively, our focus, our attention to detail has got to stay high."
In Game 3, DiVincenzo exited the game early with what was called a foot contusion. An MRI revealed torn ligaments. This season, DiVincenzo started 66 games for the Bucks and he was a valuable backcourt mate with Holiday.
"It's a tough blow, but you have to kind of process and understand it's an unfortunate thing, but we have to prepare and get ready," added Budenholzer. "Other guys will have opportunities."
With DiVincenzo down, expect Bryn Forbes (12.7 ppg) and Pat Connaughton (10.7 ppg) to absorb his minutes for the Bucks in Game 4. Jeff Teague has not seen much time this series, but he could also fill in for DiVincenzo.
Check out more of OG's coverage of the 2021 NBA Playoffs.