The defending champion Los Angeles Lakers are one loss away from being eliminated from the NBA Playoffs. Before the Phoenix Suns advance to the next round, they'll have to dethrone LeBron James and the short-handed world champion Lakers in Game 6 on their home court in Hollywood on Thursday evening.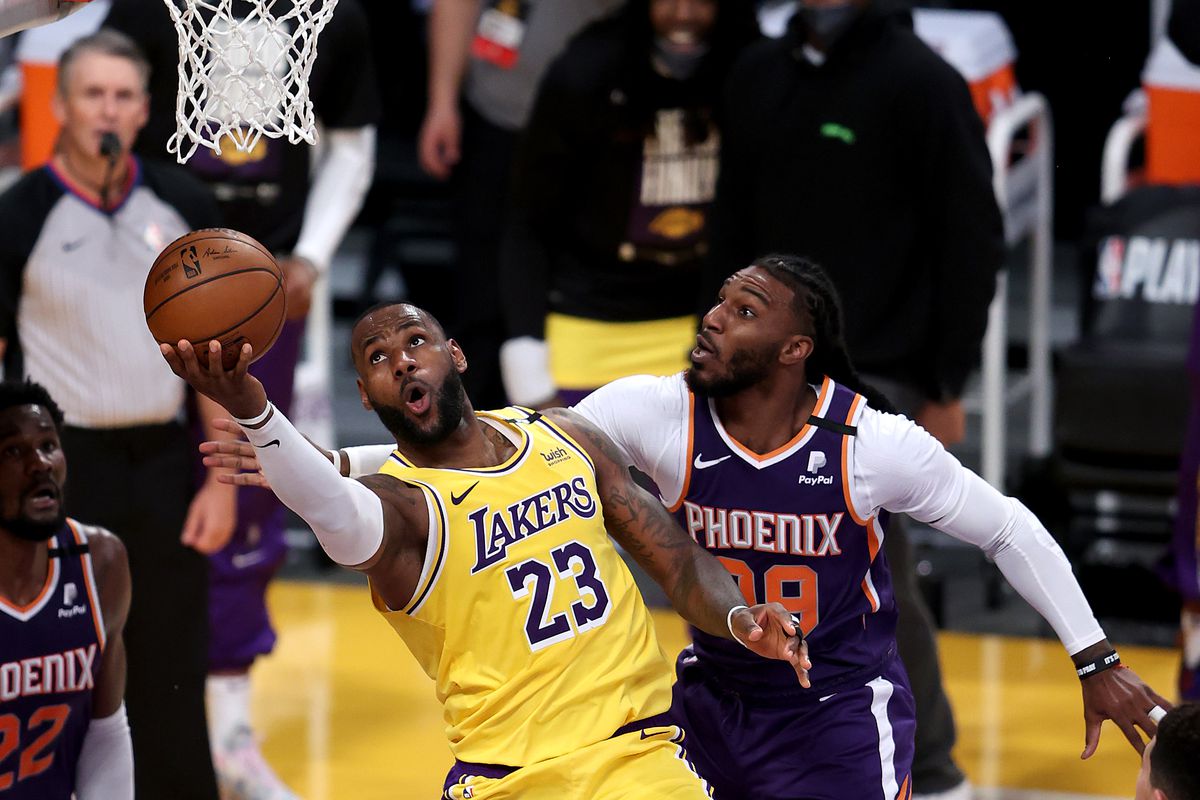 The Lakers are seeking to avoid becoming the sixth team in NBA history to win a championship and then get bounced in the first round in the next postseason.
The Lakers must win two games in order to survive the Suns and advance to the Western Conference semifinals. It will be a daunting task if the Lakers don't have Anthony Davis, who exited Game 4 with a groin injury and missed Game 5. Davis, who also has a sore knee, will be a game-time decision.
---
Game 6: #2 Phoenix Suns (3-2) vs. #7 LA Lakers (2-3)
Tip-off: 7:30 pm PT
Location: Staples Center, LA
Point Spread: LAL -2
Total: 207.5
Money Line: PHX +115 / LAL -125
Series Line: LAL +220 / PHIX -286
---
Lakers guard Kentavious-Caldwell Pope is also a game-time decision with a bruised knee.
The Lakers opened as -3 favorites in Game 6, but early bettors backed the Suns at +3 and oddsmakers moved the line to -2. The Lakers are underdogs at +220 odds to win the series, according to an update by DraftKings. Ever since the Davis groin injury over the weekend, the Lakers saw their championship odds drop to the fifth-highest team on the NBA futures board. The Lakers are now +1100 odds to win back-to-back titles.
Lakers in trouble sans AD
In all three losses against the Suns, the Lakers averaged 89 points per game. In both victories, the Lakers scored 109 points against the Suns. It doesn't take a degree from MIT to understand that's a 20-point point differential between a winning squad and a losing squad. Without Davis, the Lakers struggle to find a consistent scorer aside from LeBron.
Davis missed the second half of Game 4 with tightness in his groin. Without Davis in Game 5, the Lakers were blown out by 30 points. Former Lakers All-Star and three-time NBA champion, James Worthy, noted that the 30-point shellacking was the worst Lakers playoff loss in franchise history. The Lakers scored just 85 points including an anemic 10-point second quarter.
In the last six quarters without Davis, the Lakers averaged only 22 points per quarter and were outscored by 34 points.
"We didn't play well on either side of the ball," explained Lakers head coach Frank Vogel. "We'll find out what we are made of and how bad we want this."
Davis wants to play, but the training staff has to clear him first. "Hopefully all the rehab and treatment that I'm doing pays off and the doctors clear me to go," Davis told the LA Times. "Get more treatment, then talk to the doctors before the game — before and after I shoot — and hopefully everything comes back good where they clear me."
LeBron has mentally prepared himself and the Lakers to play Game 6 without Davis and Pope. "It's literally win or go home at that point," said LeBron. "So, you shoot all the bullets you got and throw the gun too."
Phoenix one win away from West semifinals
The Suns have the Lakers on the ropes and want to avoid giving them a glimmer of hope by extending the series to seven games. You don't want to have to face LeBron in an elimination game, even if the Suns are at home in Game 7.
"Need just one more then we can relax," said Devin Booker. "Bron and the Lakers will be tough to beat in LA."
Booker scored a game-high 30 points in Game 5. He's averaging 26.2 ppg in the postseason, but shooting only 24.2% from 3-point range.
Chris Paul looked okay in the last two games after injuring his shoulder in Game 1. He missed most of the second half of Game 5 when he had a bad reaction to an injection at halftime. In the first half, he notched nine points and six assists. "It scared me," said Paul. "It was just a very uncomfortable feeling, kind of helpless."
Backup Cameron Payne added 16 points off the bench in Game 5, while filling in for Paul in the second half. Payne averages 13.6 ppg in the postseason and scored double digits in the last four games. Paul expects to start for the Suns in Game 6 in LA.
"Chris is fine and he'll be ready to go," general manager James Jones told a Phoenix radio station. "CP3 has shown over the course of his career and, specifically recently, that if he's able to help his team he'll be out there. We'll be good and we'll get ready for a battle."
Check out OG's coverage of the 2021 NBA Playoffs.