Oklahoma State's All-American Cade Cunningham is the consensus favorite to become the #1 pick in the 2021 NBA Draft, but how about the next few picks and prospects? DraftKings posted odds for the #2, #3, and #4 picks in the upcoming NBA Draft. Jalen Green (Ignite) is -160 odds favorite as the #2 pick while Evan Mobley (USC) is the favorite at -150 odds to get selected #3, and Jalen Suggs (Gonzaga) is the favorite to go #4 at -160 odds.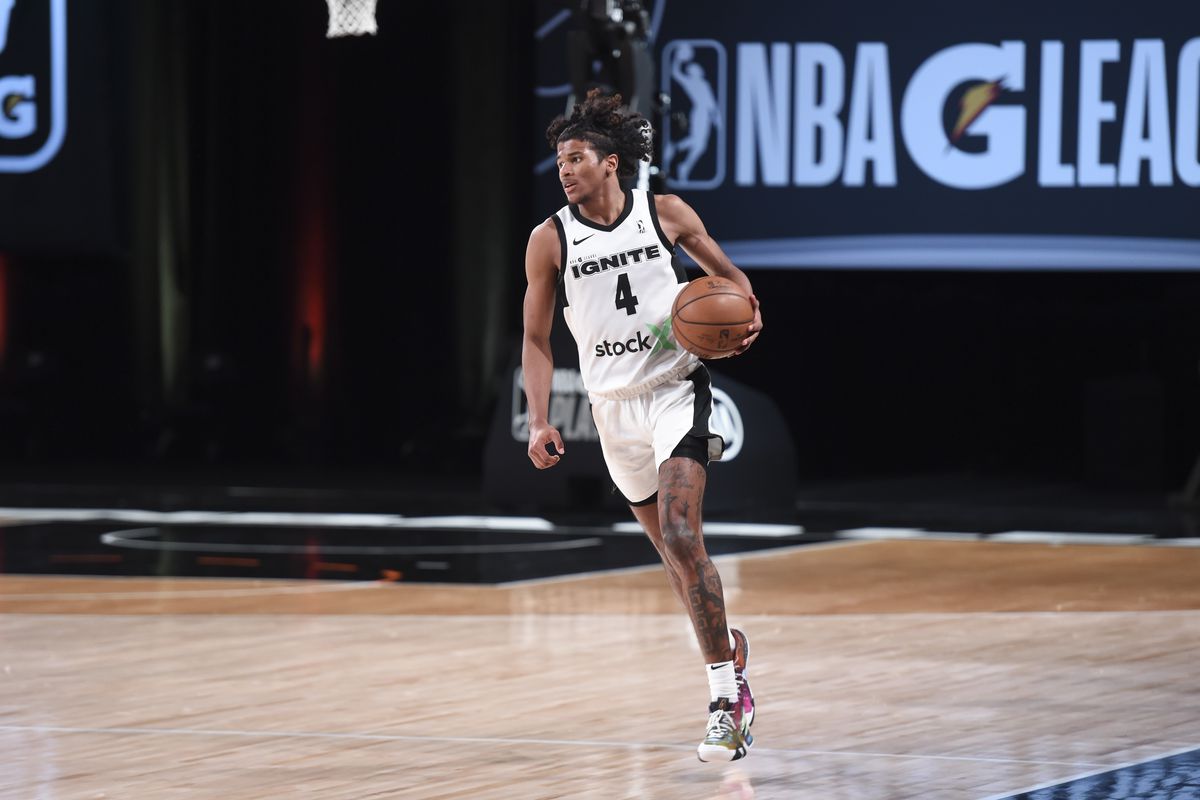 The Detroit Pistons won the lottery with the #1 pick in the NBA Draft. The Houston Rockets had the worst record in the NBA last season and even posted a dismal 20-game losing streak.
The Rockets incurred a slight bad beat when they were awarded the #2 pick instead of the first pick. The Rockets are actively seeking a trade for the #1 pick to rebuild the franchise around Cunningham, but the Pistons are also eying Cunningham as the main focal point in their rebuild.
---
2021 NBA Draft – First Round Top-10 Picks
Detroit Pistons
Houston Rockets
Cleveland Cavs
Toronto Raptors
Orlando Magic
Oklahoma City Thunder
Golden State Warriors
Orlando Magic
Sacramento Kings
New Orleans Pelicans
---
Other teams are interested in moving up in the draft via trade, including the Golden State Warriors, Oklahoma City Thunder, and Cleveland Cavs.
The NBA Draft takes place at Barclays Center in Brooklyn on Thursday, July 27.
#2 Pick: Jalen Green (-160)
If you missed Green during March Madness, it's okay because he didn't play in the NCAA last year. Green is a part of a new wave of future NBA stars who bypassed the traditional collegiate basketball route to sign with an NBA developmental team. Green was a part of NBA G League Ignite, which was a special team created to specifically develop prospects.
---
2021 NBA Draft – #2 Pick Odds
Jalen Green -160
Evan Mobley +160
Jalen Suggs +650
Jonathan Kuminga +2200
Scottie Barnes +2200
Cade Cunningham +2500
Keon Johnson +6600
Davion Mitchell +8000
Moses Moody +8000
Franz Wagner +10000
Corey Kispert +10000
---
Green, a 6-foot-6 shooting guard, was one of the top high school players in California. He passed up scholarship offers to elite Pac-12 schools including USC and Arizona to join Ignite.
Green is the favorite to get drafted #2 at -160 odds. If the Houston Rockets can't work out a trade with the Detroit Pistons to draft Cunningham, then Green isn't a bad consolation prize.
#3 Pick: Evan Mobley (-150)
Mobley, a 7-foot center, had an outstanding year at USC, where the freshman improved with every game he played. He averaged 16.4 points, 8.7 rebounds, and 2.4 assists per game for USC. He also shot 57.8% from the floor.
Mobley is the consensus #3 pick in the NBA Draft, and he's -150 odds at DraftKings. The Cleveland Cavs have the third pick in the draft. The Cavs can use a big man, especially with Kevin Love struggling with injuries the last few seasons.
---
2021 NBA Draft –  #3 Pick Odds

Evan Mobley -150
Jalen Green +145
Jalen Suggs +250
Jonathan Kuminga +900
Scottie Barnes +1200
Keon Johnson +6600
Davion Mitchell +6600
Cade Cunningham +10000
Moses Moody +10000
Franz Wagner +10000
Corey Kispert +10000
---
Mobley was the top big man prospect in the nation coming out of high school in Southern California. He had roots at USC, which is why he played for the Trojans. Mobley's father, Eric, is an assistant coach with USC. His father played pro ball in Europe but never made it to the NBA.
Mobley's older brother, Isaiah, was a year ahead of him at USC. The two Mobley brothers started for USC last season. Isaiah, a 6-foot-10 power forward, averaged 9.9 points and 7.3 rebounds per game.
#4 Pick: Jalen Suggs (-160)
Don't mention Suggs to UCLA fans because they're all still salty about Gonzaga defeating them in overtime in the Final Four. Suggs hit the game-winning buzzer-beater to lift Gonzaga over UCLA and lock up a spot in the championship game. The Zags lost to Baylor in the March Madness championship game, and Suggs scored 22 in a losing effort.
Suggs, who grew up in Minnesota is also BFFs with Paige Bueckers, who plays her college ball at UConn.
---
2021 NBA Draft – #4 Pick Odds

Jalen Suggs -160
Evan Mobley +200
Jonathan Kuminga +275
Scottie Barnes +450
Jalen Green +600
Davion Mitchell +1300
Keon Johnson +5000
Franz Wagner +5000
Moses Moody +5000
Corey Kispert +20000
---
Suggs, a 6-foot-4 point guard, averaged 14.4 points, 5.3 rebounds, and 4.5 assists during his freshman season at Gonzaga. He was the Zags' third-best scorer behind upperclassman Drew Timme and Corey Kispert. Suggs only knocked down 33.7% of his 3-point shots during the season, but he knocked down the biggest trey of his career in the Final Four against UCLA.
Suggs is -160 odds to get selected with the #4 pick. The Toronto Raptors have the fourth overall pick in the NBA Draft and Suggs could be an important part of their future if they don't re-sign Kyle Lowry. Even if the Raptors keep Lowry, Suggs would be a part of a triple-guard attack that also includes Fred VanVleet.